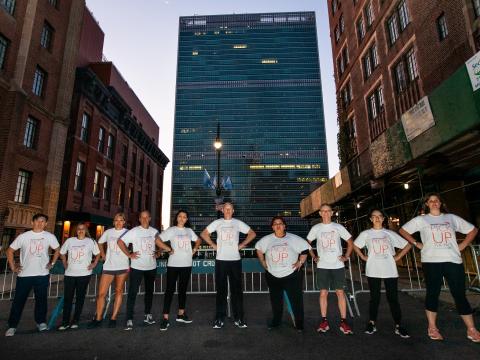 Run, world leaders, run! Governments told to pick up SDG pace at the UN
Wednesday, September 25, 2019
Four years after leaders committed to them, the pace of implementing the Sustainable Development Goals is painfully slow; a crawl when it needs to be a sprint.
That's the message from World Vision as its President and several members of staff took to the streets this morning in New York, to send a visual and powerful message on behalf of children.
"Our message is a serious one, and we want it to be heard - we need to pick up the pace, and break into a run because children cannot wait,"said Andrew Morley, World Vision International President and CEO.
"If the SDGs are a marathon, we've barely covered the first mile –we won't make it without a serious increase in pace."
"It will mean working together –we run farther and faster when we do it in a group, because we are kept on track, we match pace for pace, and feel a sense of accountability. 
Nearly four years into the implementation of the 2030 Agenda for Sustainable Development and the Sustainable Development Goals, progress is slow. Too slow. World Vision believes we urgently need to see greater commitment and action from Member States and other stakeholders to accelerate implementation and make significant gains for those at risk of being left behind, especially the world's most vulnerable children. 
"Things are different now to even four years ago when we made this promise to the world's most vulnerable children,"said Morley. "The course has altered, there may be more hills than we first thought but we simply need to adjust. We can't turn back and we can't afford to abandon or lose this race –because in reality, that means children's lives. 
"You can't run in a typhoon, it's impossible to complete a race in a hurricane. So addressing the climate crisis is going to be vital to our ability to finish this marathon."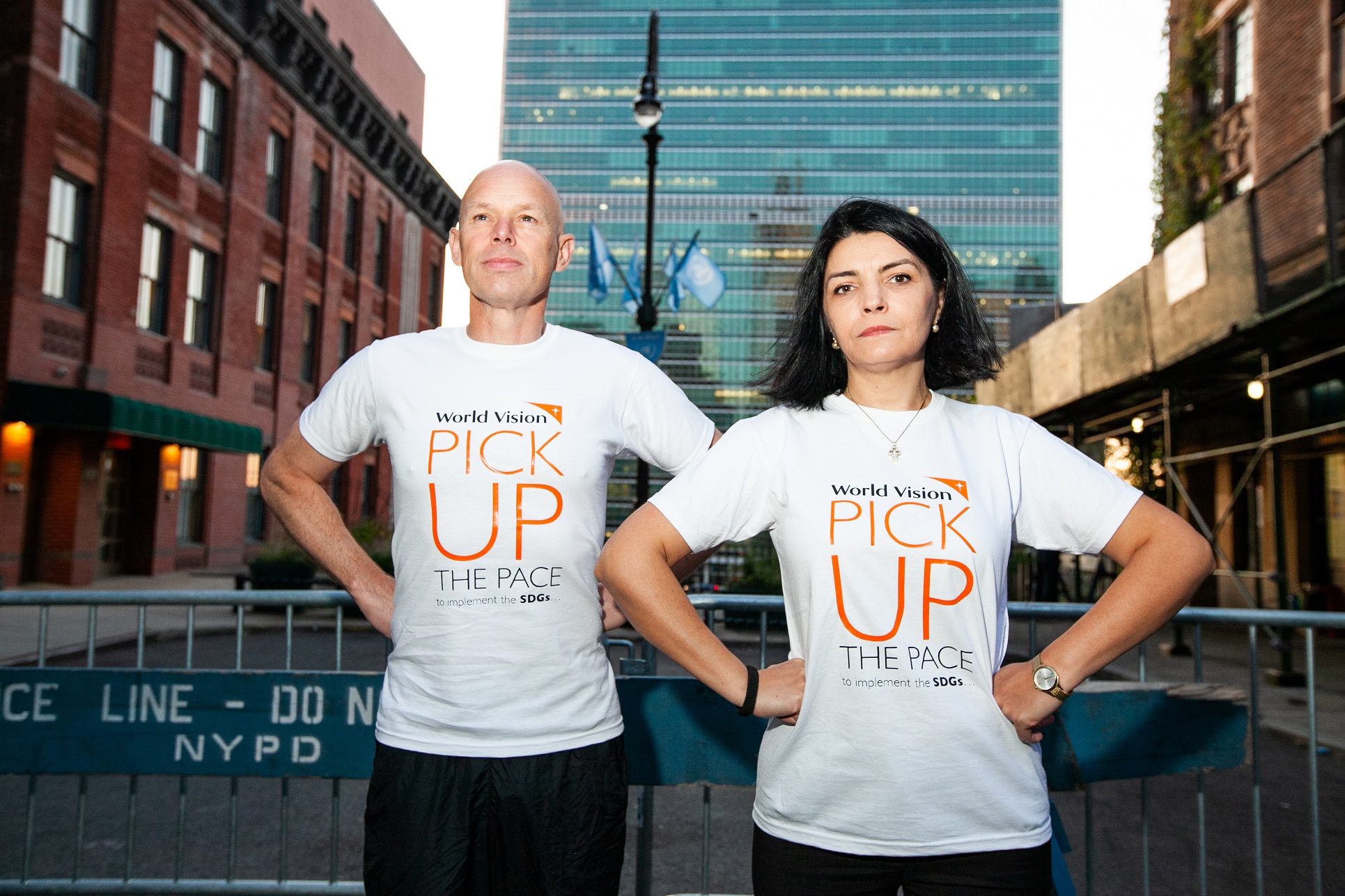 World Vision International President and CEO Andrew Morley, and World Vision global head of advocacy Dana Buzducea, with a strong message to leaders at the UN. Credit: Kait Ebinger/World Vision
World Vision delegates are meeting with leaders, partners and businesses this week to advocate for six key steps in order to pick up the pace in progress for children: 
1. Focus on ending child poverty in all its forms
2. Invest in ending all forms of violence against children 
3. Realise Universal Health coverage, including nutrition, for all children
4. Commit to ensuring children living in fragile contexts are not left behind
5. Involve children –as agents of change –in implementing and reviewing the Goals
6. Support child-centred disaster risk reduction and climate change adaptation
"We believe there is hope for every child, but we must pick up the pace to turn that hope into a reality for the world's most vulnerable children. They deserve life in all its fullness. As a Christian organisation, our faith compels us to make sure these are the children are not left behind by the world's work on SDGs," said Morley.