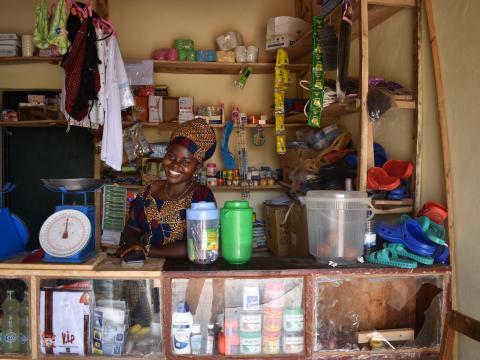 It took only five days to change Josiane for a lifetime
Friday, October 9, 2020
As Albert Einstein said, "The greatest weapon that a human possesses is his brain. The world as we have created it, is the process of our thinking, it cannot be changed without changing our thinking; he who changes his mind changes his world." It took only five days for Josiane's life to make a huge turnaround. It was through the five-day Empowered World View training. It changed her mindset and opened her mind to new possibilities.
Josiane is a 32-year-old mother of three. She lives with her husband, Dieudonne and children. Josiane makes some money as a tailor, but all the little profit she would make would go towards catering for food for her family. She did not think there was anything more to life. She thought that all she was capable of achieving in life was being able to meet the very basic needs of her life –food, and that was it.
"I always thought that I had no say about the future. I never thought I was capable of making any investment for my future. All I worked for was food and shelter," she shares. Her children were struggling through their education because Josiane and her husband had nothing much to offer –or so they believed. She remembers that the family had no plans for the future; they were just living one day at a time.
According to Josiane, attending the five-day Empowered World View training helped her understand what she was capable of achieving in life and how to utilise her potential. Her journey to a bright future started then.
"I understood that humans can be slaves of their own mind, and then decided to free myself. I approached my husband and we set strategies on how to plan for our future. I educated my husband what I had learned through the five-day training and we started working towards the same goal," she shares.
Josiane continues to narrate: "We started to work together, save and later on invest. We invested in a shop and today we have so far built two rental houses that have increased our profit and income. I am now a role model in my community. If it wasn't for World Vision's Empowered World View programme, I would never have discovered my potential."
The confident mother of three concludes that the programme changed the way she sees the world, and she has started to train other people in her community, as a World Vision volunteer. She has a plan of buying a car in the near future, to facilitate her in her businesses.
Josiane's hope is that more people get a chance to go through the Empowered World View training, as it would make a difference in the lives of families.
Click here to learn more about World Vision's Empowered World View programme and how it is transforming lives in Rwanda and beyond.