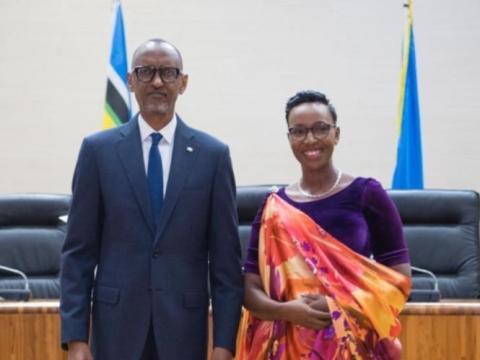 World Vision's Rwanda Legal Advisor elected as Member of Parliament
Wednesday, March 4, 2020
Germaine Mukabalisa, who has been working as a Legal and Risk Management Advisor at World Vision Rwanda since 2018, was recently elected as a Member of Parliament in Rwanda.
Mukabalisa, who is aged 32, is also the youngest Member of Parliament besides the youth representative. Her new role will mainly include debating and passing laws.
Mukabalisa was elected a Member of Parliament from Southern Province in the category of 30% seats reserved for women replacing Ignatienne Nyirarukundo, who was appointed as a State Minister for Ministry of Local Government.
The newly elected Member of Parliament noted that she was excited about her new role, where she stated that it is a new challenge that she was excited about, as it's an opportunity to utilize her skills as a Lawyer in the political domain.
She appreciated World Vision for the role it has had in her life and career.
"World Vision drew me closer to God and helped me to clearly understand my life's purpose. Through World Vision, my whole perspective to service to community changed. I considered my work an obligation I was committed to fulfilling and not just a job. I know it's God who has appointed me here and I look forward to seeing what God wants to do through me as I serve him and his people," she noted.
Mukabalisa added that her work at World Vision transformed her and she decided that her contribution in service too has to be transformational. She urged her former colleagues to consider their work life changing and it directly impacts lives of the vulnerable children, other community members and fellow coworkers. She further called upon them to keep trusting God, seek his wisdom and guidance above all and always remember to reflect World Vision values in whatever they do and wherever life takes them.