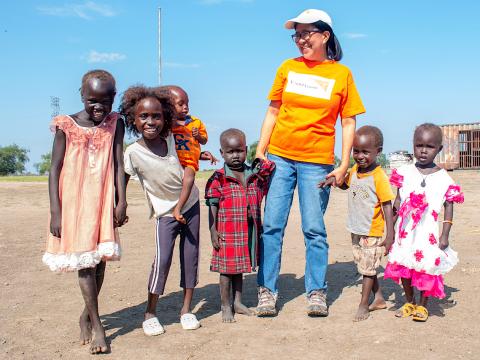 A 15-year journey: From Asia tsunami to South Sudan's fragile context
Wednesday, December 25, 2019
A decade and a half today, I embarked on a journey
further, and excruciating, than I ever imagined. 
A call came at midnight to support World Vision's team 
responding to a developing global emergency.
It was 26 December 2004, everyone was still in a festive mood. 
That night, I was plunged on the front seat 
of one of the most horrifying disasters, the world will never forget.
On that 2004 Boxing Day, the celebration unfolded to deaths and massive destruction. 
It was estimated that over 200,000 people died.
The pain and loss swept through 11 countries from Asia to Africa. 
I got deployed to support our World Vision team in Thailand;
where one of my most unforgettable moments happened
as a mother, a communicator, and an aid worker.
I witnessed distraught parents, mothers like me,
trying to find their missing children and loved ones
among the pictures and names posted in the board.
There were no words to describe how horrible, terrifying and overwhelming that sight was.
After covering several emergencies:
the mudslides in the Philippines, the flooding in Laos,
the drought in the Horn of Africa, the typhoon Haiyan in the Philippines,
the displacement in Iraq, the earthquake in Nepal, the El Nino in Southern Africa,
the Refugee Crisis in Uganda, my journey brought me to the crisis in South Sudan.
Indeed far from what I have imagined.
But one thing that stood out in all these experiences; the presence of
courage, passion, hope, and love.
Yes, there was tremendous misery, pain, and suffering.
But they were always outweighed by the survivors'  courage to rise,
by their selflessness to help others
and by their hope that tomorrow will be better.
Telling stories is both a privilege and a blessing.
Sharing people's lives is one that a communicator should never take lightly.
It is a God-given opportunity to spread His people's journeys.
It is not just about the skills and the ability to share them.
I remember Maggie from Zimbabwe who lost
seven members of her family to HIV-AIDS;
Chamnan in Thailand whose nine children
and grandchildren were swept by the tsunami;
Enstar, a pregnant mother in the Iraq Kurdistan who fled her village;
and Margret from South Sudan who became a child soldier
and a young mother forced to do things against her will.
A communicator should – must – share their stories responsibly, 
with the end in mind that we are sharing God's work and grace
through these people's lives.
While experience and skills matter in a humanitarian job, 
it has to be led by love and courage.
My job always reminded me to whom much is given, much is expected.
15 years on, my commitment and passion have never changed.
It was strengthened through time.
By Cecil Laguardia, Communications Manager, World Vision South Sudan