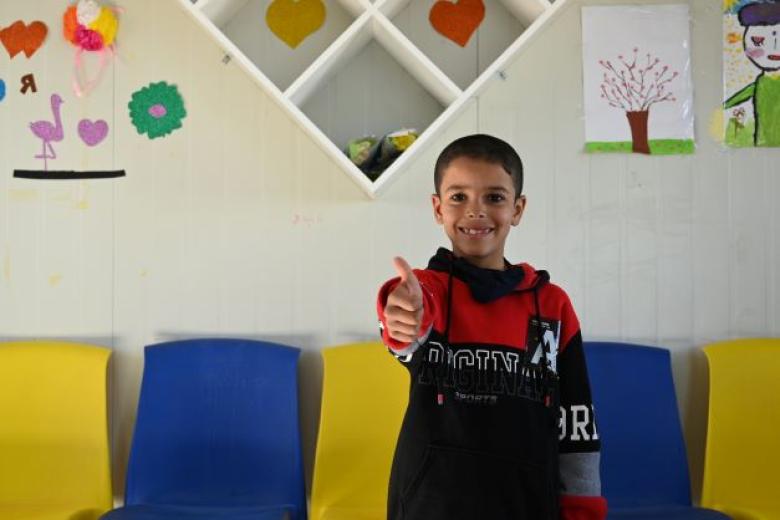 Murad*: a young Syrian refugee boy who loves to play chess
Monday, December 27, 2021
By Rand Ishaqat, Communications Assistant
"I wish there were chess boards in the centre. I love playing chess. And I want to be an engineer when I grow up. I want to build a big school and enrol a large number of students in it,"




says 8-year-old internally displaced Syrian boy, Murad.
There are more than 6 million Syrian children who are still waking up each day to the sound of bombs and artillery. After more than a decade of witnessing war, destruction and persecution, 90 percent of Syrian children in the country are in urgent need of mental health care and humanitarian assistance.  The war had a huge toll on them. They remember the days when they used to go to school and sit with their family on the dinner table sharing good moments, at the end of each day. They no longer can. Those who fled, and are now in a camp, sit in the overcrowded tents, on their floor. They long for some sort of normalcy in their lives. 
Mo'ayad   does anything it takes to keep his children safe
Mo'ayad, the father of Murad wanted nothing more than being able to provide a safe home for his six children. So, he had to flee back in 2016, when the war escalated to a point where his children's lives were in an imminent danger. Fleeing his home town in northeast Syria with no money to rent a car or pay for transportation, pushed him in the most difficult situation that he had to ever go through before - borrowing money from a close relative. The shame he felt then, he easily forgot about when his children's lives were at stake; he wanted to bring them to safety, across the border – in Jordan. Like any other parent, he did not want his children to keep witnessing the horrors and terrors of war which had already caused them nightmares and fear. Once he got the money, the whole family headed to the Jordanian border. But getting into Jordan was a whole other ordeal.
The large number of Syrian families seeking safety in the country, forced the hosting government to enforce a heavy registration and entry process, which caused significant delays for those waiting in the line. Murad and his family were one of those who had to go through significant inspection and police checkpoints. It took them 15 days to enter Jordan from the first moment they arrived. They felt they were in a no men's land: "The journey was difficult to say the least. My children went almost a day without food, and two of my children felt weak because they were so hungry. But I managed to get them to safety", shares Murad's father. "We have met nice people who offered us food", he adds.
Murad's new life in Jordan starts
Murad and his family ended up in Azraq Refugee Camp, which hosts more than 43,500 Syrian refugees. The little child may have had a rough start, but he saw a gleam of light in the middle of darkness. After all he has witnessed, it was difficult for him to share what was on his mind as the accumulated emotions built a wall of distance between Murad and the world. He felt isolated and alone. Mo'ayad knew that being surrounded by a comfortable and safe environment would help Murad turn into a bundle of joy.
"Whenever I feel tired, anxious and uncomfortable, I do relaxation exercises, and I focus on my breathing," said Murad. The safe and child-friendly environment where Murad now spends most of his time has really helped him make friends, and start being a happy child again. "If I did not attend the centre's courses, I would have felt bored all the time, as there is nothing else to do [in the camp]", shares Murad.
Murad's situation slowly started to improve in the camp. He is currently enrolled in school and attending educational courses at World Vision's centre along with his 13-year-old brother. This helped him make friends which has a great affect Murad's psychological well-being. Seeking refuge in Jordan was also the beginning of a series of many fortunate events for Murad and his family. For example, his father was able to secure a job at the camp and is currently a daily paid worker. "I work for ten days during the month. I try to secure my family's basic needs with the money I earn," shares the father. Their improved financial situation has positively affected Murad, who he is now excited to come back home after a long day and enjoy a nice meal.
 
Murad is an intelligent boy who needed a chance to shine
Murad missed the first grade because of COVID-19 restrictions and the imposed curfew, which was equally applied in the refugee camp. After attending the classes at the centre and enrolling in school, he was able to follow up with the education he missed; and even learn to read and write. Being around children of his age was exactly what Murad needed to build his social skills. He became more sociable at home. Little Murad became his father's best friend and companion. Now, he never hesitates to share his ideas and thoughts with him. He even brought the spirit of negotiations into the family by initiating a project that encourages everyone in the house to speak their mind.
"I have seen how my Murad became more confident and happier after joining the centre. This encouraged me to consider enrolling my other children in the centre". Murad's father shared. "I have noticed that my child has great potential, but all of that was buried under everything he went through. Through the centre, I have learned that the way we deal with him, as parents, can either help bring those potentials to the surface or further burry them down", explains the father. Murad is an intelligent child with a passion for playing chess; and teachers know it: "I wish there were chess boards in the centre; I love playing chess", he happily tells his teachers. He plays tournaments with his father and often wins.
About the project
Murad is one of the 800 Syrian children (aged 6-12 years old) who sought refuge in Al Azraq Refugee Camp after witnessing the hardships of war. The Child Protection and Resilience in Emergencies (CPiE) project aims to support these children by providing them with psychological support services through granting equitable access to quality child protection and peace-building interventions. Through these activities, children are taught how to deal with emotions and feelings in a healthy manner. With the support provided by our colleagues in Korea, Hong Kong and Japan, many Syrian children like Murad, are eagerly waiting to spend another day at World Vision's Peace Centre where they are surrounded by a calm peaceful and encouraging environment.
Murad* happily giving a thumbs up while sharing with us his dream of becoming an engineer. "I want to build a very big school and enrol as many students as I can in it to give them proper education", tells the young Syrian boy.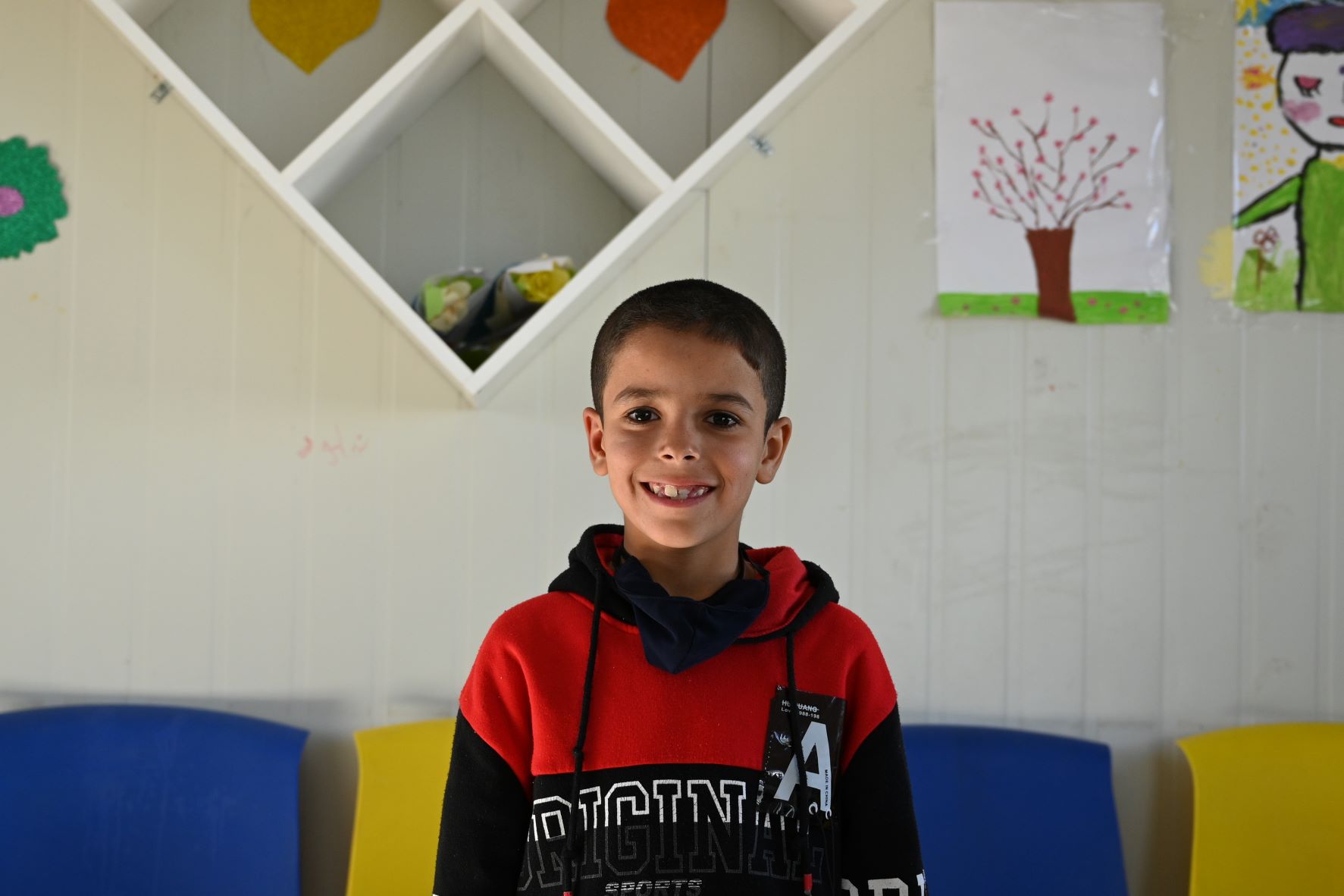 "Murad was hesitant about sharing his ideas and thoughts before, but now, he is my friend and companion; I want to hear what he thinks," Murad's father happily shares. Before attending the Peace Centre, Murad did not share what goes on his mind, but now, he even initiated a system of negotiations back at his home where everyone talks about their ideas and thoughts.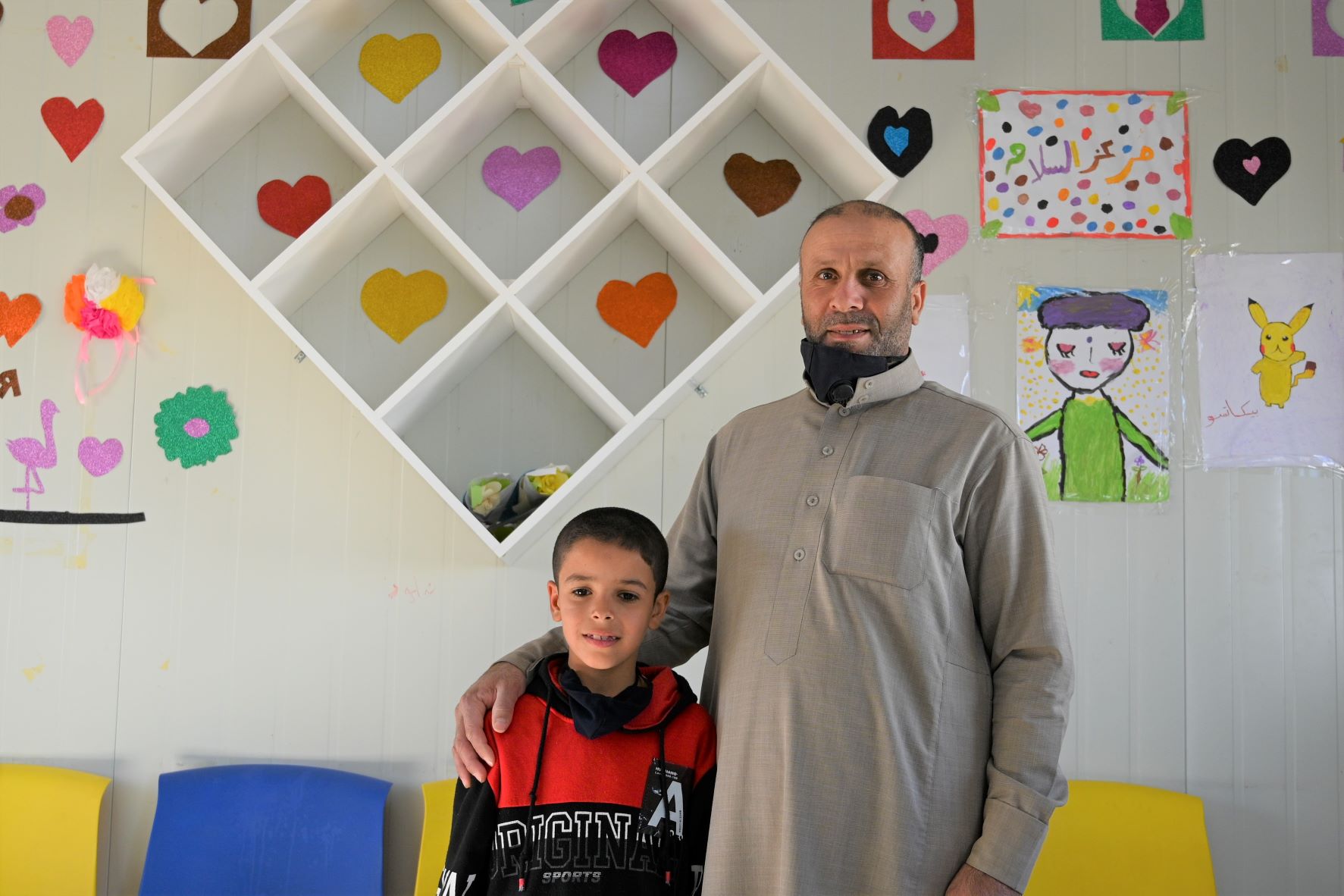 Murad (from the left) brought the spirit of negotiation into his family after learning how to express his emotions at World Vision's centre. This encouraged him to share his feelings at home which consequently helped him bond with his father, Mo'ayad (from the right).