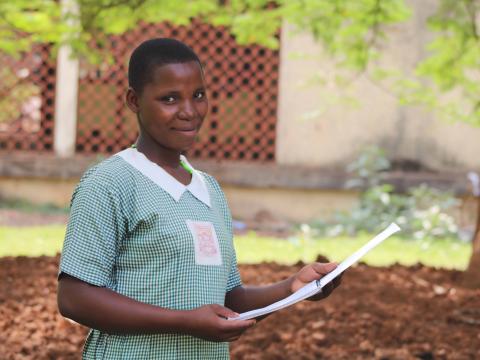 Child Marriage Survivor Aspires to Be a Lawyer
Wednesday, July 17, 2019
Police records in the Albertine region indicate that the total number of cases registered for violence against children between the years 2015 and 2018 is 7,886. 3,314 of the cases are on defilement and child marriage. These 3,314 cases, includes Sylvia Twikirize, a 17-year-old and primary seven pupil at Wambabya primary school in Kihohoro village, Hoima district. She was married off last year by her sister-in-law at only 16 years of age.
"It was the last Sunday of the long holiday, I was supposed to report back to school for primary seven the following day, I went to church as a way to prepare myself for school. As I was going home from church, my sister-in-law came on a motorcycle and offered to take me home," Sylvia said.
On reaching the road to her home, Sylvia's sister-in-law told the cyclist to proceed to a village called Kizirafumbi, where her suitor-to-be was waiting. "On seeing us, he got on another motorcycle and told our cyclist to follow his," she remembers.
Just like that, Twikirize was married off in Kasisa-kakumiro village in Kibale district, 198 kilometres away from her home district. She was locked up in the man's house for three days.
Lucky for her, she was rescued on her fourth day in marriage.
"When our senior woman teacher got to know that I had been married off, she alerted World Vision people, who got the police to come and get me out of the marriage. The man ran away and has not yet been found," Twikirize adds.
Sylvia then underwent thorough medical examinations and counseling sessions facilitated by World Vision, and was later encouraged to resume school, something that she admits was very hard for her to do.
"The three days I spent locked up in the house were my worst days, but going back to school was even harder because everyone at school gave me strange looks. Others would laugh, gossip and make jokes of me," narrates Sylvia.
However, she has been able to cope because of the constant check-ins and support that she gets from her teachers and World Vision staff. Now she is committed to completing her primary level of education this year.
I am grateful to my teacher Hannah, Nice and John Mucope of World Vision who rescued me and keep on encouraging me to focus on school. I want to study and become a lawyer.
Such is the story of many girls in the Albertine region. According to Hannah Wembabazi, a senior woman teacher at Wambabya primary school, out of 80 girls that start primary one at the school, only 9 complete their primary education.
"At least now World Vision is helping us to keep track of the girls by following up with them, both at school and in their homes, to prevent them from marriages like in Twikirize's case."
Hannah however, says that even with the effort they put into fighting early marriages, parents still let them down by marrying off the girls themselves.
 "A parent will tell you that he/she sent her daughter to visit the grandparents, yet he/she married her off and by the time you find the girl, she is already pregnant."
It's against this background that World Vision Uganda joined the partnership in the It Takes A World campaign to end violence against children focusing on Child Marriage, Child Sacrifice and Violence Against Children In School.