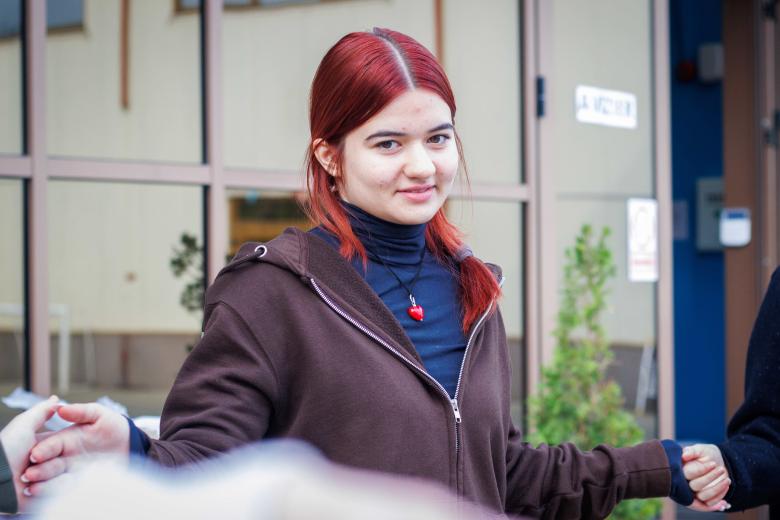 16-year-old Sasha seizes opportunity to learn in Romania, move on and build her future
Wednesday, March 15, 2023
One year of hostilities and destruction in Ukraine is impacting a generation of children suffering from the horrors and trauma of war.
"I was very scared. I didn't know what was going on and where I was going.  I didn't know what will happen with my education, my college. I was very confused, and I had feelings of emptiness," Sasha from Kyiv shared.
Yet amidst the sheer distress and sense of loss, she used them to build her fortitude. "Do not lose heart and understand that your life is not over. You have to keep moving on to recover Ukraine, our country," for Sasha this is the most significant learning she can share to fellow Ukrainian children and youth.
World Vision's No Peace of Mind report estimated 1.5 million children are at risk of depression, anxiety, post-traumatic stress disorder and other mental health issues with potential long-term effects and implications.
Her family narrowly escaped the war-torn capital of Kyiv. Settling in unfamiliar culture and not understanding a single word caused fear and isolation.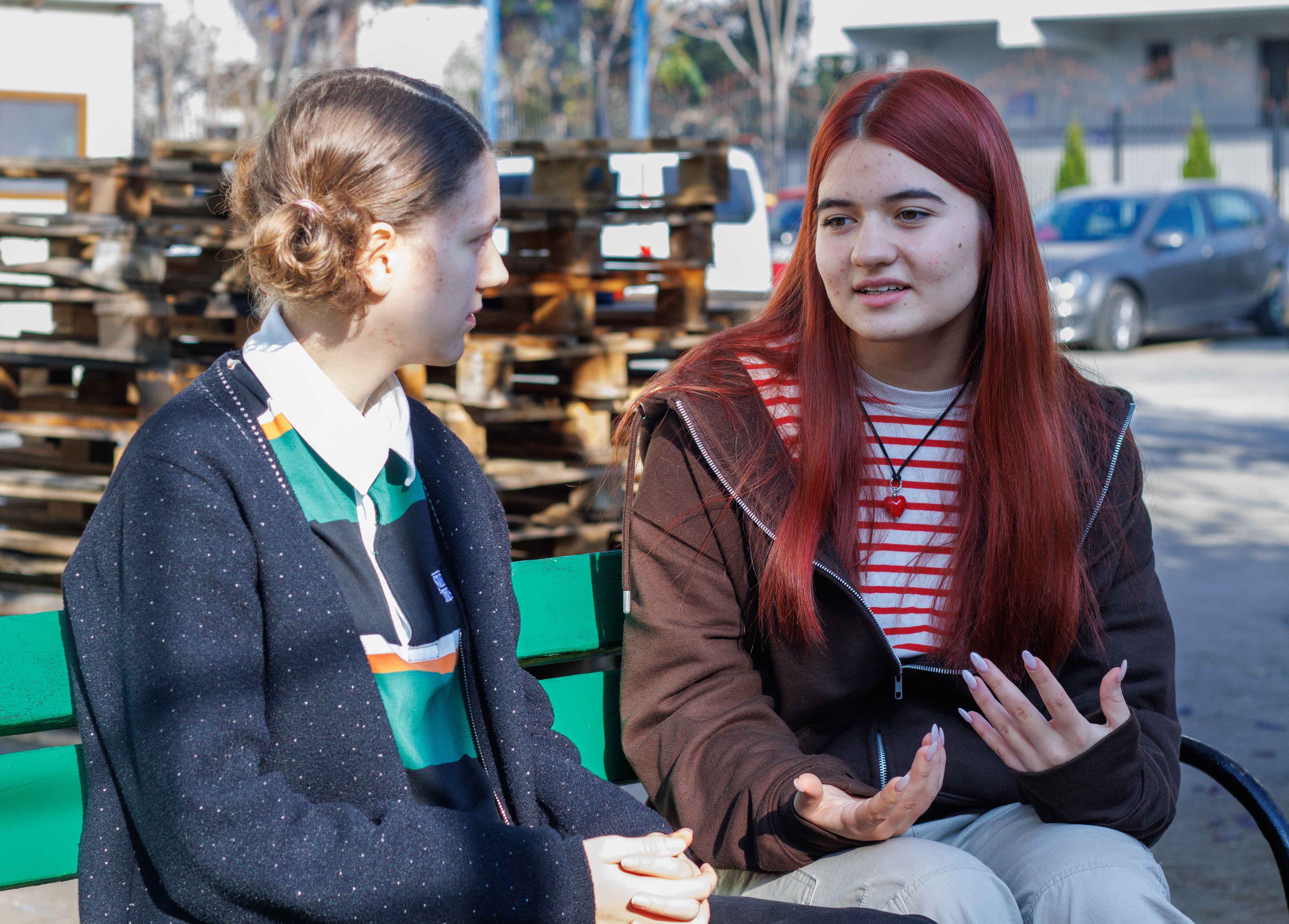 The tragedy of war
Children have been exposed to the horrors of violent war and they become uncertain and fearful of their future.
"When the war happened, all life ends. I miss the atmosphere in Ukrainian school, and I can't be there.  I cannot believe this. I miss my friends and everything that I used to have in my normal life, from the places to the people closest to. I really miss that feeling of a peaceful life," Sasha expressed.
About 5.3 million Ukrainian children face barriers to education which includes schools destroyed by bombings. The refugee children face tremendous difficulty not understanding their new school's medium of instruction.
"It was very scary for me because I am shy person, it's hard for me to make new connections especially with people who don't speak my language."
The sixteen-year girl was fully aware that language barrier was a challenge, "it's very hard to speak English. I also don't know Romanian."
Education provides stability
"I desperately want to learn Romanian to understand the lessons in the school, be on the streets, in the shops.  I also want to adapt to the society, so I could have friends. It might be hard but it's possible." Sasha shared her decision.
Education is crucial to support children's mental health and learning enhances their emotional wellbeing.  It also provides stability amidst the distress and anxieties they are going through.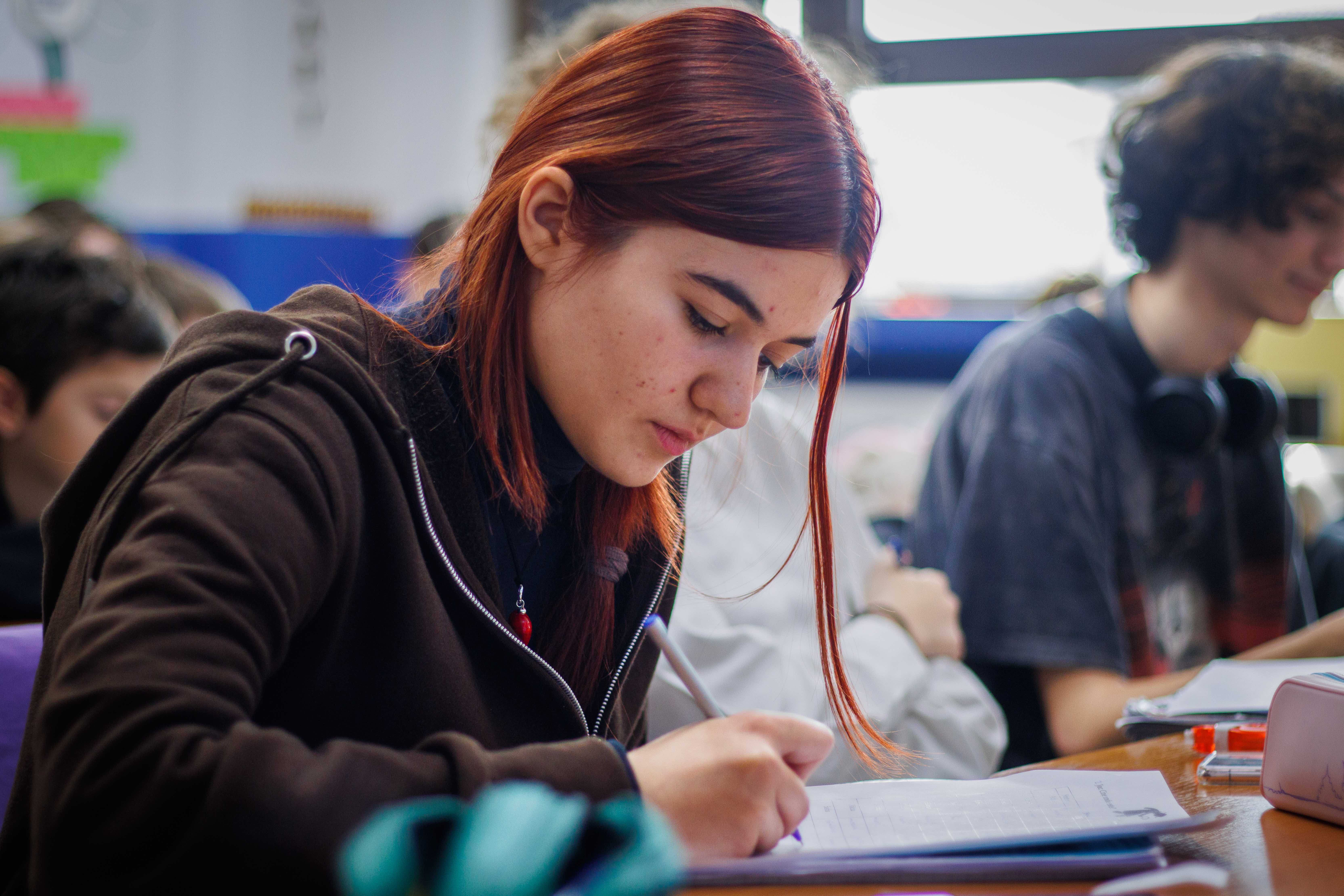 "I realized that I need to socialize here and come back to school." With a new found determination and through the support of Australian Government and NGOs through the Australian Humanitarian Partnership (AHP) and the New Zealand Ministry of Foreign Affairs and Trade (MFAT), Sasha, along with 99 Ukrainian children continue their studies in the Romanian-Finish School.
World Vision partnership with Asociatia Centrul Crestin and the Romanian-Finish School started in summer, assisting refugee children transition from Ukrainian schooling. Teaching them Romanian language and having activities with Romanian children to help them be more confident studying in their new school.
"It was difficult to understand the language, but I was able to learn. I am extremely glad that here in Romania, they are very kind and friendly positive people.  Everybody is helpful and wants to teach you something," Sasha added.
From desperation to determination
"You come to your senses; life does not end there. You realize this next life will be another experience.
Your life resumes and you need to finish your studies in school. After your education, you go further your own life path," the sixteen-year-old teen shared.
Providing a safe place for the continuity of children's education as well as conducting series of training meant to support their mental health and emotional wellbeing are the key focus of the project.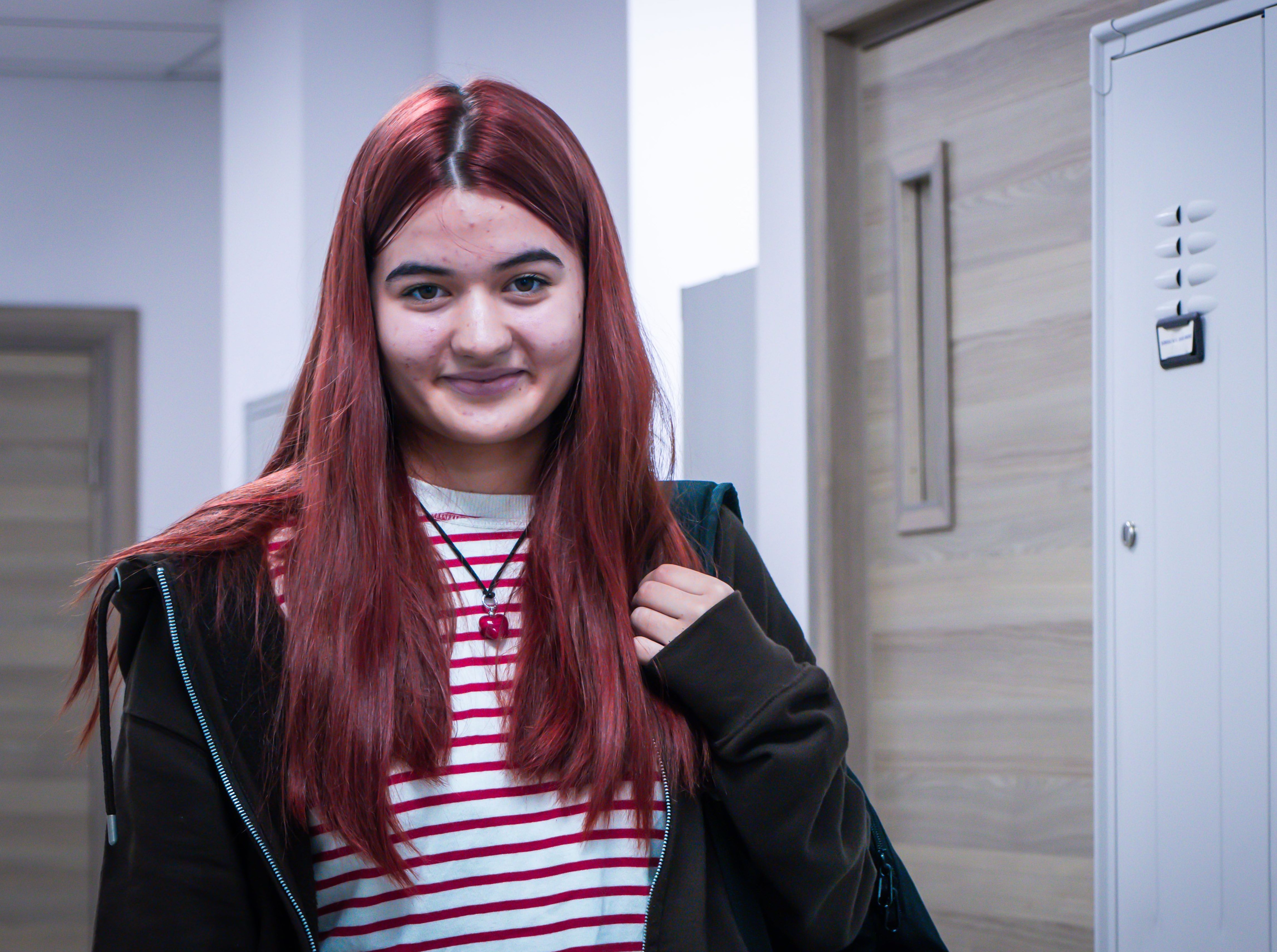 "It was very important for us to understand how we can help these refugees. We created an environment meant to help them, and now we can communicate better with them. At this point we are at this bridge that will unify our two nations and will create the environment for all of us to prosper," World Vision Project Manager Cristina Panov said.
Getting back to school restores a sense of normality and a safe environment to play and interact with other children.
"My hope is that the children and the families would really benefit, and they will say in the end that they didn't lose their time staying in this school, but they just learned and developed their own or grew somehow in their knowledge, in their behavior, in their wellbeing," said Dr. Emilia Ceuță, a teacher in the school.
"I suppose all my views on life have changed because this experience is painful, and it changes you completely. I became stronger emotionally.  I adapt better now, and my values changed and also in my family.
With the war dragging on, Sasha's future may look bleak, but nothing can hinder her dreams. "My interest now is into fashion, and I would like to enter the university to get education in that industry and grow."
"I want an end to killings. Children are dying senselessly in our own land. I hope that our country will soon be at peace, we will reclaim our territories and we will all live as one whole nation without any political problems. I still want to go home and continue living there."
For her compatriot, she has this message – "If you cannot come back, support your country emotionally, financially even if you are on the other side of the world."
World Vision Ukraine Crisis Response has supported 251,507 children through various learning opportunities and continuity of their education as well as protection, mental health and psychosocial support programming activities, cash assistance for education, health, winterization, protection and education kits.
Overall, World Vision has reached 656,320 internally displaced, refugees and host communities in Romania, Moldova, Georgia and Ukraine through the support of its donors and 29 partner organizations.
Watch Sasha's story on video. 
Story by Leoniza Morales, Communications Specialist I Photos by Eugene Combo and Chris Lete