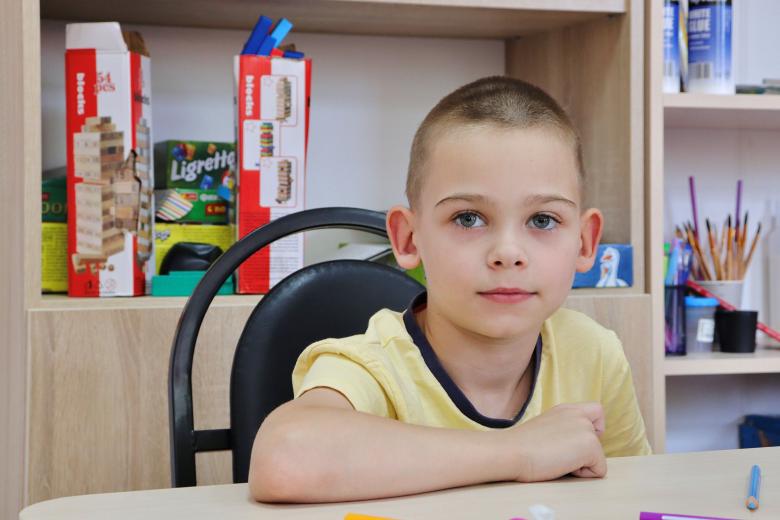 A life-changing experience: Child-friendly spaces in Moldova bring hope to Ukrainian children
Monday, October 2, 2023
Five large round tables are crowded with 20 Ukrainian and Moldovan children working assiduously on their artwork, as the clacking of pencils and brushes breaks the silence.
Vadim sits at a wooden table in the warm natural light, meticulously sketching a few splashes of color on the paper in front of him. He goes with bright yellow and dark purple trying not to go outside the sketched contour lines.
Sturdy shelves in front of Vadim's table hold a colorful array of books, board games, and toys. On the opposite side of the room, a curving line of handcrafted art, including paintings, paper origami patterns, and handmade jewelry, hangs on the white wall.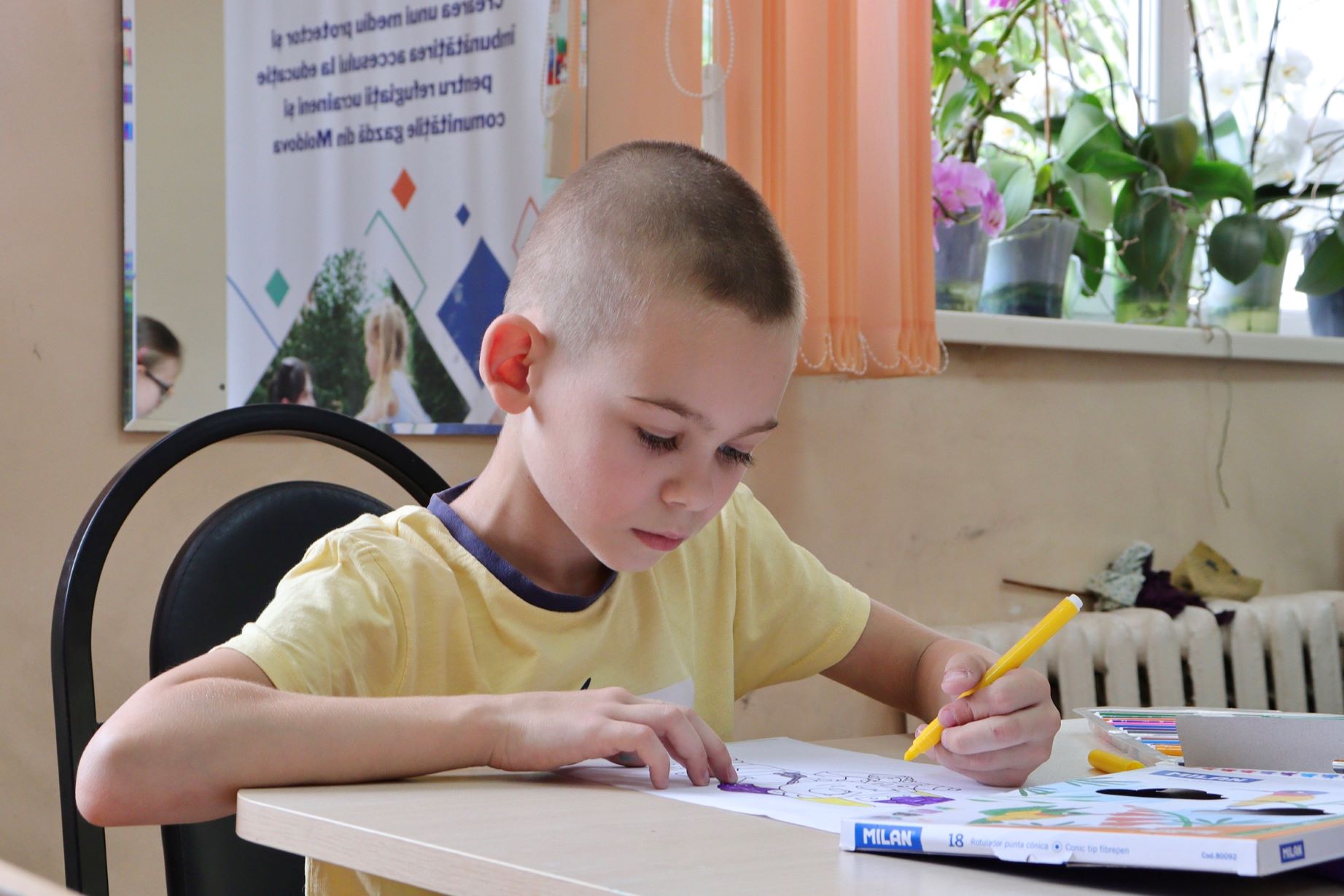 The area's left corner is dominated by a massive piano. Half of the floor is covered in soft carpet in a rainbow of colors, making it ideal for children to play group board games and read.
"I'm drawing a high-speed rocket," says Vadim, his intense blue eyes shimmering in the natural light. "One day, I would like to soar in it and observe the world from above," he goes on.
Almost one year has passed since Vadim began attending the child-friendly space run by Ave Copiii, World Vision's local partner in Chisinau, Moldova.
This space, supported by Nachbar in Not (NiN) and the Austrian Development Cooperation (ADC), is designed to offer protection services, formal, and non-formal education, and facilitate positive engagement for Ukrainian children like Vadim, and host communities.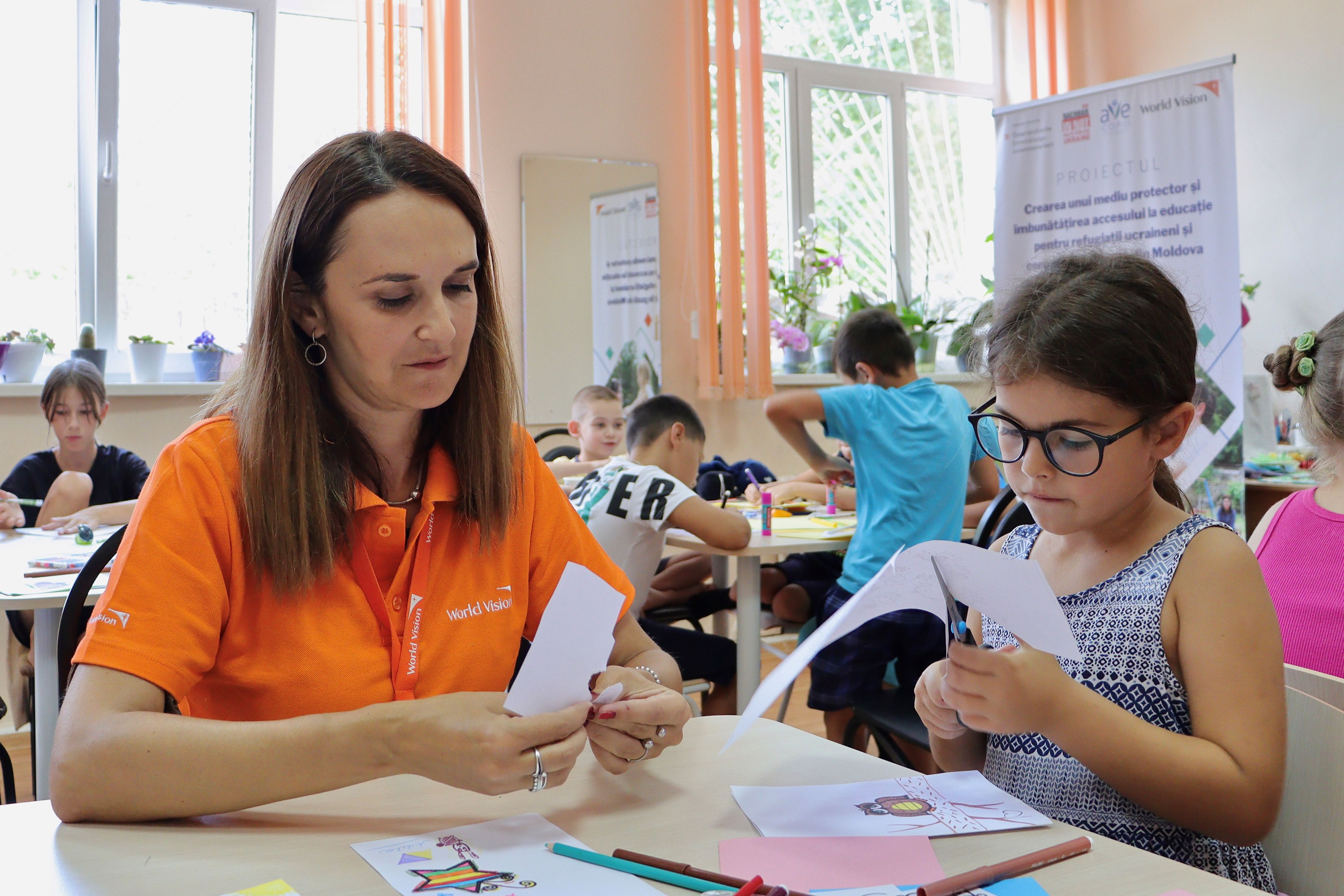 Lyudmila, Vadim's mother, still recalls those three harrowing weeks spent in war-torn Chornomorsk, a city in Odesa Oblast, south-western Ukraine.
"Every time the air alarm went on, my son would start trembling heavily," says Lyudmila. As they lived in a port city, there were nights when they had five air alarms in less than 12 hours.
The city's imposing buildings were marked by decaying facades and wrecked windows. Almost every day, the siren's sorrowful howl reverberated across deserted streets.
"Most of our nights were spent in the bathtub or in the flat's corridors," explains Lyudmila. "The distant rumbling of artillery fire became louder during our last evening in Chornomorsk," she adds.
That is when she decided to take her son and board the first train heading west. They arrived and settled securely in neighboring Moldova at the end of March 2022.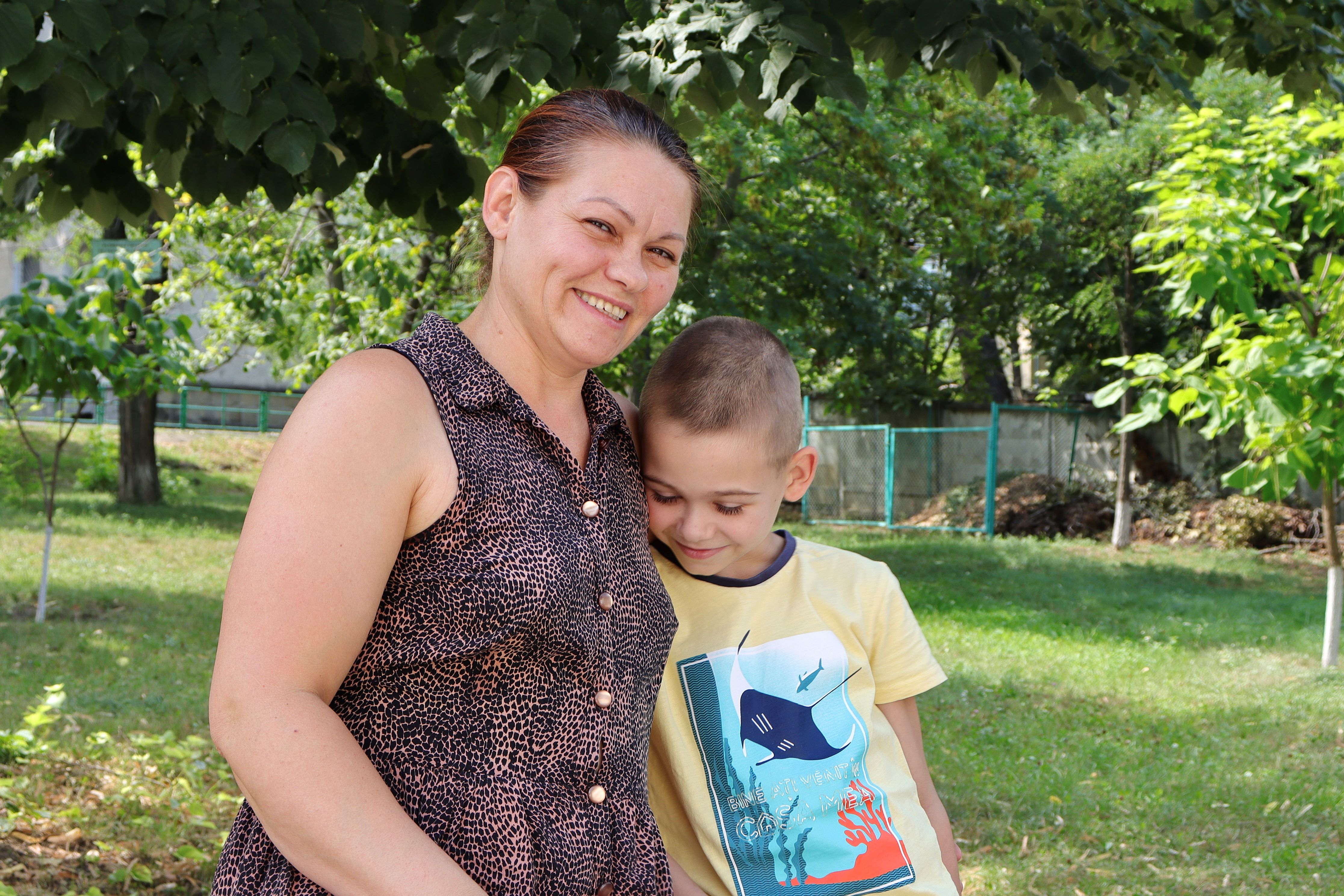 Vadim, 8, is now in the second grade at a Moldovan school in the capital city of Chisinau. "He was nervous and unable to control his emotions," recalls Lyudmila of her son.
"The child-friendly space is quite crucial for us. Vadim became more receptive to other children and to life in general," she adds.
Lyudmila has noticed a shift in her son's behavior and in their conversations since he started going to the child-friendly space (CFS) a year ago. "He didn't share much with me a year ago. He could've gone days without talking," she recalls.
"Now he has new hobbies, chats passionately about his new friends, and his drawings are predominantly in bright colors," shares Ludmila Celac, facilitator at the CFS.
"Vadim has a rigid study schedule at school and only has ten minutes between classes to socialize," explains his mother. There isn't enough time for him to communicate and adjust to his new surroundings.
"Here he has access to resources that he would not have access to in a classroom," says Lyudmila.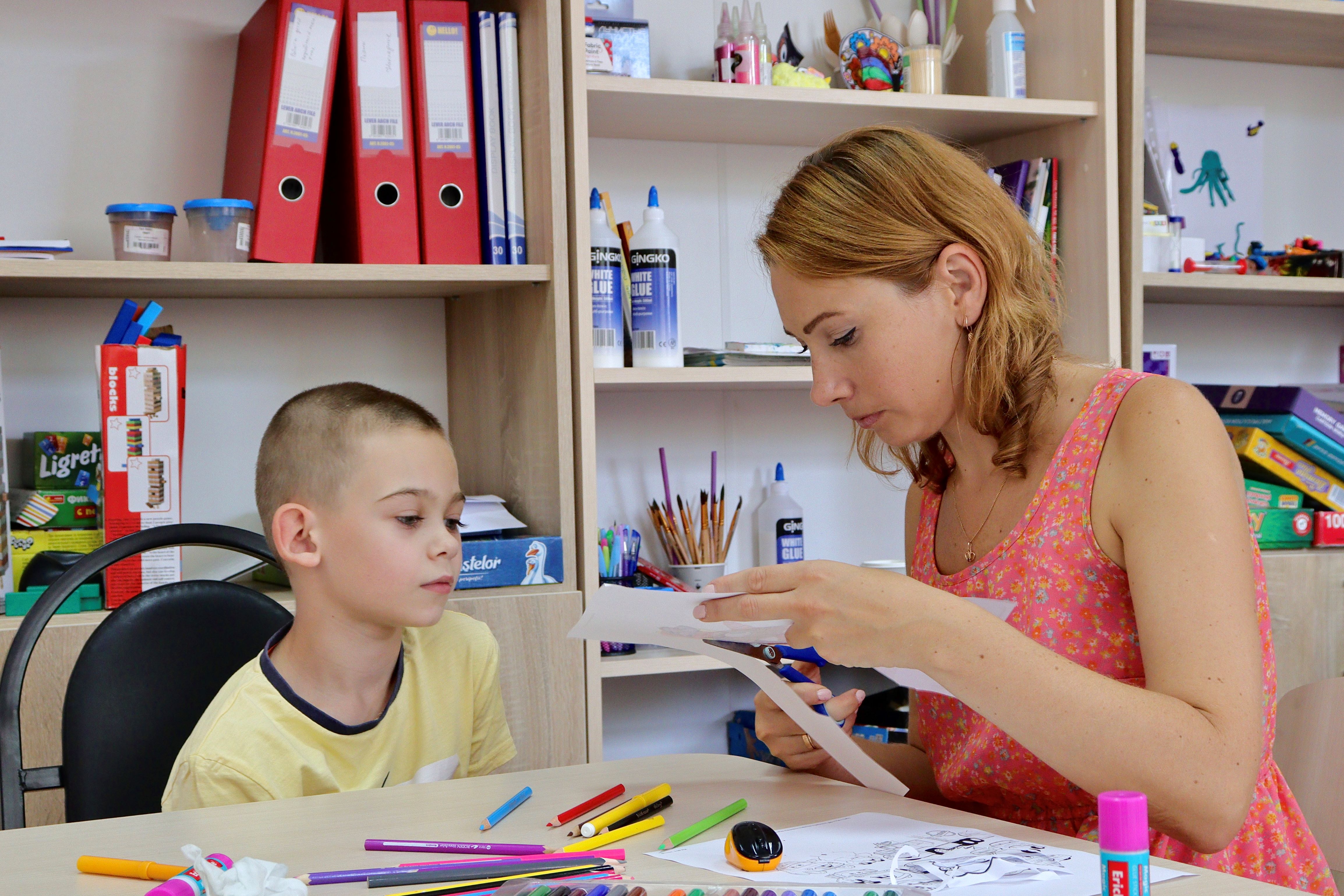 "They are conducting art therapy, talking openly about their anxieties and how to overcome them, and focusing on social skills development," she goes on. "It is a place where he feels protected, heard, and cared for."
The NiN-funded project aims to improve access to education and protection services for Ukrainian refugees and host households in Moldova, targeting 15,800 direct people across five districts of the country.
"Our goal is to empower Ukrainian children by providing them with the opportunity to develop, heal, and build a better future. And a child-friendly space is our first step in this mission," shares Adela Softic, World Vision's multi project manager in Moldova.
Vadim dips his brush into a can of yellow paint and adds the finishing touches to the rocket's blazing tail. Ludmila, the facilitator, assists him in cutting the edges of the spaceship as he looks enthusiastically at his work of art.
The scissors glide delicately down the edges, framing the rocket into a precise shape. Children run quickly to proudly display their work on the classroom walls. Suddenly, the room is filled with an avalanche of giggles and chuckles.
As of today, World Vision Ukraine Crisis Response in Moldova has reached more than 208,000 people, including Ukrainian refugees and host communities, with protection, livelihoods, cash aid, education, shelter, and basic needs.
Story and photos by Laurentia Jora, Romania and Moldova Communications Coordinator