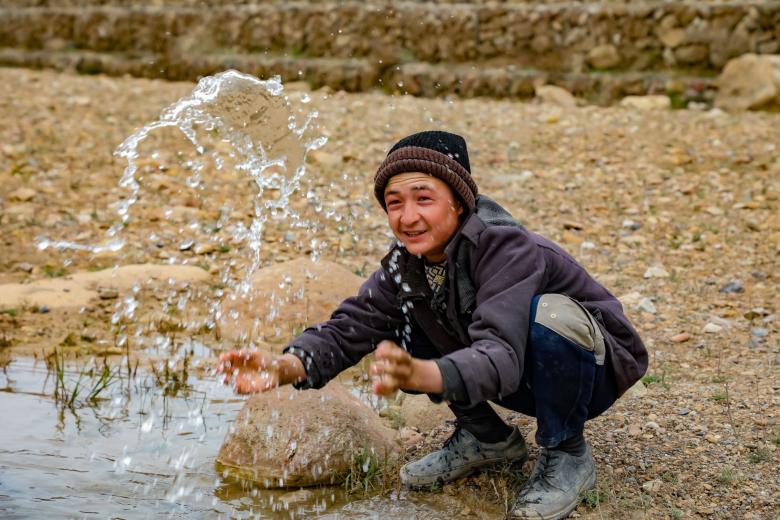 The Value of Water
Monday, March 22, 2021
Water is an invaluable gift for the people of Afghanistan, however in the western part of the country, many households still do not have enough water sources. This had a negative impact on their lives, livelihoods and particularly children's health and education.
For Abdul Shokor, a 13-year-old boy who lives in Khoja Ahmadiha village of Badghis, water means a lot. When the water canal was damaged in the village, he used to fetch water for drinking and house chores from a stream far from his house. 
Shokor defines water as life, health and food. According to him, there is no life without water!
Life was hard for Shokor until World Vision Afghanistan initiated 'The Australia Afghanistan Community Resilience Scheme' project through which WVA established Abdullah Khan Irrigation water canal in Khoja Ahmadiha village. Through the community participatory approach (CAP), the project constructed an intake dam, aqueduct structure and canal lining. With this, approximately four villages and 350 households (2450 people) benefited from the water canal. Moreover, 100ha of agricultural land was covered with access to water.
According to Sangen, 50, the village head and a farmer, this irrigation water canal has immensely supported farmers to get double agricultural products. This reflects their happiness and ensure that they continue to benefit from value the water canal brings to them, Sangen and the community mobilized themselves to protect and manage the environment and surrounding of the water canal through regular cleaning and planting of trees around the water catchment.
Sangen's appreciation and views about Irrigation scheme: 
Thanks to the Department of Foreign Affairs and Trade (Government of Australia) for their generous support that made this happen.