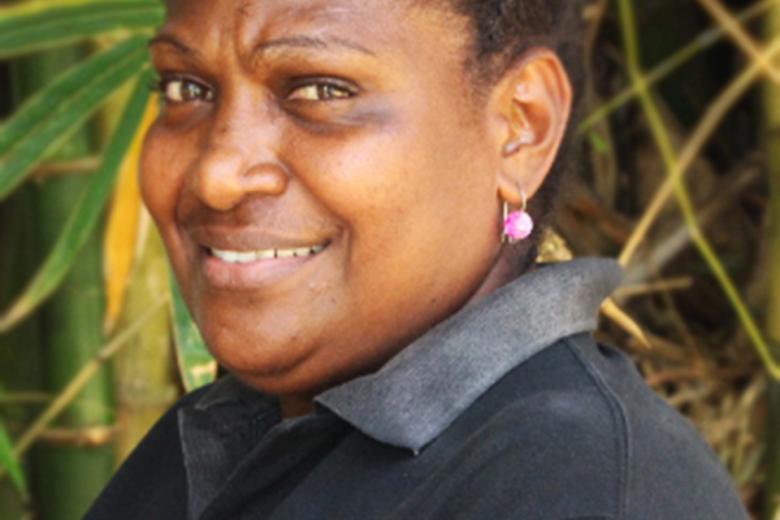 When challenges appear in life, there is always a blessing
Thursday, August 20, 2020
My name is Diana, I am from the island of Malo in Vanuatu and am married with three children, two sons and a daughter.
I am a community liaison officer in World Vision's Laetem Dak Kona (light up the dark corners) project which works with women, water and people with disabilities. The first challenge I encountered in relation to disability was when my nephew was in an accident on Christmas day 2019 and lost the sight in his right eye.
I can remember when the doctor came out to tell him, "Son you will no longer be able to use your right eye."  We both cried and I didn't know how to comfort him.
I remember as he cried, he kept asking me, "Will I ever be able to see out of that eye again?"
And I replied, "When challenges appear in life, there is always a blessing that you will discover."
From then on, I kept encouraging my nephew by telling him about the strength I saw and experienced in people with disabilities that I had met doing my job. Today he works at a local service provider for people with disabilities.
This personal experience has built me up so much and helped me with the difficult emotions and challenges I face when working with people who have special needs.
There are two children in my community who have speech impairments and they are always excited when I visit. They see me as their best friend in the community now. Their mothers are so happy that their children have this sense of belonging and companionship.
Today I have many new friends of all ages who live with special abilities. My family is so happy and so supportive of the work I do. We all believe that we have been blessed with this gift to bless others.
The five-year Laetem Dak Kona (light up the dark corners) project is  funded by the Australian Government's Water for Women Fund. As part of the project, World Vision conducted a water, women and disability study among 55,000 people in Sanma and Torba provinces to investigate access to, and experience of, water and sanitation, menstrual hygiene management and incontinence amongst people with disabilities, alongside the situation of people without disabilities and in particular women.