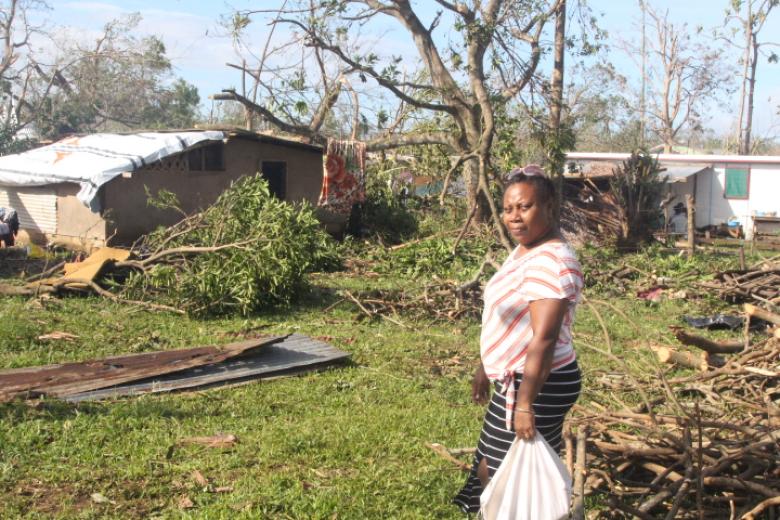 World Vision staff member Jenita shares her Cyclone Harold experience
Monday, April 27, 2020
I was at home with my three kids in Luganville when the roof of our house started to fly off. We ran out to the road where a passing vehicle picked us up and drove us to a relative's house. Parts of the roof of the house we escaped to were also damaged but we just stood there until the worst of the storm was over. My children were really scared. After the storm passed, I took my kids to another relative's house and returned to my home to see the damage. I didn't want my children to see the house like that because of the psychological damage I knew it would do to them. One wall was totally destroyed, and all our belongings were either wet or had blown away in the wind.
It was a hard time for me as my husband lives on another island and couldn't be reached because telecommunications were down. My landlord also lives on another island so there was no one to help me fix my home.
I dried our belongings, put the roof sheets back on by myself and covered the holes in the house with a tarpaulin that World Vision gave us the morning after the storm passed. When the house transformed more into our home again, I brought the children back home.
The day after the cyclone passed, I went to the World Vision office to offer to help with the cyclone relief work.
My home and the future of my family constantly weighs heavily on my heart, but when I see the pain and suffering out in the community, I forget my concerns and am so privileged to be able to assist many people as they try to recover. The hope we provide for people also gives me hope that everything will be alright for my family, as there are people around who care and will help us in one way or another.
Jenita Dick is a Development Facilitator for World Vision Vanuatu's Relationship Education About Choices for Healing project, which uses a faith-based approach to address gender-based violence. Jenita has worked with World Vision for five years during which time she also supported the Ambae Volcanic eruption relief effort.
World Vision is working with the Provincial Emergency Operations Centre and the National Disaster Management Office to provide relief items including tarpaulins, shelter tool kits, solar lanterns, and blankets to cyclone-affected communities.