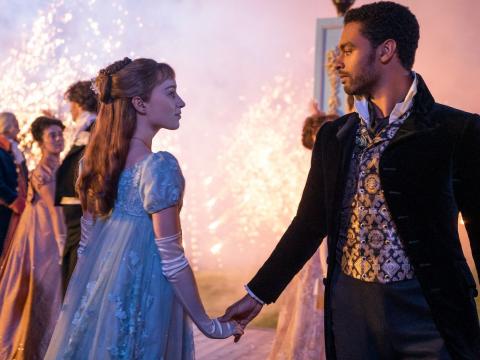 What Bridgerton tells us about child marriage
Tuesday, March 30, 2021
Elena reflects on what we can learn about child marriage from the year's most popular television series.
By Elena Gaia
Bridgerton: Love it or hate it, the fictional television series set in a racially integrated Britain of the 1820s and based on the novels of author Julia Quinn, has kept record numbers of us good company during the latest waves of COVID-19 lockdowns. I so much liked the diverse setting of the show that I now cannot imagine my beloved Jane Austen's novels set any other way. The show's writing is powerful.
While the series portrays young women in their early 20s (the real age of the actresses), in Regency-era London a debutante marrying during her first season out, like the series' protagonist Daphne, would actually have been no more than 16 years old. Today we would consider that to be child marriage.
The show's reflections on a girl's marriage are revealing of popular beliefs that have, alas, stood the test of time. In one early scene Daphne complains to her eldest brother that securing a good marriage is the main event for which a young woman like her has been raised and prepared; the climax of her life. For how many young girls today is a statement like this still painfully real? My thoughts immediately went to the 12 million girls married every year before they reach 18 – a figure that surely would not have made any of the show's fair ladies faint at ball, but that is hard to swallow today. What we may imagine to be girls living in very poor conditions, in a refugee camp and forced into marriage to secure a living, is probably an accurate description of the contexts associated with today's largest numbers of child brides. The sentiments at the root of this problem, however, know no border and transcend social and economic standing.
Shonda Rhimes, the brilliant television writer and producer of Bridgerton (amongst many other hugely successful shows), talks about this experience in her memoir: even when a talented woman reaches huge success in her professional life, people in her family and circles may struggle to recognise and appreciate her for that achievement; instead, they may tend to focus on her performance in securing a partner and/or a suite of babies.
I have felt that pain too – how do you explain to your 94-year-old favourite aunt who never left her village of 2,000 souls in rural Italy that you are advocating for the rights of children? In all fairness to grannies and uncles out there, it is much easier for anyone to imagine a woman in one of the roles that have been around since the dawn of humanity: as a wife and a mother.
So how do we move on from this scene to a different one? Bridgerton offers a powerful message: those of us who have knowledge, who can move and speak freely, whose voice is heard, who are in a position of power, who have a support network, and who do not have to worry about how to put food on the table every day should use that agency and that power for good, even when the worst outcome – a girl being married against their will – cannot be avoided.
Husbands who have married a girl barely in her teens can decide to delay sexual intercourse until she is more mature and ready. Mothers who have been married off as a child can decide to be open with their daughters and prepare them better for negotiating the terms of their marital relations. Young men in love can decide to behave like the series' one and only Duke of Hastings on his wedding night and ask their female partner: "Do you want me to stop?". Girls who have escaped child marriage can decide to help other girls avoid the same fate.
And people like you and me, who are probably pretty far away from the realities of child marriage, can decide to inform ourselves about this problem and support those who are taking action; we can decide to believe that it is possible to see the end of child marriage in our lifetime; we can decide to consistently behave in ways that acknowledge and promote the value of girls and women beyond their marital and reproductive roles.
If you still find it difficult to imagine a different world, if you struggle to see yourself as someone who can change the social norms that disadvantage girls and women, people from different racial and linguistic backgrounds, people with different sexual orientations, people with disabilities, just fast forward to the last episode of Bridgerton Season 1 and listen to Daphne's mother's advice to her daughter. We may not all be Bridgertons (fortunately), but we are all human beings, created in God's image: there is nothing we cannot do.
Picture credit: PictureLux / The Hollywood Archive / Alamy Stock Photo
Elena Gaia is World Vision's Director of Global Campaigns leading World Vision's It takes a world to end violence against children campaign. Follow Elena on Twitter @elegaia