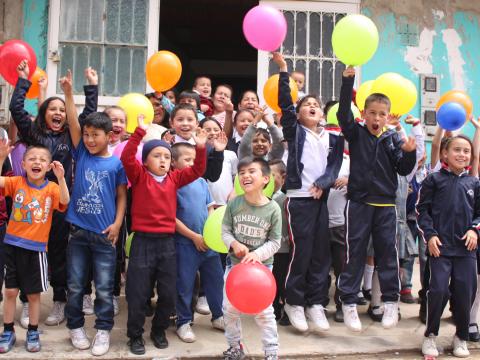 Vacancy: Finance & Administrative Officer
Thursday, July 22, 2021
Full-time position based in Brussels
Long-term Contract
Founded in 1950, World Vision is a global Christian relief, development, and advocacy organisation dedicated to working with children, families and communities to overcome poverty, violence, disaster, and injustice. World Vision has over 37,000 staff in nearly 100 countries. We collaborate with others in pursuit of positively impacting the most vulnerable children, their families, and communities around the world.
World Vision EU Representation (WV EUREP) in Brussels is one of several "global capitals" based in strategic global locations and an association of WV offices engaged strategically with the EU. Our main goal is to see a tangible increase in political and financial investment in children by the EU.
Purpose of the Position
The Finance and Administrative Officer contributes to the optimal functioning of the WV EU Representation (EUREP). She/he ensures the smooth running of daily financial matters and supports the administration. She/he will report to the Senior HR and Administrative Officer and to the EUREP Executive Director.
MAJOR TASKS AND RESPONSIBILITIES
1. Financial administration
Responsible for the smooth running of the global accounting of the office, ensuring compliance with existing national and international reporting requirements:
Ensure monthly analytical accounting is done properly: create, register and disseminate to correct recipients all outgoing invoices, expense declarations etc…;

Produce monthly analytical accounting with comments and analyses, including analysis of forecast vs actual budget;

Ensure payments are duly approved and timely done;

Monitor accounts to be received and follow up on late payments;

Prepare accounts for processing by externally contracted accountant (monthly);

Provide input into annual budget cycle and follow-up;

Manage provider's, client's and bank's mails;

Prepare financial overviews and analyses for presentation to the EUREP Board and General Assembly of the organization;

Annual closing account: prepare all documentation necessary for the annual audit and work closely together with external auditor, and external accountant;

Manage relationship with the bank, including managing and administering corporate credit cards and follow up of expenses bills.
2. General Office Administration
Ensuring the smooth running of the office:
Ensure daily administrative management of the office and assist in resolving day-to-day problems;

Ensure that all organization related administration is kept in accordance with legal requirements;

Oversee contacts with local suppliers, procurements and invoicing;

Arrange for any maintenance work that needs to be carried out in the office;

Overseeing the rental contract of the office and liaising with the building owners;

Ensuring all necessary insurance coverage has been contracted and is applied in accordance with legal requirements and internal rules;

Ensure Brussels office complies with World Vision's administrative requirements;

Ensure logistical support for meetings, activities and training;

Assist the

Senior HR and Administrative Officer and the EUREP Executive Director

with all aspects of the legal requirements for the organization;

Provide IT support to colleagues, liaise with Brussels-based IT consultant and WVI IT team.
3. Human Resources
Support to the Senior HR and Administrative Officer when required.
Knowledge, Skills and Abilities
2 years of experience in finance and administration;

Degree in Business administration, Finance, International Development or a related field;

Well-developed administrative and computer skills, including good knowledge of MS Office (especially Excel), web-based administration tools such as Zoom, Teams, e-mail technologies;

Ability to multitask;

Excellent knowledge of English and French;

Strong interpersonal, organisational, planning and team-working skills;

Citizenship of an EU member state or a valid residence and work permit for Belgium is a must;

Ability to act with integrity, demonstrating sound ethical principles;

Support for World Vision's core values and Christian identity.
We offer
We offer a long-term contract, full-time to start rapidly and a work environment where good team spirit, collaboration and personal development are held high.
To apply, please send your CV and cover letter outlining how you match the job description to Nadine_massart@wvi.org with the subject line "First Name + Last Name – Finance & Administrative Officer" by 6 August 2021 noon (12.00 PM).
Due to limited resources, we will unfortunately not be able to reply to individual queries. Only shortlisted candidates will be contacted for an interview.