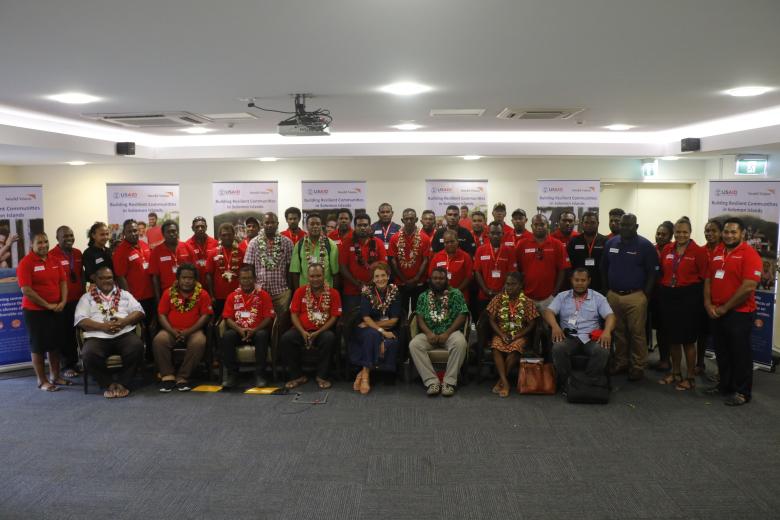 World Vision Solomon Islands launched disaster risk reduction project
Wednesday, February 3, 2021
World Vision Solomon Islands Country Program Office has launched an equipping vulnerable community project in Honiara on January 27 2021.
The USAID funded project is worth 1 million US Dollar or roughly 8 million Solomon Dollars.
The project runs from September 2020 to September 2022.
In his Opening Remarks, WVSI National Director Jimmy Nadapdap said, the launch program is a milestone in the history of World Vision since its establishment in the Solomon Islands more than 30 years ago.
Mr Nadapdap also emphasised disaster preparedness is crucial in the country since the Solomon Islands is prone to natural disasters.
"WVSI is grateful for USAID to funding this very important project knowing, the Solomon Islands is very vulnerable to climate change impacts. According to the 2018 World Risk Report, Solomon Islands is the fourth riskiest country in the world due to its vulnerability and exposure to natural disasters," he said.
He further highlighted the project will work closely with Provincial Disaster Management Offices (PDMO) and key partners to ensure vulnerable groups are identified and prioritized in disaster risk management and planning, through increasing awareness of safeguarding and protection in the community; and ensuring women, People with Disabilities (PWDs), and youth are better prepared, and their needs included in disaster preparedness.
"Support Provincial Administration and Stakeholders to mitigate disaster risk at the community level through better connecting the PDMO to target communities for consultation and planning and better-prepared communities for rapid and slow-onset disasters by supporting communities to understand likely hazards and risks and have knowledge, skills and resources to manage them." Mr Nadapdap said.
The Ambassador to the Independent State of Papua New Guinea, to the Solomon Islands, and to the Republic of Vanuatu Her Excellency Erin Elizabeth McKee said US Government is happy to share the journey with the Solomon Islands Government to ensure a safer and resilient future in the country.
"This USAID 2 year 1 million US Dollars (Roughly 8 million SBD) will help educate communities on the impacts of climate change by increasing access to early warning systems and providing community-level training," H.E Mckee said.
Meanwhile, Malaita Provincial Premier Daniel Suidani welcomed the project to Malaita Province.
"Today we see the collaboration between World Vision and the US Government through the USAID to help support communities in Malaita and Guadalcanal Province. The support is timely and welcoming to ensure communities are well prepared for the negative effects and bad consequences of climate change.                      
"It is even more welcoming to note that this project is among other things that aiming to help the vulnerable people or our communities," Premier Suidani said.