A Young Caretaker
Tuesday, July 14, 2020
Her shrivelled body holds a baby in her arms. She looks away as her face turns red, her lips tremble as she breaks down into tears. Brokenhearted, she muscles the strength to express her situation. She is not a young mother, but the sister of a 12 months old baby. 12-year-old Lisa, Grade 7, lives in Kaoh Andaet, Takeo province, had to step into the role of primary caregiver for her sister.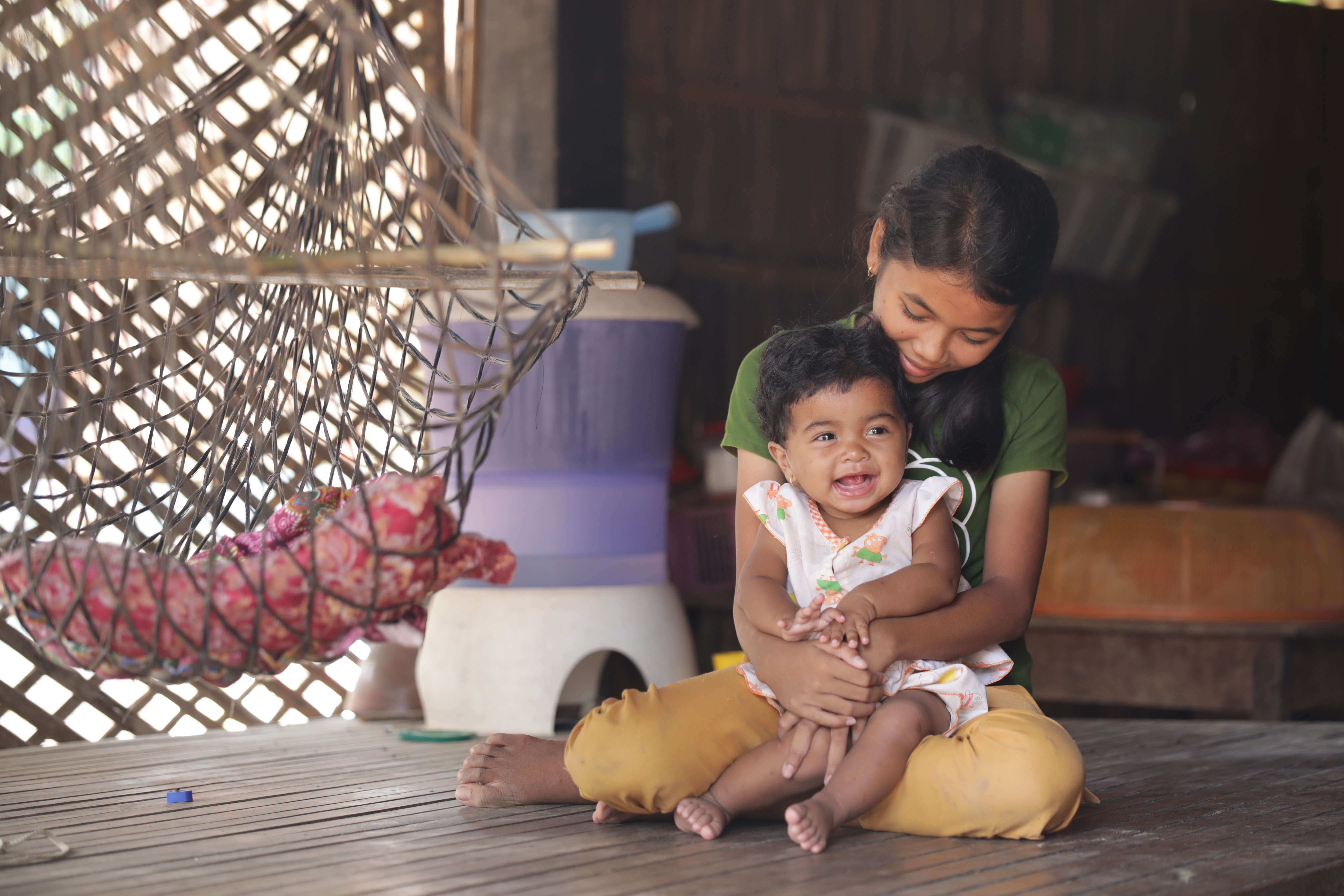 "I miss them so much. I want them to come back. I want to have money to pay for the debts, so my parents can come to live with me with my grandma and to buy things like others." Says Lisa, after calming herself down. Due to extreme poverty, her parents were forced to work in Phnom Penh city as garment and construction workers to earn income to pay for bank's debt and to support their family. This left Lisa and her younger sister to live with her mother's aunt for three years. Sreypov, Lisa's 12-month-old sister, has to live with Lisa for four months. As a routine, her parents always send a little money to Lisa for buying formula and for her daily expenses.
I have three dreams. The first dream, I want to get​​​​ number one in the class because I want ​everyone to recognize me. The second dream, I want to have enough money to buy things like others. And the third dream, I want a house to live together with my parents like other families, says Lisa.
"Whenever people talk about her family situation and that they owed money, she feels like crying. She hides at the bathroom, and cries because she is disappointed," says 53-year-old, Pat Mai, Lisa's grandaunt, whose Lisa calls grandma. She has helped to raise Lisa since she was six years old while her parents were busy working; however, she has become fully in charge of alternative feeding since her parents migrated to the city and left them to live at her house. Mai says, "In the past, Lisa's parents worked as a farmer but since they have owed a lot of money and have nothing to do. They went to the city to find a job to do. They loaned from micro finances, and couldn't payback. Then they loaned from the local people, so the debt started increasing until they are not able to pay at all. Did I wonder how much was their debt? They had sold everything to pay for the debt and what remains is about $5000 or $10000."
Even though Lisa and her sister received support from her parents but the amount of money was not enough. One can of formula milk takes two weeks to finish, and one can cost 48,000 Riels ($12). But Lisa has grandparents who are working in Thailand who usually send her some money too, about 60,000 to 80,000 Riels (14.66 - 19.54). Besides that, the community people who are neighbour and nieces' Pat Mia have contributed a little of money to buy formula as well, but the financial aid that she has received only provides short term support. For Phat Mia, she has to bear this hardship; her living depends on rice farming and entirely relies on her nieces, sending money from the city. She does not have enough money to support Lisa and her sister too. "she (Lisa's sister) eats a lot actually, but since we do not have enough for her; we only give one spoon of formula milk mix with watery porridge and add a little of sugar for her."
Because of the outbreak of COVID-19, Lisa's parents have their lost income (working part-time or sometime irregularly) which has affected their daily living and support provided for their children. "Before COVID-19, I ate the chicken stew, but after the disease outbreak, I am surviving on rice with soya sauce. My parents used to usually send me 100,000 to 150,000 Riels (24.43 - 36.64) to buy formula for my sister. However, after COVID-19, my parents rarely send me the money because it's hard and there is no earning." says Lisa.
She never calls to demand money from her parents thought I asked her to call she refused not to call because she knows that her parents don't have money, says Pat Mai.
Due to the outbreak of COVID-19, the public schools in Cambodia have been closed, and all the students are required to stay at home for their safety. Lisa is one of them, and she is not only affected by the limited financial support from her parents but now her dream to come first in class has been shattered by the inability to go to school. She is not able to meet her friends nor her teachers. More than that, she is unable to sleep well, especially at night time since she spends most of her time taking care of her baby sister and helping her grandaunt in chores at home. "I cannot fully concentrate when I am studying at home because while I sit to study, my grandaunt would call me to help her to do things. And where I am stuck and need to clarify my doubts, I feel difficult to ask the questions because there is no one to respond. I wish the school would open soon so that I would have a chance to play with my friends and meet my teachers," said Lisa.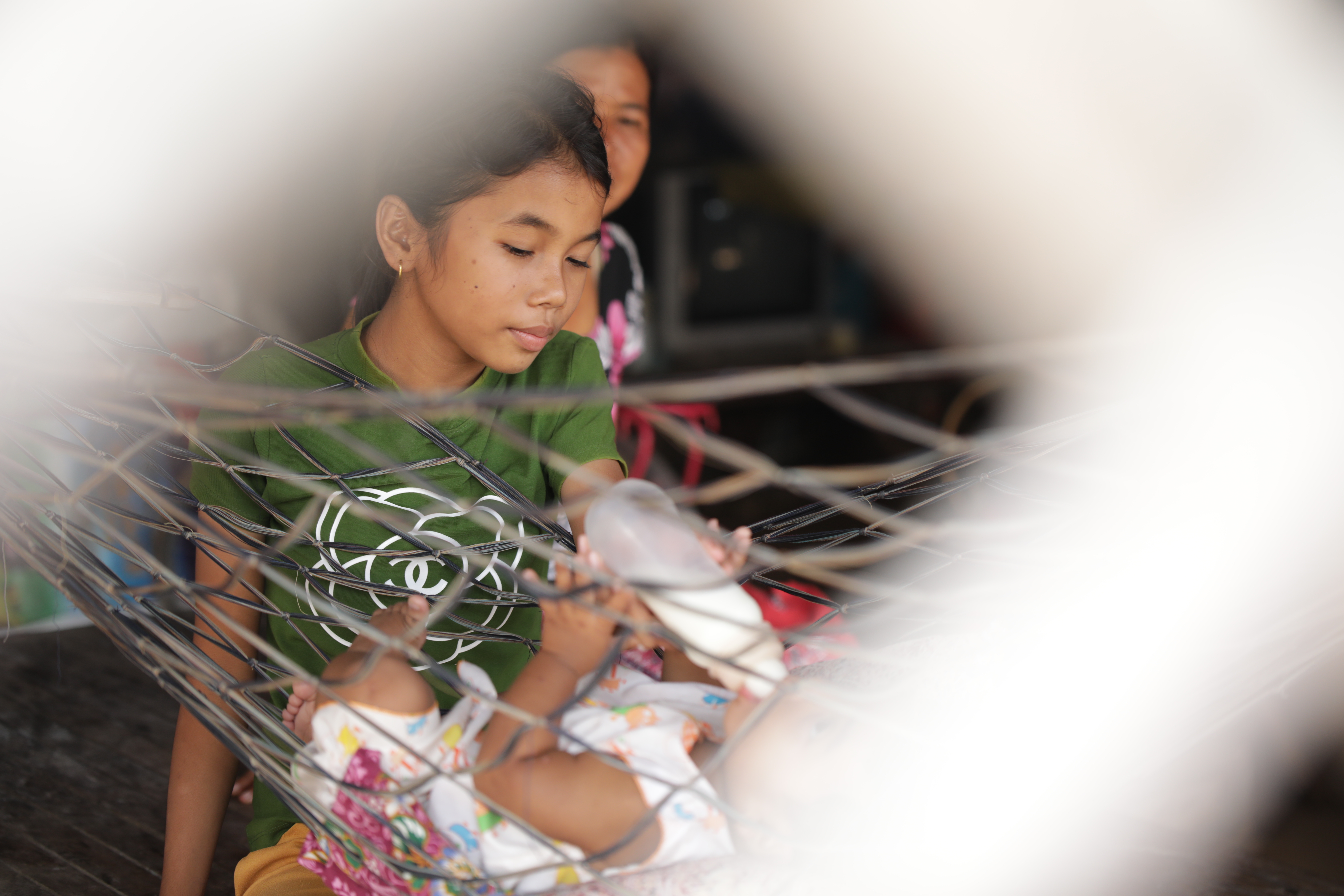 Since Lisa has stepped into a caregiver for her sister, it is clear that she had intensive time to enjoy her childhood life; however, once she wanted to enjoy her childhood life, she needed to carry her sister to go along with her and played with the kids in the village. Lisa has become part of World Vision's sponsorship programme, since 2014. Her information, about becoming, a primary caregiver for her sister, and her family income being affected by COVID-19, was reported through the Child Protection Committees (CPC) during the COVID-19 outbreak to one of the Technical Program Coordinator for Child Protection (TPC), World Vision.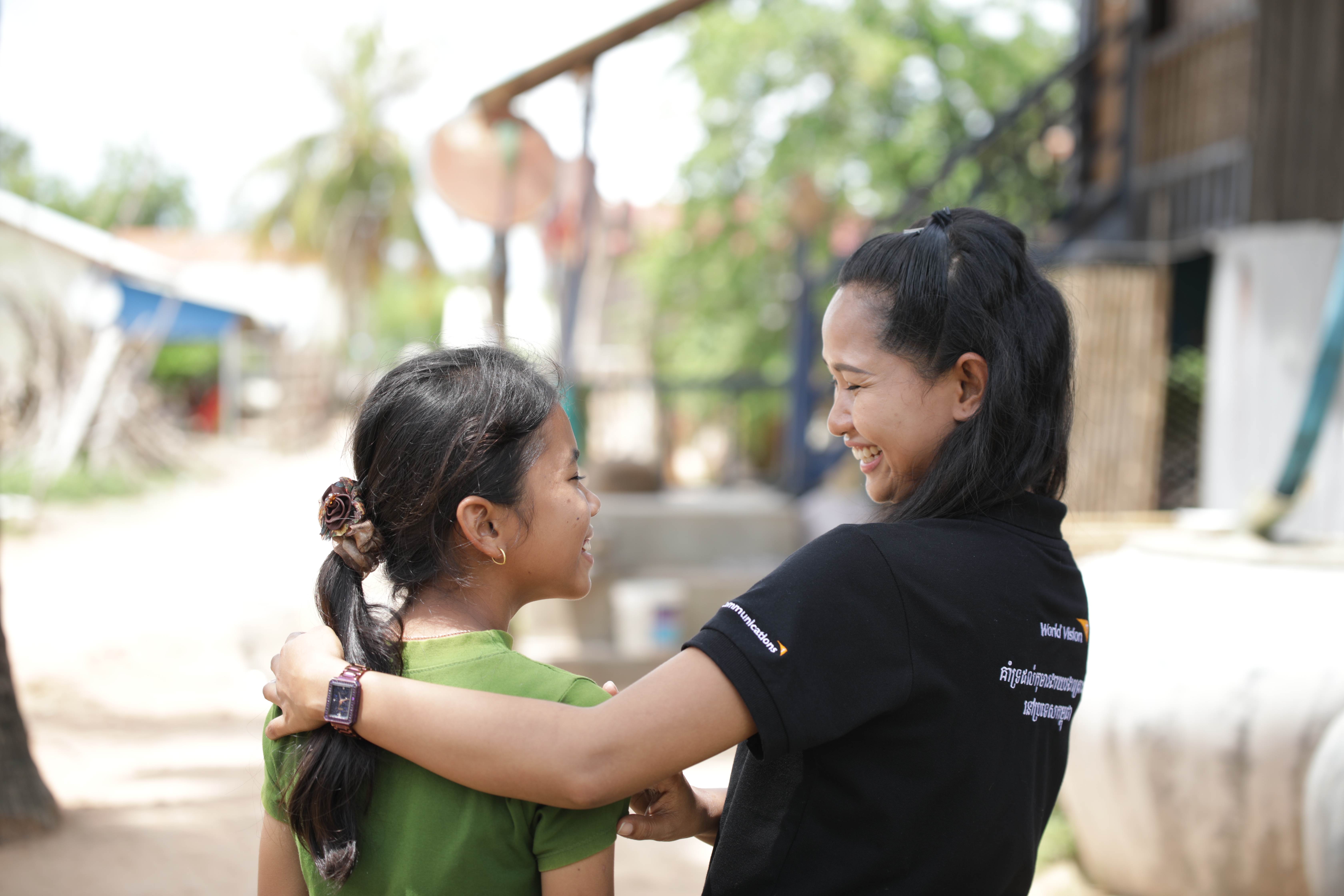 Lisa has involved in fun and learning activities which teach Lisa and her friends on self-protection, child rights, the value of education, health and sanitation. As a sponsorship child, she was visited by community volunteer at least once in every three months to observe her education status and her safety. Before the outbreak of COVID-19, the reality of Lisa's family was not the most vulnerable family but after the spread of the outbreak, her family status has become needful. Recently, the local authority is assessing her family to classify the poor status of her family.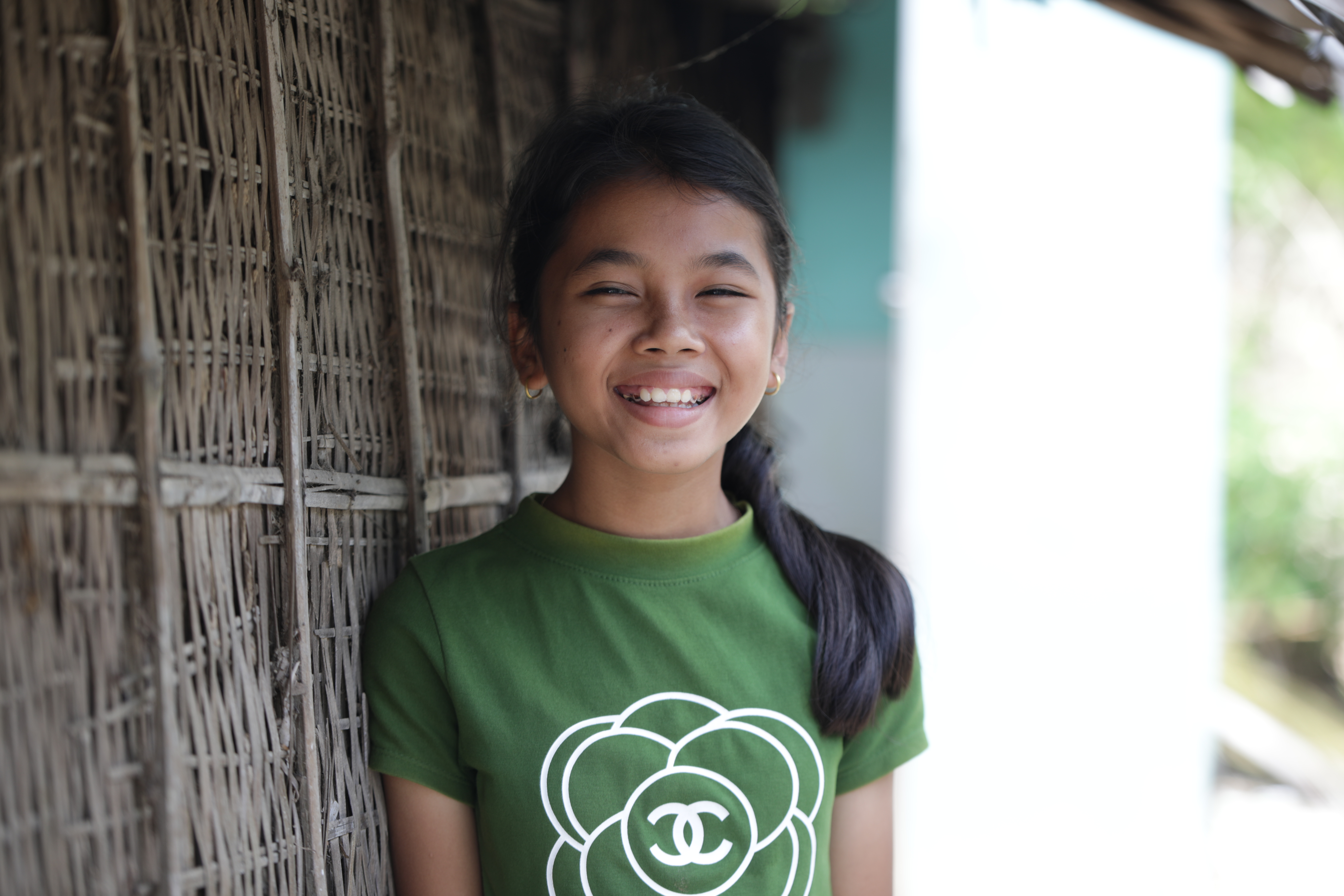 Lisa's life had gone through the darkness without hope. But now she sees a glimmer of light shining through. As part of, World Vision's COVID-19 response, in Cambodia, World Vision has distributed food emergency support and formula for Lisa and her sister. The relief kit fulfils the members' stomachs for a month.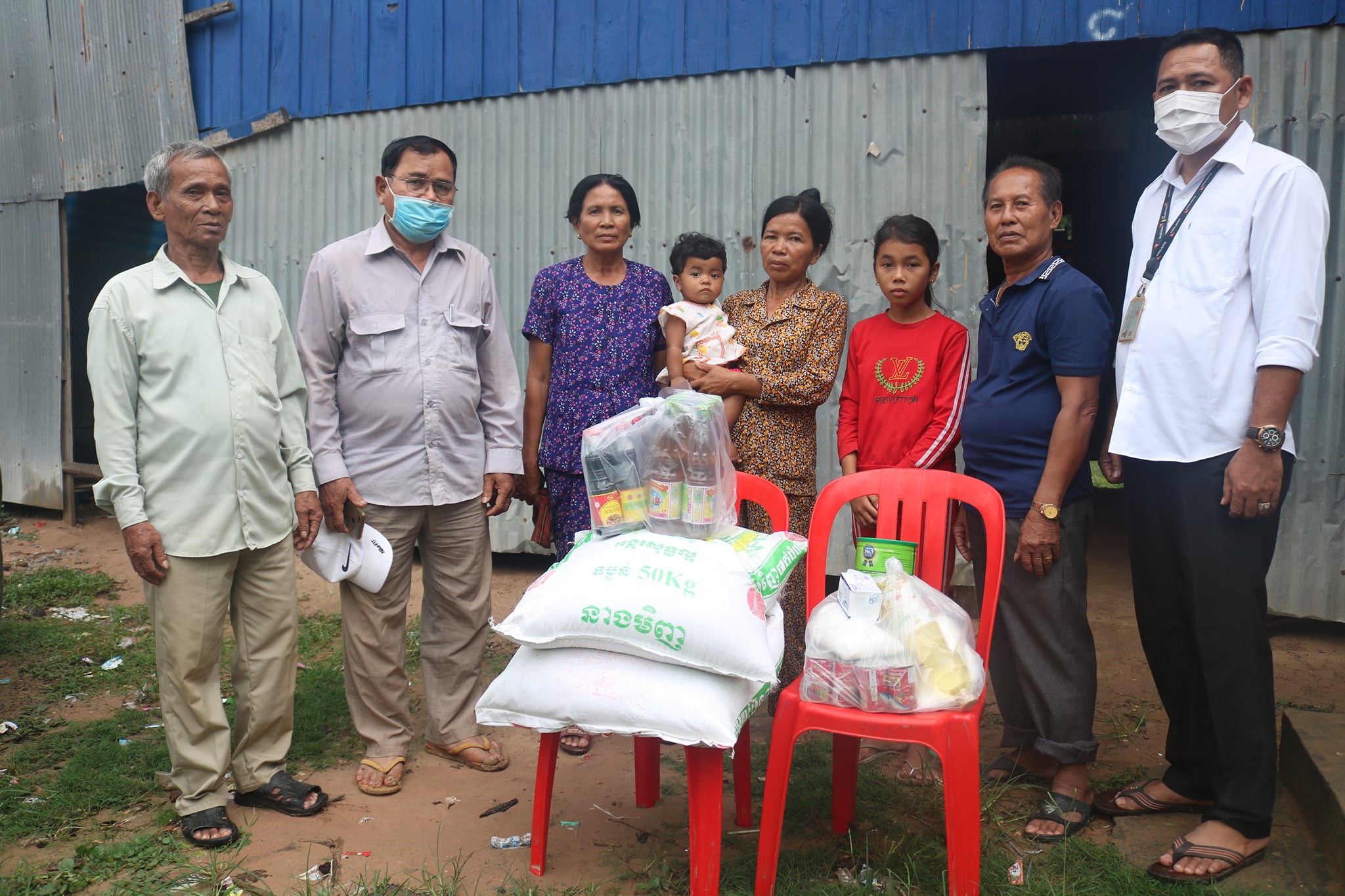 And World Vision partners with the local authority to follow up and visit her to continue supporting her through this tough time.
I feel so excited because World Vision supported me when I needed them most, and I don't feel worried about not having enough food to eat, says Lisa with a smile on her face.
From a girl who was shocked by her sorrows to a girl who now is able to a smile amid a pandemic, Lisa has come a long way. In the future, Lisa wishes to be a teacher because she thinks that being a teacher can earn a lot of money, and she wants to help to educate the people.
During the COVID-19​, pandemic World Vision has continued to intervene and deliver humanitarian relief to most vulnerable children and families such as food emergency support, education materials, and information education communication psychosocial support materials which have impacted 884,653 people, including 345,485 children (185,695 girls). World Vision in collaboration with local authorities at all level, and partners, is working towards the well-being of the most vulnerable children.