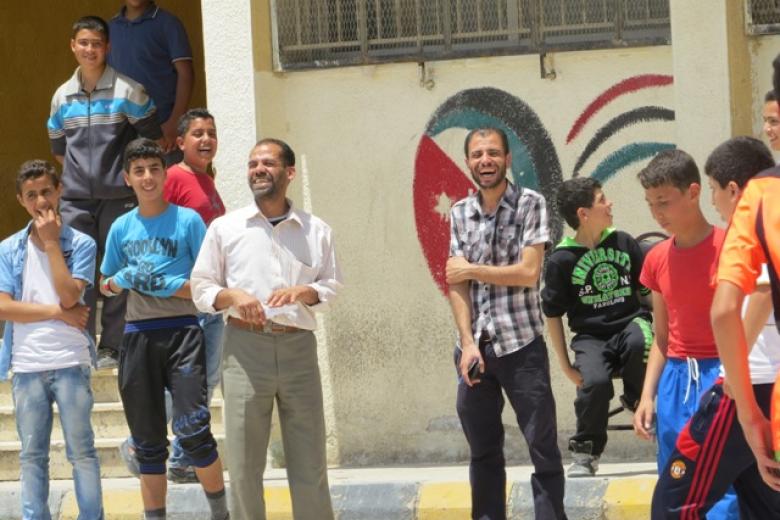 Compete With Joy
Saturday, October 17, 2015
Social harmony and cooperation was shown between Syrian and Jordanian students during a very unique event held in Zarqa - Jordan.
A game competition day (tele match) was held, in an energetic and positive atmosphere, between two of the schools that have benefited from the No Lost Generation (NLG) project implemented by World Vision Jordan in partnership with Global Affairs Canada (GAC). 
A total of 50 students between the ages of 13 and 16 participated in this event (28 students from the guest school and 22 students from the hosting school). All of these students are enrolled in Child to Child sessions; designed to address students' protection needs and usually include different life skills activities.
The event started with a welcome speech written and delivered by a Syrian student shedding the light on the benefits of the NLG programm.
After the speech, teams from both schools competed in a football game that the guest team won in penalties. Mohammad, a 16-year-old from Syria, was the star of the football game. He won the Best Midfielder medal on this day. Mohammad said: "The game brought back precious memories! I love football and I was enrolled in a football club back in Syria before we fled to Jordan, back in 2013.  There is no football team in my current school in Jordan, so this activity not only gave me a chance to play the game that I love and miss, it also taught us how to cooperate with other team members."
Due to hot weather at this time of the year, as it reached around 35 degrees, the rest of the activities took place indoors to make sure that everyone stays fresh and active.  One of the indoor activities was chess. The winner in the chess game was Dia', a 15-years-old Syrian student from the hosting school who showed great talent and speed playing chess and was awarded as the winner in chess. "I get the chance to play chess with my father and elder brother who taught me how to play. These sessions and this particular activity opened the doors for me to compete and I hope to compete on a higher level as well"