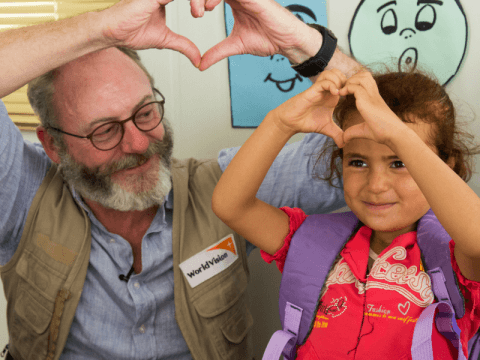 Game of Thrones actor, Liam Cunningham, visits Syrian refugees in Jordan
Tuesday, October 11, 2016
Actor, Liam Cunningham from the popular show Game of Thrones travelled to Jordan to witness the plight and give testimony to the resilience of Syrian refugees. These following are impressions from his trip. 
Day One: Azraq Refugee Camp, Jordan
The smiles on the kids always get me. As soon as one girl today was asked what she remembered about Syria, the mask came down quickly and she started crying. No child should have to go through whatever she went through. The smile was a façade and it didn't take much for it to crack but it also didn't take much for her to recover. I hope it's temporary, whatever psychological trauma she has suffered. 
…
Play is incredibly important. It's an exercise in imagination – the smiles and cheering of your friends, to be competitive, to be collaborative. It was fantastic seeing the World Vision football pitches (built with support from Aktion Deutschland Hilft). The things those kids have seen and how they've suffered…. Things like these football pitches give an opportunity for competing, smiling and a distraction from thoughts of bombs – the pitches are very valuable, psychologically. It's a credit to the NGOs who are operating here – dignity, self-esteem, confidence – it's hard to put the impact this has on children on to a spreadsheet!
Day Two – Za'atari Refugee Camp, Jordan
Today I was thinking about those people who walk around in shopping centres asking you to give to certain charities, how it's easy to swerve and avoid them. It's odd when you see that money changed into another currency and that currency is dignity. Even something like a tarred road – World Vision put in roads in Za'atari camp – which sounds boring but for refugees in a landscape that looks like mars, it offers them dignity, walking on a road rather than in the mud. You can't put a price on that. It's dignity.
…
The aggressors have not won – every smile from a child is another nail in the coffin of the aggressors. Hate will never win – love is the answer.
Day Three – Zarqa, Jordan
We visited an education centre today, and we bumped into Iraqis and some Somalis, Jordanians and Syrians of course, in this gorgeous place of learning. It is in a sense informal education because it's not an officially sanctioned school. It is in a sense a resource centre to give people who have missed out, to get them ready to go back to school so that they're not left behind and so that they have a certain amount of confidence going in.
The hunger for education in this place is absolutely remarkable. They realise that without education… As somebody said today, education is life. Otherwise you're just existing…We talked to kids who want to be psychiatrists, civil engineers.
Day Four – Irbid, Jordan
I met [a] young man [Hussam] today. Within 30 seconds, you know that this guy has a future… It's amazing. Hussam taught himself English online, and now he's learning German… He told me about how his friends died, family members died, there was an attack on his school when he was doing his final English exam. And he won't let it get at him, he has a self-belief about him, joy in his heart, a twinkle in his eye, and I have no doubt about the horrors he's seen and experienced. But it hasn't taken away his humanity, if anything it's made him stronger. He's a delightful, delightful human being.
Update: Since they first met, Hussam has been reunited with his father in Germany. Yesterday Liam paid him a special visit to see how he was doing and how he was adapting to life in Germany.  This video from Reuters shows their reunion. 
Day Five – Amman, Jordan
I have enormous anger about what's happening in Syria, the injustice of it, the disgusting behaviour of the various parties involved. And to see what has come out of that, the lust for life, the desire for these children not to be lost, not to have a lost generation... As long as people keep thinking, people keep caring, and people keep wanting to do something about it… change is made.
Something that will stay with me is that for all the attempts to quash humanity – and don't forget that war is about cruelty – for all the attempts to be cruel and to diminish the human spirit, I have seen it flourish here.