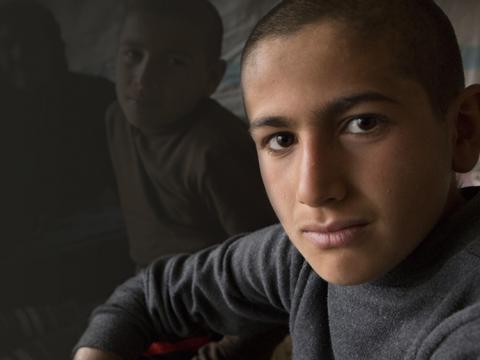 The intangible effects of war on kids
Monday, February 17, 2014
"We are brothers," Amir, 10, and his brother, Kameron, 9, tell us. At first glance, you would think they were twins.  They are handsome young boys with perfect cheekbones, good manners and a spark about them. Only a year apart, their bond is tight; tighter than most, as they mourn a mother and father that disappeared one night from the markets, never to be seen again.
"When the clashes stared in Syria, some people came and took my parents, and I don't know where they are now, I don't know who took them. My grandmother came and took us, and brought us here to Lebanon," Kameron, 9, tells us.
Incredibly strong, kind and loving, the boys last saw their parents two years ago, these boys have experienced war in a way no child should have to.  Amir tells us of the terrible day he ran away from a building about to be bombed. His best friend was still inside. He was killed by the explosion.
"I saw dead people. I saw people on fire. I saw bombs."  Amir, 10. 
"I saw dead people. I saw people on fire. I saw bombs," he says. "We saw it with our eyes. We didn't imagine that someday we would see this."
And with all my heart, I wish they hadn't. But they have, and they recall it like it was yesterday.
It's these horrors that are so hard to relate to. These are the stories that are so confronting we refrain from telling them because we find people disengage - it's simply too far away from their reality. But it is so many children's reality. While I don't think we should feel bad for the lives we live, there is a social responsibility we need to be accountable for.
Why do we push it away, when really we need to bring it closer? Does it bring up emotions we would rather not feel? Yes, it absolutely does. But, why can't we spare a moments' empathy for people like Kameron and Amir who have suffered so, so much in between our busy lives of soy lattes and catch-ups with friends?
"I feel like I have to take control. I feel like I need to get food for my family," Amir, 10.
"I feel like I have to take control. I feel like I need to get food for my family. I go and work in the potato fields to get money for my family.  I work 6am – 12pm." Amir tells us. He's 10 years old. He misses his father reading books to him on the balcony, and the birds in the trees back in Syria. "I draw pictures of trees and birds." he says.
"What has happened to the trees and birds now?" we ask.
"Well, I haven't seen them in a while… but the trees are all burned and the birds are starving, as there is no one to feed them."
And that is Amir's reality. But it is Syria's as well.
We may be hesitant to tell the stories of individual children, and the horrors they face because they are confronting. But, each story that is told is but one of hundreds of thousands belonging to those who have fled Syria and but a glimpse of what those still in Syria have seen and experienced.
World Vision has provided Kameron and Amir access to clean water and food, which they tell us has brought immense relief.
The UN and NGOs are doing what they can to make sure Syrian children can have the same hopes and wishes as other children. But hunger, cold and disease can eventually kill dreams as surely as bombs and guns.