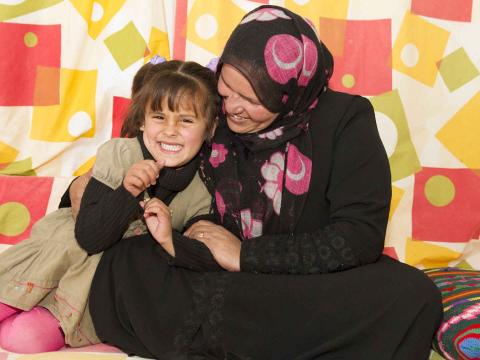 A sweet song for Syria
Tuesday, January 6, 2015
Meet Laynour – she's fun, feisty and five years old. She plays dolls with her sister, she fights over the doll with her sister, she loves being the centre of attention, she has adorable pigtails and loves making people laugh.
Then there's her twelve year old brother Mohammed. He's very relaxed, has a sweet smile, plays football with his friends, enjoys playing with the bright yellow ball he brought with him from Syria, and wants to be an actor when he grows up.
The three siblings sit together - from left to right, Mohammed, Laynour and Ghadeer. Photo by Suzy Sainovski
Ghadeer is the big sister at thirteen – she's confident, friendly, quick to smile, likes studying Arabic and maths at school, and hopes to be an architect when she's older.
I was lucky enough to meet these three wonderful children and their parents on New Year's Eve 2014 in Azraq refugee camp in Jordan – not your average New Year's Eve!
I guess I was surprised by how positive they were, given everything they'd been through.
This was such a warm and open family. I felt comfortable with them as soon we met. I guess I was surprised by how positive they were, given everything they'd been through.

The Dad, Zakaria, and I had some things in common – one, we're both photographers. He had his own photography business back in Syria – he specialised in weddings. We talked photography and I gladly lent him my camera when he asked if he could take some photos of me with his family.
Unfortunately he wasn't able to bring his camera with him to Jordan when the family fled Syria. Zakaria told me he misses taking photos.  I can't imagine what it would be like to no longer have a camera and lose my livelihood.
Just like I can't imagine losing my house, my car, my friends, my country – it has never occurred to me that any of these things could ever be taken away from me.
But that is what happened to Zakaria and his family. They were a middle class family living in suburban Damascus and now they live in a refugee camp. They weren't that different to you and me really.
The other thing Zakaria and I have in common is we both love greenery. He longs for the green of Syria so he planted some vegetables in front of the family's shelter in Azraq camp. Zakaria shared, "I brought dried peas with me from Syria and planted them as I wanted to have something green here."  The greenery is a welcome splash of colour in an otherwise barren landscape.
Zakaria tends to his tiny garden. 
The Mum, Fatima, had a great attitude. She shared with me "just because we're refugees, it doesn't mean we don't celebrate." Fatima always made a cake to celebrate the New Year with her family back in Syria and doesn't want that to change just because the family now lives in a refugee camp. She told me, "I want to start 2015 with sweets so hopefully the New Year can be as sweet as the cake."
Wouldn't that be wonderful for the people of Syria.  Fatima also told me about a great Valentine's Day tradition the family had in Syria. They would all wear red, give each other red apples and make a big red heart. "Inshallah we will do the same in 2015."
Fatima showed me mobile phone videos of Laynour playing in the long, green grass back in Syria. She also proudly showed me a photo of their house. They love and miss their home.
Ghadeer turns 14 on New Year's Day, 2015. She wants her friends from Village 3 in Azraq camp to come and visit her in Village 6 to celebrate. "We will bring some sweets and sing and remember what we had in Syria." Ghadeer's big wish for 2015 is for the war to end so her family can go home.
Although life is harder than it used to be for this family, thankfully they have a roof over their heads, access to food and clean water and their children are attending school. The reality for most Syrian refugees is quite different. Often, basic humanitarian needs such as adequate food and clean water aren't being met, families are living in questionable structures and children are missing out on school.
World Vision has provided clean water and sanitation facilities at Azraq camp with the generous support of donors.
Suzy Sainovski is on assignment in Jordan, seconded from her communications role at World Vision Australia.