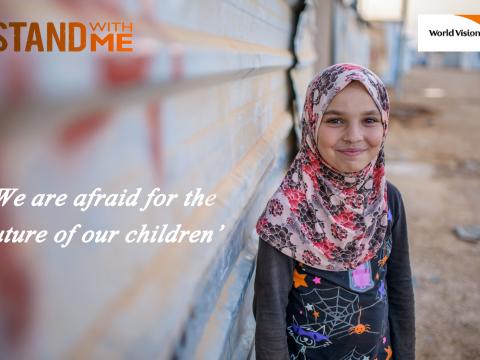 Stand with Me
The crisis facing Syria's children is staggering in its scale. Millions of girls and boys have fled their homes or are living in dire need – each one a child who has lost a home, an education and the sense of safety.  
Syria's neighbouring countries are overwhelmed by the two million Syrians who have fled, with more children and their families flowing across the borders each day to escape a conflict they had no part in.
World Vision is responding to the needs of children affected by this crisis, including internally displaced Syrian children, Syria refugee children and vulnerable children in the neighbouring host countries.  But there are so many children… so many needs.
We desperately want to do more and together we can World Vision is working along with UN and other agencies to champion the children of Syria.
The children of Syria are each asking 'Stand With Me": they desperately need us to stand with them to help put them back in class, to help protect them, and to help heal their mental and emotional scars. They also need protection from the cold winter weather, one of the harshest winters on record.
World Vision is partnering with the UN and other child-focused agencies to profile the enormous needs faced by children affected by the Syrian crisis, to make sure they are not forgotten amid all the politics, and to ask the world to do more.
Syrian children need education, protection and psycho-social support
Will you help contribute to the US$1 billion needed to educate, protect and provide psycho-social support to children? Join our Stand With Me campaign and champion the #ChildrenofSyria
Stand with the Children of Syria and amplify their voices across the world; urge your governments to do more, share what is happening to Syria's children with your friends, give so these children will have a future.
Without this support there will be a lost generation of Syrian children, children who once went to school with ideas of being doctors and engineers but are now exiled, disorientated and displaced, vulnerable to forced labour, and living with an uncertain future.
Key facts:
• 1.1 million children have fled Syria
• More than 500,000 refugee children are not in school or learning
• By the end of 2014 80% of all Syrian schoolchildren could be out of school in the region
• One in five Syrian schools have been destroyed, damaged or are in the hands of armed actors
 World Vision is responding in the following ways:
• Helping Syrian children get back into school or learning
• Providing psychosocial support to help distressed children regain a sense of safety and protection
• Helping to protect children 
• Meeting urgent humanitarian needs, especially over winter