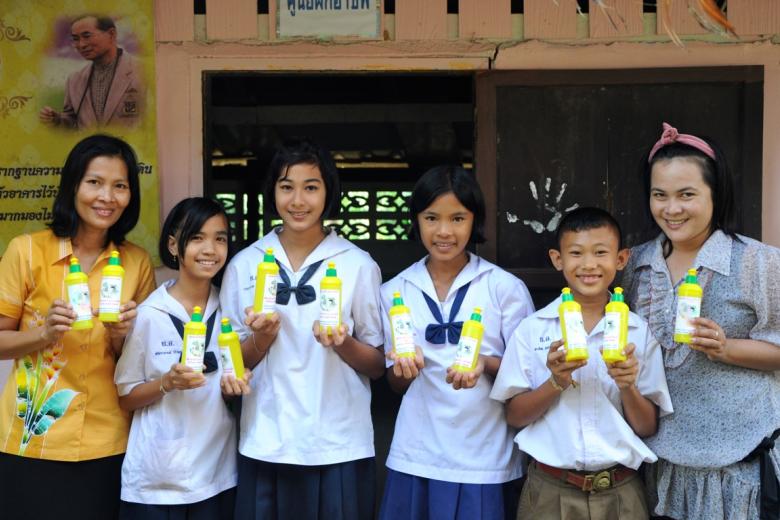 Green Cleaning Secrets from a Soapy Classroom
Tuesday, September 16, 2014
"What, cleaning again? But we have only just done it," my son would sigh and complain when it was time for another cleaning.
At this point, it would be great if we had a magic wand. With just the wave of the wand, every nook and cranny of the house would be completely clean in the blink of an eye. 

Alas, such supernatural wand exists only in fairy tales. 

So what can be done to make this tedious cleaning work a delightful one?

A CHORE TURNED INTO AN OPPORTUNITY


At one school in southern Thailand, a room is filled with lovely colours. Here, students make eco-friendly cleaning detergent that smells nice and is not hazardous to the users.

World Vision's Lam Thab Programme provided materials and ingredients, as well as training for students so that they could generate supplementary income for their families between their studies and use the soap to clean the school.

As a group of sixth graders busily mix and stir the ingredients together and they agree unanimously, "This is fun."

HOW DO THEY MAKE IT?

The children make the liquid bio-fertilizer from pineapple peelings that are fermented for 7 to 10 days in a mixture of molasses and organic bacteria.
Once the fermented liquid turns dark brown and has a sour smell it is strained and used as a solvent to mix with other eco-friendly ingredients.
When it is time to make the cleaning detergent, the children place various ingredients in a basin and carefully measure out portions, mixing it all together. 

Then they add a few drops of yellow food colouring into the mixture and stir a bit more. Finally, a bit of perfume is added, giving the soap a fresh lemon smell. The process ends when the cleaning detergent is poured into bottles.
HOW DO CHILDREN BENEFIT?
"When we have finished making the detergent, our teacher allows us to take some home to use it. We don't have to buy it in the local market. When it is finished we can buy some more in school at 10 Baht [30 US cents] a bottle," says Patcharapon Panchoo, a sixth grade student.
Teachers report that the cleaning detergent is helping children become more aware of the importance of washing their hands and how good hygiene improves health.
"Students are encouraged to wash their hands before eating lunch and after using a toilet. We make bio detergent and we don't have to worry that the children will be allergic to chemicals," says Mrs. Pruedsarat Petcharit, a teacher at this Krabi-area school.
"This school project received support from World Vision in 2011. Since then the school has not been buying any cleaning detergent at all. This helps to reduce our costs a lot," Mrs. Pruedsarat adds.  "World Vision is the only organisation that looks after both children and staff. There are many sponsored children in this school. World Vision also gives support to many of our school activities – so many that it's hard to catch up. Thank you very much."
About the author: Paiwan Benjakul is a communication officer working for World Vision Foundation of Thailand based in Phuket.