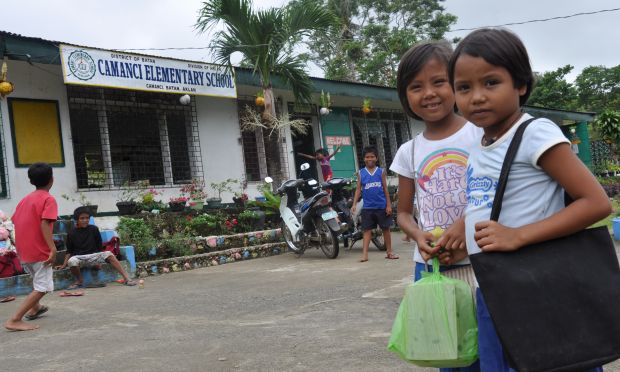 It's good to see and Angel and Marinel back to school.
I will not forget their story. A week after Haiyan hit Visayas, I met them. Their house was blown away and they were then dependent on porridge and banana to keep them going in the next days.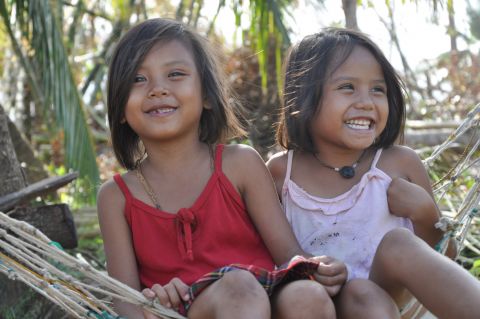 Despite the tragedy of the storm, they couldn't help showing their natural warmth.
But even then, they exuded hope, warmth and unwavering faith. To me, seeing them again, with new haircuts and in their school wear after several months, was an exhilarating feeling. It feels like the plot of a story I am working on has been given a better twist – something positive, something more beautiful and filled with hope.
"I am excited to go back to school. I want to sing and dance and play with my classmates," says 8-year old Marinel.
The girls dream of becoming teachers. Their father died at a very young age while their mother left them under the care of their grandparents. Leo, their grandfather, is a fisherman while their grandmother is a house helper.
"It's still a struggle to sustain the family but we are thankful for the help we received from all around the world," says Leo.
He was one of World Vision's Cash for Work Program beneficiaries and he said that the P2, 600 which he got from the 10-day community work was partly used for his grandchildren's needs in school. The program engaged 8,500 people across Iloilo, Aklan and Leyte. The family also received shelter tools and materials from World Vision which, according to Leo, was a blessing he didn't expect.
A better school and greater years ahead for Angel and Marinel
When Haiyan ravaged the country, it left more than 3,000 damaged schools. The Cash for Work program became instrumental in clearing mounds of debris in schools and in repairing damages to school buildings – making them safe and clean for school children.
"There's more to do but we are more prepared for school opening," says Marilou Opinion. "Window grills were installed in eight classrooms and we wouldn't have known where to get the budget if not for the cash-for-work program. We're also thankful for the compost pits and the clearing of the school premises," she adds.
As for the sisters' future, I know that there is still a long road ahead for them but they reminded me of a child-like perspective. When I saw their big smiles, I did not see Haiyan but I saw their dreams, afloat and waiting to be realized. I pray, with all the faith I can summon, that these children will one day come face-to-face with all their hopes.
And by then, my pen and my paper, including my heart, will be more than ready to share their story to the world.