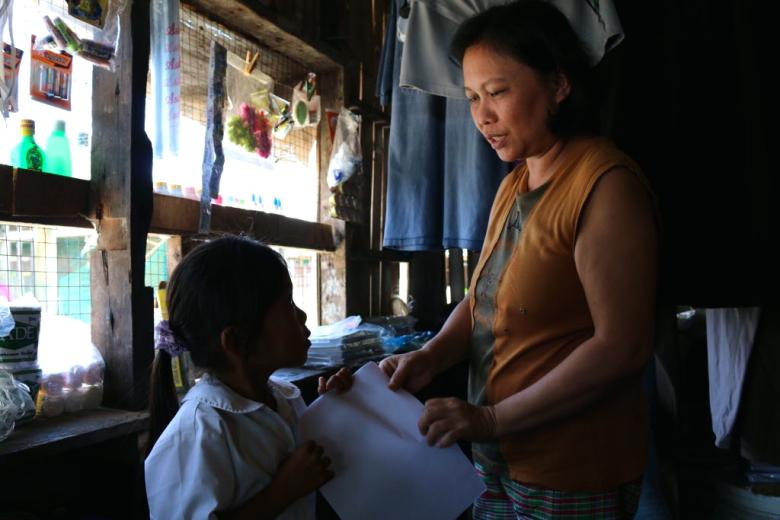 What Happens When a Disaster Steals Your Identity?
Friday, November 21, 2014
When Typhoon Haiyan slammed into Belen's home in the eastern Philippines in November 2013, protecting her children's paperwork wasn't at the front of her mind.

But disaster survivors who've lost their official documents may be excluded from government services, such as state welfare.

"I can't ... claim I am who I am without proof. I'm glad I learned about this during World Vision's disaster training. As a mother, I don't want my children to lose their identity, and especially their legal rights."

When Typhoon Haiyan hit the Philippines', more than half of the families affected lost official documents, such as birth and marriage certificates, which are essential for the survivors to prove their identity.
In the aftermath, partner organisations and the Department of Social Welfare and Development, together with the Office of the Civil Registrar, helped families like Belen's get their identity documents back.
World Vision provided information sessions on how to keep those essential documents safe during a disaster, as well as how to have other essential items ready.
Having lived through other typhoons since Haiyan, Belen can now say that she is better prepared for their potential effects.
She says, "I have some small backpacks which we can easily carry. Inside the bags are the legal documents, sealed in a plastic folder, extra clothes, matches and a candle."
She recalls how her husband was cold during Haiyan's onslaught because the only clothes she could grab were a couple of items for her children.
"It's not safe here, so ... I've packed clothes and hygiene kits which can get us through disasters like Haiyan."
Belen's 10-year old son, Harold, says, "Apart from my schoolbag, I have another bag which my mum told me to carry if there's a storm."
He also explained that his parents have taught him and his six-year-old sister, Mikaela, what to do should they need to evacuate again.
Both Harold and Mikaela are now back in school and the family are starting to get on with their lives, especially with work. Belen also remains an active leader in her area, fully participating in World Vision's different interventions.