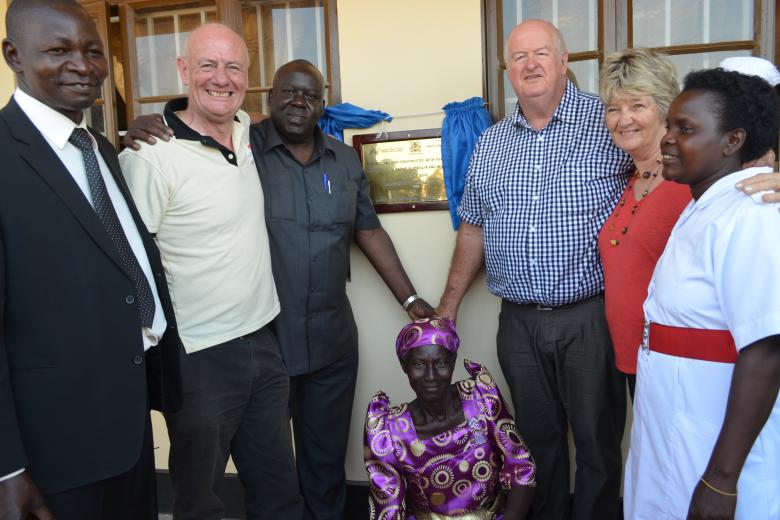 Australian Farmer injects close to USD$1m into WVU projects
Thursday, February 12, 2015
Australian Farmer injects close to USD$1m into WVU projects
To imagine that a farmer in a first World country could actually dig deep into his hard earned money and fly with it to a third world country for charity is almost equal to impossible. 
In fact, one would run out of words trying to explain the character and brand of such a farmer.  Not because he does not have the capacity but because anything charitable from a farmer to a community would be expected in the form of food.
And so, when communication was made to me that I was accompanying this farmer on his second visit to Uganda to commission the projects he was funding through World Vision, my heart leaped with both joy and anxiety.
Thinking to my self, 'how can a mere famer invest close to a million dollar in Charity? What kind of farmer is he?  What are his motives? Could this farmer be up to something?
As a communications officer with an international organisation, you get chances of chatting and dining with prominent figures from support offices but this was going to be a rare opportunity. Imagine dinning with this philanthropic Australian farmer!
Well, to cut the long story short, I eventually met the farmer 350km deep into the countryside. He travelled along with his wife, daughter son-in-law and Tim Costello the World Vision Australia CEO.
The farmer was Ridley Bell, the proprietor of Mountain Blue Farms Ltd in Australia, one of the leading global suppliers of Blue Berries.
His humility and meekness struck me so hard because in my head I had this image of a smartly clad pompous farmer. After all, this is how most of the rich folks I've grown up around behave; always standing aloof from any one outside their cohorts.
Ridley was here to commission the community health centre whose construction he funded plus to watch games at a local kids soccer tournament, which he is was also funding through world vision.
I ask Ridley to tell me the genesis of his love story with Uganda;
''I first came to Uganda in 2013 and I was visiting Lira district with my family. I came in conjunction with World Vision, with prospects of investing in one of the WVU programs.'' Ridley notes
''One evening my son, Tim and I where walking around our hotel and we came across a group of street kids playing football. They were playing in bare feet and I was deeply touched. I wanted to do something.  I sought of how to help them realise their dreams. '' Ridley adds
''Luckily World Vision was in touch with an upcoming local soccer academy (Destiny Soccer Academy) in the neighbourhood.  So we met the proprietor, asked him to design an annual tournament in which several children teams could feature ''.
''So in 2014, I sent Destiny Soccer Academy USD$7000 through World Vision to organise the tournament and it attracted 10 teams from the region. It had categories of children under 12, under 14 and under 16 and the best teams got trophies and medals. In January 2015 I added another USD$9000 for the same and this time the tournament attracted 16 teams, including four girls teams. '' Ridley tells me.
According to the World vision Uganda area program manager Happy Kenneth, the work relations between Destiny soccer academy and Mountain Blue Farms were premised on the grounds of developing talents of children.
''We looked at this project as another way to realise the World Vision child well-being aspirations. We felt it gave an avenue to children enjoying good health, being able to participate, being cared for and protected. And this is what we are seeing today. Parents coming to watch their children play, teams coming all the way from Kampala to participate, its just amazing to see hundreds of community members coming here to cheer these children. Some because of their special talents are being approached by local schools for scholarships and bursaries'' Kenneth tells me.
According to the Destiny sports academy director Morris Otidi, the tournament is now an annual national competition, bringing together teams from all the four regions of Uganda. He says the tournament has also attracted other partners like Coca Cola, Barclays Bank and Red Cross, thus seeing it become a national tourney.
But perhaps the real philanthropic story about Ridley's affection for Uganda is currently at the health centre in Opeta Kole district, which he transformed from a grade two hospital to grade three-health centre. I learnt from Connie Apio, a mid wife at Opeta Health centre three that Ridley fell in love with the centre following a brief chat with her concerning the challenges it was experiencing in terms of service delivery.
''Ridley came here in 2013 and at that time this health centre was at grade two. It was without a maternity ward, without a medical lab, without running water, without electricity, without an admission ward, without staff quarters. We had only two small structures and mothers where giving birth on benches. It was terrible, in a day I could receive 10 mothers for delivery and yet they all had to use the two benches the centre had. And the situation was worsened by the fact that initially the centre had a catchment area of 5000 people but then it had reached 25000 people''. Apio narrates to me.
Ridley, according to Apio was shattered by the grim reality at the Health Centre. He would quickly return home and channel money to a tune of USD$560000 to upgrade the health centre from grade two to grade three, plus to hire and pay 17 new staff at the centre for two years.
''When World Vision told us about the commitment Mr Ridley had made, we could not believe it at first. It was too good to believe. First it would require constructing at least six new structures, connecting electricity, running water, staff houses, it was going to be to hard we felt for an outsider to do. But one year down the road, we have all these things. We have solar power, running water and some water reservoirs, we have an admission ward with ten beds, we have a fully equipped maternity ward fitted with equipment required at this level, we have 8 staff quarters, 10 new toilets, a children's admission ward, plus a splendid play area for children. We are now also able to provide anti retroviral therapy to HIV positive mothers.'' Apio tells me.
Happy Kenneth the area program manager tells me this is just phase one of transforming the health centre. Phase two is to include building two other structures to boost the admission wings plus installing another water tank reservoir.
And so as we return to town with Ridley after the commissioning of the health centre, I ask him how he feels about the whole project and why despite all his wealth he still remains self-effacing. His answer is this
''Meekness is at the fabric of what I do and I always feel comforted when I see lives of others transformed by what I have''