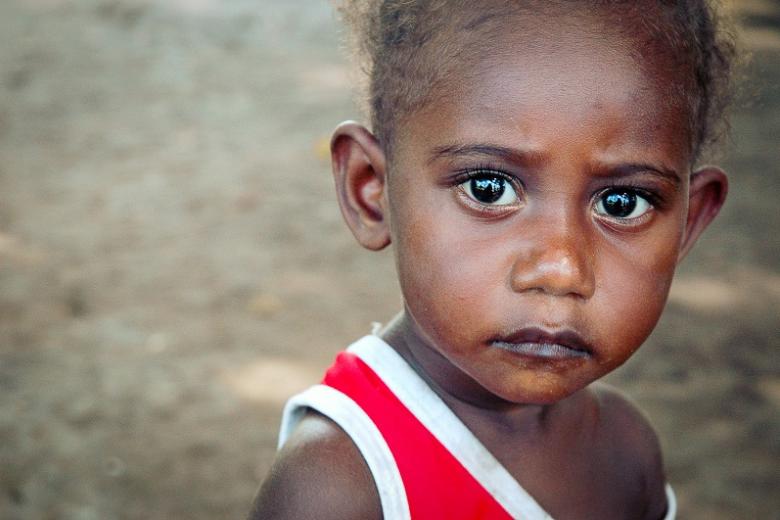 Ahead of the release of the final MDG report, World Vision Advocacy Manager for the Pacific outlines challenges faced by the region
Thursday, July 2, 2015
The Pacific is a beautiful part of the world; home to thousands of islands, stunning beaches and warm tropical weather. It's a peaceful escape for many foreigners. However, all of this serves to hide a human development challenge that often goes unnoticed.
Only two of 14 countries within the Pacific Island Forum; Cook Islands and Niue, are expected to meet all of the MDGs by this years' deadline. No doubt the final progress report (due July 6) will reveal three countries; Kiribati, Papua New Guinea and the Solomon Islands won't achieve any.
The lack of progress in relation to maternal, newborn and child health (MDGs 4 and 5) in particular, should have sounded alarm bells long ago. In PNG, one in 16 children won't make it to their fifth birthday. Of those who do survive, 50 per cent will be stunted. Figures relating to maternal mortality are disputed but it's safe to say the situation is dire; something which isn't surprising when you see the sorts of conditions where many mothers give birth.
Last time I was in PNG I visited a health clinic that lacked basic medicines and equipment. Tacked on the door was a note advising expectant mothers to go elsewhere as the clinic's tanks were empty and there was no clean water.
A few weeks ago, World Vision produced a report Getting to Zero that looked at some of the direct drivers of high mortality rates in the region.  The Pacific's many islands and mountainous terrain pose perhaps the biggest challenges as it makes accessing healthcare and other services inherently difficult. A lack of understanding around nutrition, dirty water, poor sanitation and widespread poverty compound matters.
Reducing poverty (MDG 1) remains one of the biggest challenges in the Pacific. Scant resources, small markets and once again, remoteness, limit export opportunities which would ordinarily lead to economic growth and job opportunities.
It's long been said that economic growth and gender equality (MDG 3) go hand in hand. It's a simple equation; an expansion of the workforce equals increased productivity. But again, this is an area where the Pacific is miles behind. There has been little or no progress toward gender equality over the past 15 years; the region has the lowest representation of women in parliament anywhere in the world.
The prevalence of gender-based violence is also quite frankly frightening, with around 57 per cent of women and girls experiencing abuse of some kind.
This is not to say that progress is impossible or the Pacific is some kind of 'basket-case'. Quite the opposite. As a community-based NGO, World Vision knows that equipping people with the knowledge and tools to help themselves is key.
For example, on Tanna Island in Vanuatu, we have trained community health volunteers and parents to identify, prevent and treat malnutrition before it results in stunting with great success.
One proud father told me; "I help my wife to prepare a good meal for my baby. I do what I have learned from World Vision. My baby ate ripe pawpaw and ripe banana. Now I can see my baby is fat and healthy. He is different from my previous children when they were small".  And in the Solomon Islands, we have helped farmers identify their most profitable crops and gain quality certifications that will enable them to access export markets for the first time.
Our task as we transition toward a new set of sustainable development goals is to continue to embrace the power of these communities and critically, ensure the Pacific is no longer overlooked.