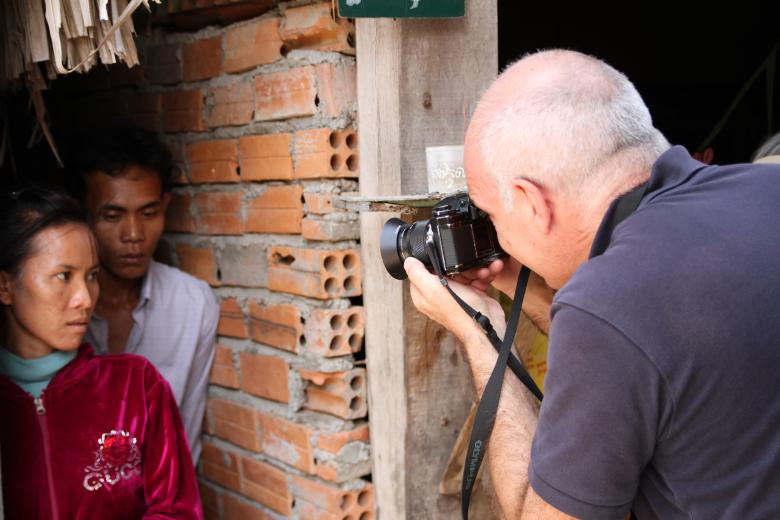 #REVISITED: The dispossessed of Phnom Penh
Wednesday, April 15, 2015
Photojournalist Nick Danziger is currently traveling with author Rory Maclean to eight countries as part of the #REVISITED project – where they are documenting the impact of the Millennium Development Goals (MDGs), and how progress, or lack of progress, can inform the post-2015 development agenda.
Rihorn, Channa and Pov
When I first met Channa and Pov in 2005, they were supporting their mother Rihorn, who was to unwell to work. They lived in a Phnom Penh slum inside a small hut that was too low to stand up in. Channa went to school in the morning and in the afternoon and evening rented out a weighing scale – she charged the equivalent of 2.5 US cents for people to weight themselves The day prior to my visit, Channa had been chased by the police and dropped her scales, breaking the measuring dial broke. Pov, meanwhile, earned money shining shoes. For dinner, they typically ate whatever they could find on the street.
After my visit the family were evicted from their home. "They told us a truck would show up to take us to our new square of land. They promised us a property title to our 'bungalow' – we were driven 45 minutes from town there was nothing, they dropped all our belongings on to a field. The first night we made a tent out of the plastic we had."
In 2010, Pov was traced to a juvenile prison where he had been languishing for over two months, despite never being charged. It was only by enlisting the help of a human rights lawyer that he was released.
Rihorn had been surviving on the meagre earnings her son brought home. In his absence she had to borrow money from a 'friendly lady', paying loan shark rates of 30% per month, creating an even greater burden for Pov, who returned to shoe shining after his release from jail.
Channa had left home and married a truck driver, but her mother wasn't sure what she does for a living – Channa was at a vulnerable age when many young, poor women become 'hostesses' or sex workers. Channa had always been first or second in her class and considered an exceptional student, until she was forced to drop out of school to help her sick mother.
By 2015, when I revisited Riborn, I found she had paid almost $2000 in interest charges on the original $100 loan from the 'friendly lady', and it was only with outside help that the debt was finally paid off.
Pov's experience in prison had deeply changed him. Today he works hard selling steamed snails on Phnom Penh's streets. Channa's story is more complicated. Over the last five years she left her unfaithful truck driver husband, served as a domestic maid in Malaysia and then – due to financial pressure – began to work as a cashier at a bar for foreigners in Phnom Penh. 
While there she met a 39 year old farm labourer from Dorng Tong, a fishing hamlet 68 kilometres up river from the capital. She lives there now with him, and is pregnant with her second child. Her first child Hannah is being raised by her mother Riborn.
Chakriya 
In 2005 Chakriya was expecting her first child and was seven months pregnant. "My stomach has been hurting for several months and I do not have money to go to the hospital," she told me.
"Just to have the midwife come to my house would cost around 5,000 riel ($1.25). Whenever I get a stomach pain I sleep on this wooden bench outside of my house and hold my stomach until the pain goes away.  I don't know what to do to make the pain stop."
Two days after my initial visit Chakriya was taken by a non-governmental organisation to a clinic. She was told she might have lost her child and died herself had she not been brought to doctors that day. As a result of her visit and regular check-ups she gave birth to a child that she named after the charity.
Chakriya and her family, like thousands of other families living in the centre of Phnom Penh were evicted from their homes. "There was a lot of violence as the bulldozers moved in, no one was killed, but there were a lot of injuries. We were given help by an aid agency to build this shack, but we have built where there will be a street, so we will be forced to move again," explained Chakriya .
"Every time we are promised, 'next time', but every time 'next time' comes, they make the promise again. My health is suffering, you can see how thin I am, the second baby doesn't get any breast milk, because I don't have any to give. Sometimes we have to borrow money for food and medicine, but some people won't lend us money because we already owe money. I am four months pregnant, it wasn't planned, but it still happened."
When I revisited Chariya in 2015, her situation had become desperate. A health complication with a pregnancy required her to have an operation, for which she had to borrow $300, at 20% monthly interest. When she was unable to meet the interest payments, her house was seized. Chakriya, along with her husband and four children, moved back into her mother's house. 
Her new husband is a builder but has been unable to find work. Chakriya does not know how she can ever find the money to reclaim her home.  It is difficult enough for them to afford a daily meal for the children. 

At the door – beyond Chakriya's hearing – her mother Sophal Khun pleaded with me "Please take my grandson with you. Give him to an orphanage. Get him an education. It is the only hope for him."
Pen Kuon and Ros Sophos
When I met Pen Kuon and Ros Sophos in 2005, they were attempting to balance the demands of school with their work as trash collectors and recyclers. Every day they could be found trudging through the slush of a massive refuse dump. Once they had scavenged all they could, they would wait for the next dumpster to tip its refuse on to the mountain.
At night they hired battery-powered headlamps and worked until dawn when others, unable to afford a headlamp, would take over. The recyclers would often scoop up and eat someone else's discarded rice, or gnaw at watermelon rinds that have been all but been picked clean. Pen Kuon and Ros Sophos told me that to cope with the stench, the hard work, tiredness and hunger, many children were abusing drugs.
Ros Sophos' parents explained to me that he had to work to help support the family, and so they could afford the 'unofficial school fees' charged by teachers.
Tragically, when I attempted to relocate Ros Sophos in 2015, I discovered he had been killed in a road accident several months prior to my visit; I also learned Pen Kuon had committed suicide a year earlier.
Conclusion
The families I have been visiting in Cambodia over the last decade have continued to live in crippling poverty, with little or no access to health care, no tenure to their land, and often unable to find work and to feed themselves. While parts of Cambodia's economy have experienced rapid growth over this period, there has been little improvement in the lives of the most vulnerable.
It is clear there are no simple solutions for those on the margins of society. In Cambodia, I've seen how lack of means results in the inability to pay for medical care, which leads to debt and crippling repayments to loan sharks, This is in turn makes it difficult for families to fund their children's  studies, whether at school or for vocational training.
For the next round of Sustainable Development Goals to teach the most vulnerable in society, there needs to be a wider package of measures – including access to legal aid and greater efforts to extend  protection and justice to those who are not economically empowered.