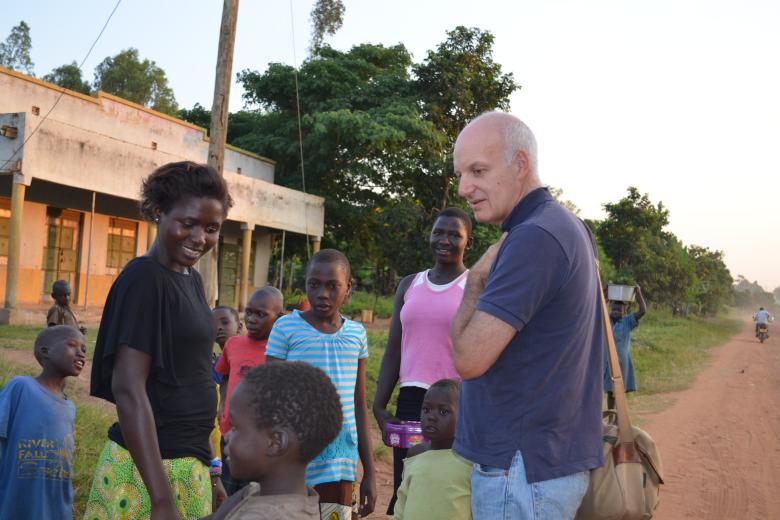 #REVISITED: Four sisters; four very different paths in northern Uganda
Tuesday, December 23, 2014
Photojournalist Nick Danziger is currently traveling with author Rory Maclean to eight countries as part of the #REVISITED project – where he is documenting the impact of the Millennium Development Goals (MDGs), and how progress (or lack of progress) can inform post-2015 targets. 
In 2005, I met sisters Gloria, Judith and Miriam in Gulu, northern Uganda. They, and hundreds of other children, were spending the night in a shelter, seeking refuge from the Lord's Resistance Army. The following morning I travelled with the three girls to their village, where I was introduced to their youngest sibling, 32-month-old Monica, who was being cared for by a neighbour.
Monica was severely malnourished. Her father and mother had died of AIDS – when I met the sisters they were struggling to survive on a meal a day in a ramshackle hut, the rent three months in arrears. While Gloria, Judith and Miriam were attending school, to cover their fees they earned money by labouring in the nearby fields. When there was no work they made brooms which they sold on the street.
In 2011, I revisited Uganda and to discover that Judith, who had been expelled from an orphanage, had gone to live with an aunt. She was living in desperate conditions and pregnant from a boy who had abused her. Depressed and confused, she was still working to pay for her upkeep – duties that included housework, as well as farm labouring and the manufacture of brooms. Gloria died in hospital in 2013, the result of Hepatitis B.
A return to Gulu
I travelled to Gulu for the third time last week to visit the remaining sisters. I discovered Judith and her son had been adopted by an American family – she has spent time in the US and become an American citizen. She is now living in the relative comfort of her adoptive family's home in Kampala, Uganda's capital.
Miriam and Monica, meanwhile, are back living with their aunt; it is a difficult existence. Because their school fees are only intermittently paid by the orphanage they once attended, they are forced to work as labourers in nearby fields, and continue to make brooms to sell on the street. When she does attend school, Miram is one of 97 students in her class.
In the 10 years I have been following these four siblings from northern Uganda, I have witnessed their trajectories take vastly divergent paths.
Gloria's death could have been prevented if she had been vaccinated or her Hepatitis had been diagnosed earlier. Miriam and Monica's life has been one of abandonment, first as a result of the death of their parents, then the closure of their orphanage. Their elder sister was also removed from their daily lives when she was adopted.
Education, or quality education?
Spending time last week with Judith and her son Elijah provided a small window into a sizeable issue that has emerged during the course of the MDGs – and one that must be addressed in post-2015 targets. Specially, that while attending school has the power to transform the lives of vulnerable children, quality education has too often been sacrificed in a bid to reach numerical targets. 
Since his mother was adopted, Elijah has had access to good nutrition, medical care, and quality education opportunities. His cousin in Gulu, Desmond, has not. As a result Elijah, is now curious, with a vocabulary significantly broader and more varied than Desmond's. The absence of formal education for one child and the access to quality education for the other child will only continue to create wider division between them as they grow.
As the world debates post-2015 targets in the months ahead, we must realise that simply putting children in a classroom is no longer enough. If we are to truly transform children's lives and help them to reach their potential, we must reach all children with a quality education.