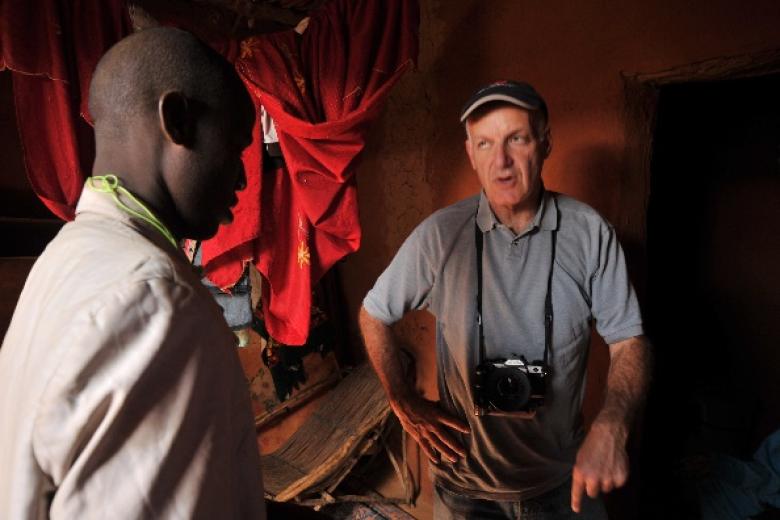 #REVISITED: Life, death and hope in a Zambian border town
Tuesday, January 6, 2015
Photojournalist Nick Danziger is currently traveling with author Rory Maclean to eight countries as part of the #REVISITED project – where he is documenting the impact of the Millennium Development Goals (MDGs), and how progress (or lack of progress) can inform post-2015 targets. 
In 2005 I travelled to Chirundu in eastern Zambia, where I met a number of young women engaged in sex work – including Irene, Bridgit, Christabel, Doreen, Queenie and Mavis. At the time, I wrote the girls were expected to contribute to the family budget. 
"Some are sent by their guardians to engage in sex work while other guardians turn a blind eye and receive food and other items the girl brings home. Young sex workers are often initiated into the sex trade by older girls or women. In this town a group of 15 and 16 year old girls said a quarter of their former classmates were in the trade due to the lack of alternative means of earning money. They are so poor they go to a 'Queen Mother' to borrow clothes and makeup for the evening. On their return these girls pay a percentage of their earnings to the Queen Mother.
"Although they are all aware of the dangers of HIV/AIDS most of the teenagers have rarely, if ever, used a condom, often having sex with three or four men a night. Their clients insist on going Walayi or live wire – skin to skin. The women are not in a position to say no as competition is so great, their need to feed their families and themselves is dependent on this income, and they are often threatened by the men. Some just wanted to remain in school, but to do so needed money to buy school materials."
Return to Chirndu
When I next returned to Chirndu in 2010, Doreen, was dead from AIDS, Irene was HIV positive, while the majority of others girls I had met were continuing in sex work. Christabel and Queenie, however, had newly opened businesses as the result of vocational training and a micro-finance programme.
How are these young women fairing today, and have their lives improved? I retraced my steps to Chirundu last month in an attempt to find out. I was successful in locating Irene, who continues to live with her two daughters and mother in extreme poverty.
Irene's attempts at starting a business have failed. Savings from her first business were wiped out when her first child was hospitalised – the infant never recovered and died in hospital. Her ambition now is to rent a house on her land to pay the school fees for her remaining children. Irene receives free anti-retroviral treatment, but often has to take the medication on an empty stomach, as her priority is to feed her children first.
I also tracked down Christabel, who is today one of the most successful businesswoman in Chirundu, owning two bars and a 13-room guest house. Importantly for Christabel, she has a son studying business management at college in Lusaka, and two other children in school.
My visits to Chirundu over the last 10 years have demonstrated that, while incredibly difficult, change is possible. But, for girls forced to turn to sex work to support their families; for young women like Doreen and Irene falling victim to the scourge of HIV/AIDS – it's not coming fast enough. In Zambia, as in Uganda and Niger, women and girls remain the most vulnerable and exploited. It's only through deliberate efforts to address their education and protection needs that they will be empowered to rise above the vicious cycle of poverty and achieve self-sufficiency and independence.