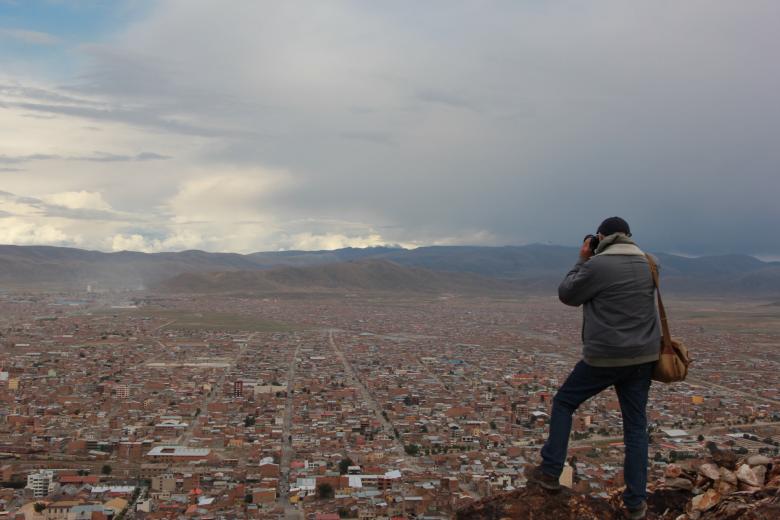 #REVISITED: Progress and exodus in rural Bolivia
Tuesday, January 27, 2015
Photojournalist Nick Danziger is currently traveling with author Rory Maclean to eight countries as part of the #REVISITED project – where they are documenting the impact of the Millennium Development Goals (MDGs), and how progress (or lack of progress) can inform post-2015 targets. 
In 2005 when I first travelled to Estancia Arco – in central Bolivia's Bolivar Province – there were 25 families living in this small community. The previous year six mothers and children had died there during childbirth. The nearest medical help was a hospital three hours away by bicycle. In other words, any mother or child requiring urgent medical attention had to wait a minimum of five hours before receiving treatment.
At that time Anselmo, Martha and their four oldest children shepherded the family's llamas and sheep. They also planted potatoes. None of the four girls in the family went to school (there are only 30 children in this community and out of those only 10 go to school; 7 are boys and 3 girls).
Zenobio, the oldest brother who did go to school, had to walk three hours to Bolivar.  He set off before sunrise at about 6:30am and left school at 3:30 in the afternoon to get back just before nightfall. So in addition to parents requiring their children – especially their daughters – to do regular work, the community leaders said that the nearest school was too far and too dangerous for the girls who would only reach home late in the evening, what's more, "School materials are too expensive."
When I next returned in 2010, I found that in the previous five years only two women and children had died during childbirth – a direct result of women from Estancia having access to a pre-natal clinic and a medical auxiliary who visits once a month, although I was told 'this sometimes doesn't happen'. The community's first one-classroom, one-teacher school was recently opened: built by a non-governmental organisation with the government providing the teachers.
In the intervening since my first visit, Anselmo, the father, had sold enough of his llamas to purchase a plot of land in Oruro, a city about two hours' bus ride away.  There he built a single room for his children so that they could attend secondary school in the city. In the house his six children shared two beds. Anselmo was determined that they continue their education so – above all – they can learn Spanish so they 'don't suffer discrimination and have a future'.
From time-to-time Anselmo worked as a porter in the city leaving Martha, his wife, at home to take care of their llamas. Like many families living in rural areas across Bolivia, Anselmo and his children have partially migrated to the nearest city, joining tens of thousands of people who have made the same move in search of education, jobs and a decent living.
Today, in 2015, all Anselmo and Martha's older children have dropped out of school.  The three sisters Nieves, Eugenia and Elizabeth have remained in Oruru and earn their living selling second-hand clothes in the market. All found learning Spanish difficult.  Only the youngest boys Uber, 12, and Limbert, 10, still attend school.
Interestingly, the eldest son Zenobio, now married and with a child, has returned to Estancia Arco to help his parents run their farm.  He too had dropped out of school, preferring to earn money first by helping an uncle to import cars from Chile and then by working in construction.  But even though he has been elected onto the village council, he expects to return to Oruru in a year or so and to train as a motor mechanic.  He is also considering travelling to Argentina to find work (probably in the textile industry).
Unfortunately I was not able to revisit Serafina and her family due to exceptionally heavy rains. The water in the river plain had increased to such an extent that when we tried to cross the river in our 4x4 the vehicle almost sunk and had to be towed out by a bulldozer. Her community remain isolated although at certain times of the day it is possible to fjord the river by foot, but with the danger that people are occasionally swept away and drown as has happened in previous years.
Conclusion

Over the last ten years a dramatic improvement has taken place in the quality of life and standard of living for many families in rural areas. Schools have been built most recently basketball courts have been built on school grounds. Access to medical health care has not only improved, but incentives have been put in place to encourage pregnant women to attend pre- and post-natal clinics.
Electricity has been brought to many communities where there was none. And to those areas which are not currently on the grid, municipalities have subsidised solar panels to power lights. Roads and highways have been built. In contrast there has been a constant migration to the cities and whereas the dream had once been to migrate to urban areas, the dream is to now migrate abroad, particularly Argentina to work where they work mainly as housekeepers, or in factories.
This improvement is due to local and national government policies. Some economists and policy analysts believe the government could have done even more over the last 10 years, but the improvements are in stark contrast to the status quo or decrease in living standards in other countries visited so far.
Anselmo and Martha's family are representative of the drift from rural areas to the cities. Martha wants the children to return home, but Anselmo expects that the children will all leave and that 'farms' like his will cease to exist.
Follow @WorldVisionUN and #REVISITED for updates.