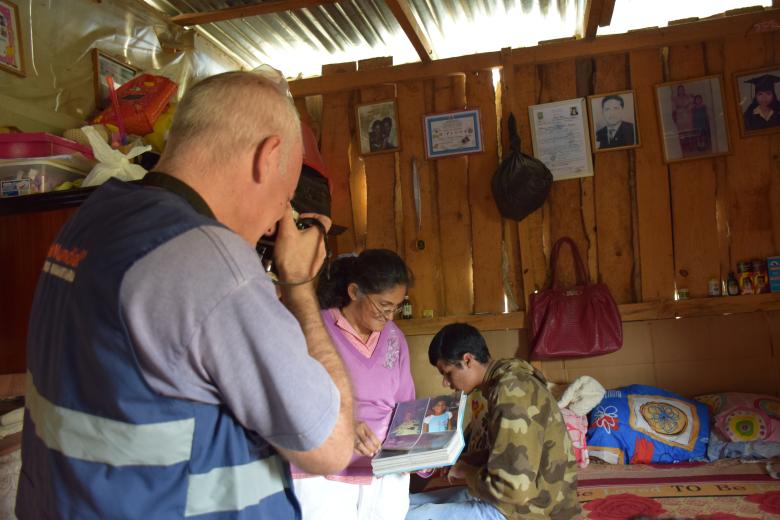 #REVISITED: Three families on the margins of society in Honduras
Friday, February 6, 2015
Photojournalist Nick Danziger is currently traveling with author Rory Maclean to eight countries as part of the #REVISITED project – where they are documenting the impact of the Millennium Development Goals (MDGs), and how progress (or lack of progress) can inform the post-2015 development agenda. 
Since 2005, I have been following three families in Honduras' capital, Tegucigalpa – originally all were residents of Isla Perdida (the lost island), a sprawling barrio where residents construct dwellings on municipal land that has been deemed unsuitable for habitation.
Francisca's story
Francisca is a widow I met during my first visit to Isla Perdida in 2005. After 31 years of marriage, her husband – no longer able to live with his alcoholism – committed suicide. In 2005 Francisca, who was born in Nicaragua, was caring for 10 children, most of whom lived in her small home, as did her two son-in-laws and two grandchildren. In all 12 members of her extended family lived under the same roof, sharing their small and overcrowded dwelling.
Francisca was the first to rise at 5am, all of them took it in turns to wash and brush their teeth by drawing water from an oil drum that is their reservoir. The daughters set to work washing clothes on a slab of concrete and then ironing the laundry using the seats of their armchair as an ironing board. The boys polished their own shoes. During the rainy season water will often course through their house and leave them under several inches of water.
In 2011, as in many of the city's barrios, this neighbourhood remained overcrowded and noisy with little or no personal space, but this neighbourhood was now connected to the electric grid, a development which changed many of the barrio dwellers lives. As fast as rains wash away homes, the hillside was bolstered against the next landslide. Tempers frayed quickly, gangs and family violence are never far away, women suffer the brunt of the abuses that occur. More often than not, it's the women who had to leave home and find a new dwelling, more often than not, taking a downgrade in living standards, moving to the hills further and further from the city centre. The increasing incidents of domestic violence were not reported for fear of reprisals.
Today, Francisca has moved away from Isla Perdida. She lives in a two-room house owned by a daughter (Blanca) in Agua Blanca, a marginal urban area. There she cares for her blind son Luis, (19-years-old).  She – like all her family – believes in the value of education and, at the age of 51, she decided to finish her primary education.  Her quality of life improved with the move to Agua Blanca, but her existence remains precarious. Above all she and her children bemoan the fact that – despite their education – no jobs are available to them.
Franklin and Maria's story
In 2005, a few days before my first visit, Maria's family were asleep when half of their house was swept away by a landslide. Maria didn't worry about the danger of living on the side of a mountain which continued to erode – there is nowhere else for her to live.  All she wanted was to rebuild her house, so she had sold half their land to be able to do so. For the last 24 years this side of the hill has been her home. "We, Manuel [her husband] and I, have nobody else but Franklin, it's as if he were my own flesh and blood."
Maria's house is built of pieces of zinc plates and discarded wood that they found in the creek below and the garbage dumps. To get untreated running water they had to dig a 900-metre ditch to connect a pipe. Neither Maria or her husband can read nor write, but Franklin was in school, "because this will be the only good thing we will leave him, along with this house", she explained. "I think reading and writing must be very nice. We also pay for computer classes once a week," added Maria, who sells fried banana chips to augment her husband's income.
In 2011, Franklin was a star pupil and top of his maths class. His dream was to become a banker, however Maria, his grandmother, and himself explained it was likely that he wouldn't be able to attend secondary school as they wouldn't have the money to pay for the bus fare to and from their home to the school.
Today Franklin no longer attends school. One year ago he was conscripted into a gang and persuaded to earn money by dealing drugs. The police caught him and four fellow gang members, two of whom were shot. Franklin's life was saved only by the intervention of his mother Leonarda. Since the incident Franklin has tried to extricate himself from the gang, however his life remains threatened. He sleeps with a knife beside him. 
Cintia and her mother Reyna
In 2005 and 2010, Cintia lived with her mother Reyna, her father Benancio and younger sister Evelyn. Cintia, who has a serious disability, sometimes smiles or seems shy. Despite her brain paralysis "she is sometimes very restless", said her mother. Reyna stayed at home every day to look after her eldest daughter. She found herself in a Catch-22 situation because by having to take care of Cintia 24-hours a day she was unable to get a job that would give her a wage that would pay for Cintia's fees at a school for disabled children.
It was also very difficult for Reyna to take Cinthia to therapy at the Public Rehabilitation Center, since it was very difficult, if not impossible, to move around with her. When she left the house (she seldom did), Reyna has to carry Cintia on her shoulders since she has no wheelchair. Increasingly, Reyna was finding this more and more difficult.
Today, little has changed for the family. Cintia remains housebound, however she no longer leaves the house as she is too heavy for Reyna to carry. What's more, Reyna now has back pain from the years of doing so. Reyna, like many in La Isla Perdida, no longer believes the government will help her. She says she can only help herself and her family. 
Reyna dreams that her youngest daughter will go to university, but doubts they will be able to afford it, "They say school is free, but it's not. Sometimes we have to make a decision: do we buy food for the week, or do we buy books?"
Conclusion
The three families I have followed in Tegucigalpa are a microcosm of what tens of millions of families are now experiencing living on the margins of cities across the world. There are big questions about the issues of sustainability and equality faced by these city dwellers, who on a daily basis are confronted with poor food security, lack of jobs opportunities, and the insecurity surrounding the culture of drugs and gang warfare that are a plague within these communities. In many cases local development efforts have transformed individual lives, but it's clear large political change is also needed.