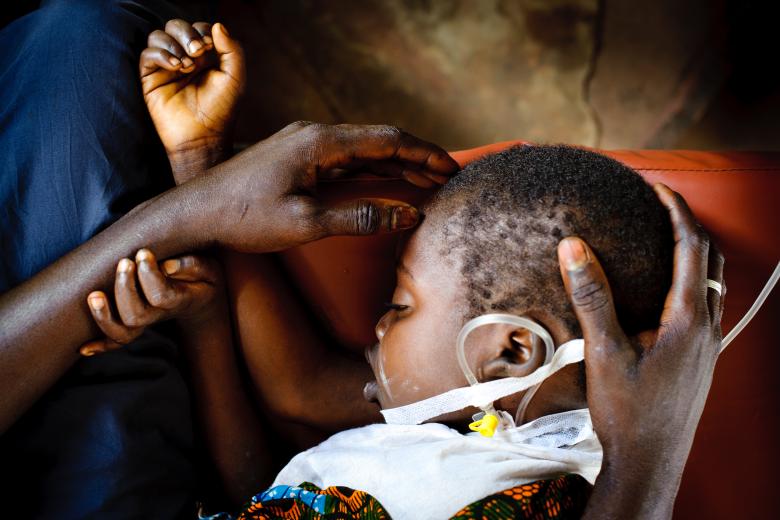 Saving 2.2 million lives in the next 500 days
Thursday, August 14, 2014
By Dr. Mesfin Teklu, Partnership Leader, Health and Nutrition, World Vision International
Why 500 days? August 18th marks 500 days until the target date to achieve the Millennium Development Goals (MDGs). The MDGs were agreed by all governments in 2000 and can be heralded as the most successful global anti-poverty push in history. We are part of a success story specific to women's and children's health. Survival rates for women and children around the world have steadily improved, both maternal and child mortality rates have been halved globally since 1990. We are now losing fewer children to preventable causes like measles, malaria, HIV/AIDS and other diseases.  That's why we know it is possible to save millions more.
Gains being made towards the health related MDGs are in part due to the Global Strategy for Women's and Children's Health – Every Woman Every Child a movement launched in 2010 to accelerate progress towards these most off-track goals. Over 300 stakeholders, including 70 governments, have made commitments to advance the Global Strategy and scale up efforts to reach every woman and every child. We must now #Commit2Deliver.Delivering on these pledges made by governments, private sector and civil society could save 158,000 women and 2.2 million children and allow us to reach MDGs 4 and 5.
The progress made has been extraordinary but there is still more to do. Hidden within national and global averages, rates of child mortality in the poorest and most vulnerable groups have seen virtually no progress. We need to refocus our efforts to these "hardest-to-reach" women and children, particularly those living in some of the world's toughest places, fragile and conflict-affected areas. 
World Vision is contributing to accelerated action by delivering on and exceeding our ownEvery Woman Every Child commitment to invest US$1.5 billion in women's and children's health between 2010 and 2015, and we report regularly on our progress to reach this commitment. 
In the remaining 500 days, investing in targeted interventions will only get us part of the way. We also need a data revolution to adequately track our progress, resources and results. We need increased transparency as well as more and better data through strengthened civil registration and vital statistics systems, household surveys supplemented by data collection at the community level, and regular reviews of the health sector to get better information for better results. 
World Vision is promoting accountability and transparency at global, national and local level. Through our work on social accountability, communities in 42 countries are empowered to hold local governments to account for the quality and quantity of services they provide. In several countries in Sub-Saharan Africa, national Child Health Now campaigns have used an innovative approach to hold governments accountable for delivery of their commitments toEvery Woman Every Child, tracking progress and remaining gaps using a "traffic light" approach. This has proven to be an accessible communication style for both media and policy makers, provoking dialogue between these groups that can help identify bottlenecks and solutions. See Ghana and Tanzania's traffic light reports here.
With the MDG deadline 500 days away - now is the time to deliver on our commitments for women and children. Let's not miss this opportunity, every day counts!
Be part of the movement: Join us online on the 18th August to mark the countdown to the MDG deadline and call on your government to meet their commitments to women's and children's health. Follow @ChildHealthNow on Twitter, or find us on Facebook and tweet using #Commit2Deliver and #MDGMomentum.