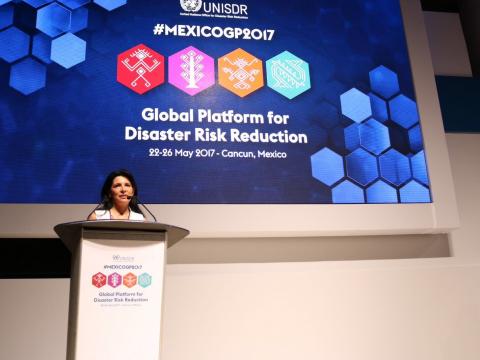 Cancun affirms civil society alliance for Disaster Risk Reduction
Friday, June 2, 2017
The 2017 Global Platform for Disaster Risk Reduction was held in Cancun, Mexico from 22-26 May. 
Silvia Novoa, National Director of World Vision México was invited to represent the Alliance for DRR in Mexico that includes 25 of the largest national and international NGOs based in México in alliance with Citibank Banamex. As a group they committed to strengthening municipal capacities for proactive governance to address disaster reduction, act as conveners to develop joint strategy to follow up on the Sendai framework for action, raise awareness and promote a culture of prevention and complementary actions and subscribe to new technologies to promote inclusive cities.
This is Silvia's statement at the forum: 
MEXICAN CIVIL SOCIETY CONFIRMS ITS COMMITMENT TO:
1. Contribute to strengthen, connect and articulate the capacities of local and municipal governments for more plural, inclusive and proactive governance  emphasizing  the inclusion of the most vulnerable and  disaster prone communities
2. Act as conveners of Civil Society, universities, corporations and faith based organizations, to develop a joint strategy to follow up on the Sendai Framework of Action that is going to be presented to the United Nations within the framework of the Global Platform for Disaster Risk Reduction (GPDRR). 
3. As a part of this strategy, communication materials on DRR should be developed in order to raise awareness among the most vulnerable communities focused on strengthening and generating a culture of prevention and risk reduction considering local contexts, diverse local indigenous cultures and languages, with a special consideration to the most vulnerable among the vulnerable who normally are the children, women, elders and disabled people. 
4. Build common goals and plans towards a culture of prevention and DRR within our own organizations and countries through the sum of efforts, complementary actions, strengthening teamwork and networking with the participation of social, public and private sectors.
5. Promote a culture of inclusion, gender equality and no discrimination of any group in the development and monitoring of legislation, planning, public policies, accountability, indicators, as well as the adequate use of public resources.
6. Contribute to the development of a collaborative platform using new technologies, which could include socio-environmental researches, sharing of best practices, influence public and private resource allocation and assurance of transparent use of public and private resources at all levels.
7. Engage with the private sector in the implementation of a DRR culture, in order to reduce potential damages to the environment, and economic loses. 
8. Continue the efforts to build citizenship and design policies for a democratic disaster risks management with a preventive approach, linked to the integral development, well-being and human rights of all people of all ages and circumstances.
9. Promote the leadership of civil society including children and youth as agents of change in disaster risk reduction, as well as in decision-making for the mainstreaming of the Sendai Framework for Action and Agenda 2030.