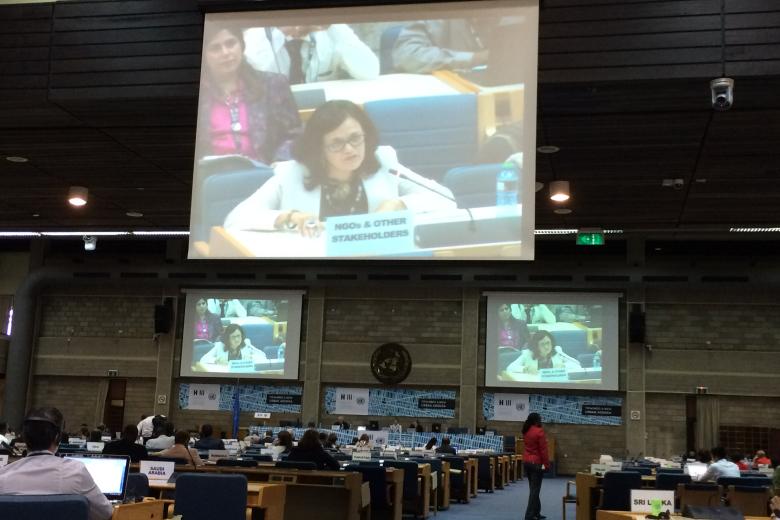 World Vision calls upon UN to include children and youth in the New Urban Agenda
Monday, May 18, 2015
Voices of children and youth are influencing future sustainable urban development on global platforms.
In a historical first, World Vision was the first INGO to take the floor of a United Nations Conference on urban development in Nairobi, Kenya last month, speaking on the crucial role of children and youth in shaping our future cities.

Over 750 global leaders and key stakeholders came together for this event, the second of three preparatory meetings for the United Nation's Conference on Housing and Sustainable Urban Development (Habitat III), scheduled to take place in Quito, Ecuador, in October 2016.

By 2030, 6 in 10 people will live in cities, and the number of slum dwellers is expected to rise to nearly two billion in the next two decades. Habitat III will be one of the major UN summits following the adoption of the Post-2015 Development Agenda and the Sustainable Development Goals.
To address the issue of equity in the city, the current draft SDGs include a dedicated and stand-alone urban goal - "Make cities and human settlements inclusive, safe, resilient and sustainable". Habitat III will launch a forward looking and practical proposal to drive the New Urban Agenda.

World Vision is a lead partner of UN-Habitat's World Urban Campaign, and is advocating the importance of the inclusion and contribution of children and youth in designing safe, resilient, prosperous and healthy cities of the 21st century.

As part of World Vision's statement to the UN General Assembly of Member States, Joyati Das, Senior Director of the Centre of Expertise of Urban Programming, said "Children are the first casualties of urban poverty – often living on the streets, engaged in hazardous child labour, and trafficked to the city....The New Urban Agenda will not succeed if children, who are the future, fail to be counted in formal global and local processes. We need children to make us all accountable... The New Urban Agenda needs to be driven by children and youth in the city because it will become their reality."
World Vision is now a member of the newly formed General Assembly of Partners, a special UN initiative aiming to support stakeholder engagement and contribution to Habitat III and the New Urban Agenda. The organisation has been appointed as interim chair of the Children and Youth Constituent Group, which will provide an official mechanism to promote children's voices and their genuine participation in the global platforms leading up to Habitat III.

World Vision is set to play a major role in leading the children and youth agenda in Habitat III.