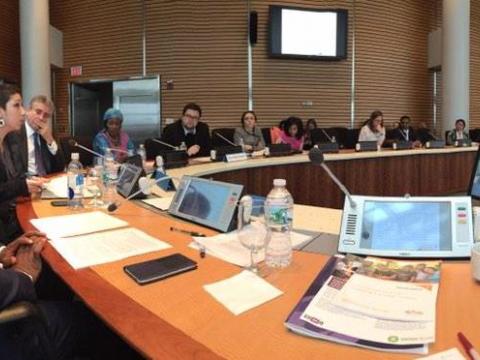 World Vision brings youth agenda to World Bank Forum
In March 2015, Aline Rahbany, Urban Learning Hub Leader for World Vision's Middle East and Eastern Europe Region, joined a panel of experts at a World Bank Forum on Fragility, Conflict and Violence to speak about the issues facing youth today and their role as peace builders in fragile and conflict affected states.

The forum brought together over 1,000 practitioners working on fragility, conflict and violence to explore the trends, challenges and opportunities; exchange insights and experience; and strengthen the practice of delivering development results.
During the Youth and Peacebuilding session, Aline shared the lessons learnt from World Vision's projects in Lebanon. She stated, "It not enough to empower youth, especially the most vulnerable, as agents of change in their communities if their efforts are not linked to the local government plans and they don't have a platform to share their ideas and influence at this level."
Children are the youth of tomorrow and the future potential leaders of nations, which requires development actors to focus on a lifecycle approach to programming. Youth access to safe and open public space is key to peacebuilding as well as equal opportunity for youth from multiple communities across a city to participate in such initiatives.
Aline said that institutions such as the World Bank and UN agencies need to target this group and work closely with civil society to ensure concrete result oriented interventions that lead to genuine lasting change and hope for children and youth.

Aline closed her speech with the statement,"Youth are not waiting for us as INGOs, UN agencies or whomever else to come and make a change happen for them. They want to own any initiative addressing them. They have capabilities and assets to use – we just need to act as facilitators and provide them with necessary platforms to make their voices heard."