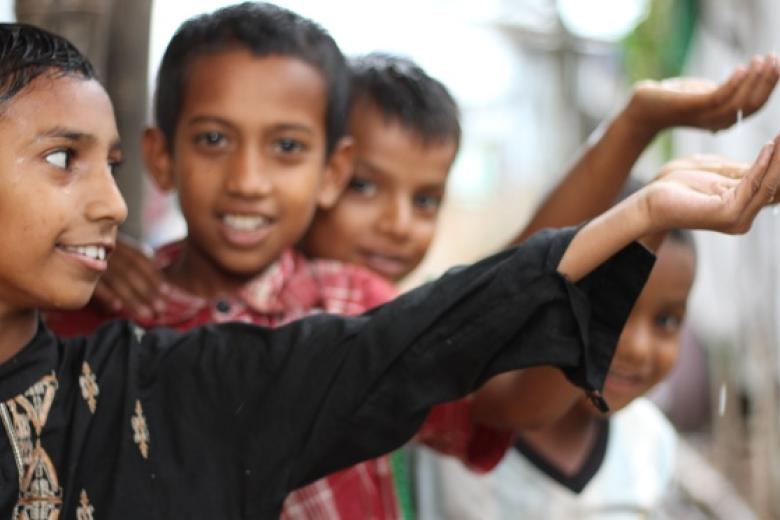 "Healthy and Just Cities for Children and Youth" Urban Thinkers Campus
Friday, July 31, 2015
EVENT INFORMATION
Date: Wednesday 28 October 2015
Location: The International Environment House, 11-13 Chemin des Anémones, 1219 Chatelaine, Geneva, Switzerland

How can cities promote healthy, economically vibrant and inclusive environments through water, waste and work?
World Vision's "Healthy and Just Cities for Children and Youth" Urban Thinkers Campus will focus on principles, policies and action planning aimed at improving access to water, waste and sanitation within informal settlements. The event will also explore potential business models for engaging young people in safe and dignified employment within these sectors.

Featuring speakers from UN-Habitat, WHO, ILO, Eawag, WasteAID, SKAT and Plastic Bank, the Campus invites participants to learn and debate on:
The issues of urban water, waste and sanitation, its impact on communities, specially children and youth;
The challenge of child labour rampant within the waste sector, and policy changes required;
The role of small medium enterprises and their contribution to promote youth employment opportunities;
Inter-sectoral partnerships required to promote healthy and prosperous environments;
Children and youth participation and their contribution to sustainable urban solutions.
The key recommendations from this Campus will inform UN-Habitat's The City We Need, to be submitted to the Habitat III Secretariat for consideration into The New Urban Agenda.
World Vision invites you to join the debate and help build consensus on solutions that will contribute to healthy and just cities.
Key Speakers
Jon-Andreas Solberg, UN-Habitat - Youth & Livelihoods Unit - Policy & Strategy Advisor
Dr. Marianne Kjellén, SIWI - UNDP Water Governance Facility - Programme Director
Graham Alabaster, World Health Organisation - Senior Technical Officer WASH
Edmundo Werna, International Labour Organisation - Senior Technical Expert
Philippe Reymond, Eawag - Department Sanitation, Water and Solid Waste for Development - Environmental Engineer
Mike Webster, WasteAID UK - Chair
Sanjay Gupta, SKAT – Water Sanitation and Solid Waste Specialist
David Katz, The Plastic Bank – Founder & CEO
Régis Garandeau, WSUP Advisory – Urban WASH Specialist
Kevin Mugenya, World Vision Kenya – Urban Technical Specialist.
How do I participate?

This event has now closed.
Event materials
Download the concept note for the
, and the individual briefing papers for (1)  , (2)  , (3)  .
Further information
URBAN THINKERS CAMPUS BACKGROUND

UN-Habitat's World Urban Campaign has launched its Urban Thinkers Campus initiative, conceived as open spaces for critical exchange between experts from diverse fields including urban researchers, professionals, and decision-makers, to propose solutions for The New Urban Agenda, to be launched at the UN Conference on Housing and Sustainable Urban Development (Habitat III) in Ecuador, October 2016.
World Vision International is a lead partner of UN-Habitat's World Urban Campaign and Co-Chair of the General Assembly of Partner's Children and Youth Constituent Group for Habitat III.