During our relief distribution visit to Mount Bosavi area, in the Southern Highlands of Papua New Guinea, mothers and their children came to welcome us with their warm smiles and lovely singing. It was our third and last leg of visit to the village, completing our distribution of relief items of jerry cans, water purification tablets, hygiene kits, mosquito nets, and blankets.
One of the mother beneficiaries, Roselyn, 30, walked to us to say thank you. She said that World Vision provided advice and showed them how to support themselves, especially to have access to clean water. She says that World Vision is the only NGO that gave them medicine that could purify water so they could drink.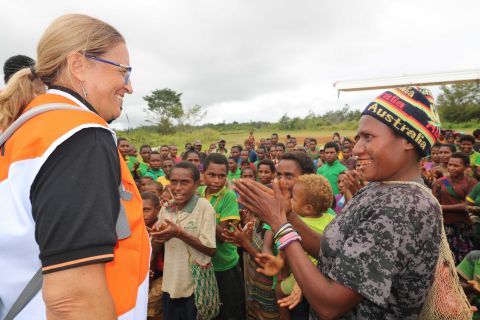 Roselyn interacts with Heather MacLeod, World Vision Papua New Guinea Country Director, during her visit to Muluma. (Photo: Tanya Hisanan)
"We were showed how to use the tablets (water purification tablets) and after you left we started using it and it has greatly helped us," she said.
"We are happy to receive mosquito nets and bath soaps. The children are now sleeping well under these nets and the bath soap distributed has been a favourite for the children," she added.
"They like to wash and keep clean", she beamed.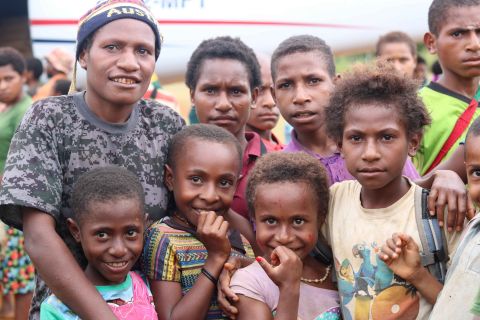 Roselyn with her daughter's (center, pink dress) friends. (Photo: Tanya Hisanan)
Roselyn's mother, Jolin, 56, also stepped forward to share her thoughts.
Jolin said that the earthquake contaminated their water sources as well as food gardens making life more difficult for those who survived the quake. She said that their main food crop is sago – but to prepare sago as a meal it has to be rinsed in clean water before it can be cooked and eaten.
"We were afraid to go into the bush to look for clean water because we might be killed by falling trees when the earthquake struck again," she said.
She says that the villagers are happy to receive the relief items distributed by World Vision staff like water purification tablets, jerry cans to store water.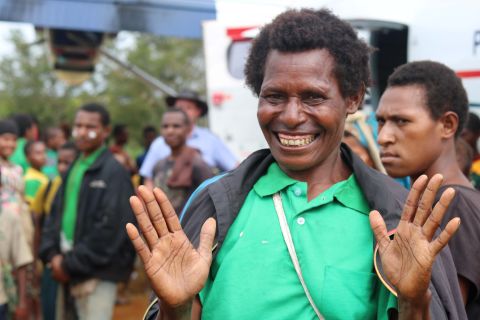 Roselyn's mom, Jolin, is grateful for the relief items she received from World Vision. (Photo: Tanya Hisanan)
Jolin said they are now using the water purification tablets and the water containers to store water. Jolin thanks World Vision for the purification tablets as it has greatly helped to provide clean water for drinking, cooking, bathing.
Out target is to reach 1,383 households across 26 villages (6 in Bosavi, 15 in Muluma, and 5 in Fogomayo) with approximately 8,075 population in the Southern Highlands Province. We are happy to report that we are 95 percent done with the distribution. The last leg of distribution is scheduled on the 3rd week of May 2018 at Fogomaiu sub-district with 121 households (596 population).
The Evangelical Church of Papua New Guinea and the Mission Aviation Fellowship have been instrumental in ensuring that relief items reach far-flung villages in the Province.