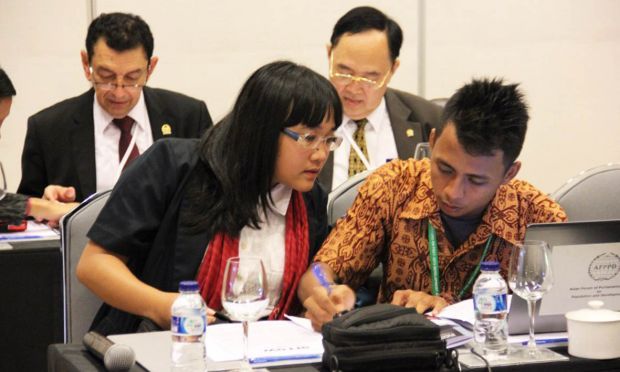 Twenty five years ago, world leaders agreed on one convention to protect children's rights globally. Today, the Convention on the Rights of the Child (CRC) has been ratified by 194 countries, making it the most widely endorsed human rights treaty in history. As a child-focused organization and in line with the national Child-Friendly City policy, World Vision Indonesia has established and fostered more than 400 children's groups to build on our children's thousands of ideas for a better nation. These ideas are accommodated and addressed to regency and/or municipal government officials. The results are truly beyond words.
Through these forums, children in Cilincing, Jakarta, changed the face of their slum neighbourhood by leading a movement to install 1000 waste bins, and creating a street mural that was painted and funded together with the community and the sub-district government. In Pontianak, West Kalimantan, children earned a seat on the Musrenbang (provincial development-planning meetings). Thus, child representatives are now invited to share their insights on all government-led development plans. They have also become advocates for both their peers and adults alike on reproductive health issues.
In Nias, young people have effectively helped numerous parents by taking up organic gardening, with the aim of providing vegetables for villagers and reducing levels of malnutrition. In Sikka, NTT, children suggested that the school build a dormitory for teachers. They came up with this idea after complaining about the teachers' absence and late attendance due to the distance between the teachers' homes and the school. The students also suggested creating a better sanitation facility by building more toilets segregated by gender.
By providing meaningful participation opportunities for children, we help them as they prepare to become thoughtful independent future leaders. Children can even turn into advocates for us adults, with their unpredictable solutions that rarely cross our cluttered adult minds.
When we support children to make decisions from an early age, we help them to become responsible decision-makers when they grow up. More importantly, we let them realise the consequences of these decisions. If they grow up to become members of parliament, their choices will affect millions of citizens. If they become voters, their voices will affect the nation. And once they become parents, their decisions will affect their own family and descendants. The impact of our decisions, first as children and then as adults, does not stop with us. It goes on for months, years, even generations.
When we fulfil children's right to speak up and act, we are leaving our world in good hands. The next time we interact with children, let us remember that we may very well be interacting with a future president, a parliament member, a CEO, a professional athlete and/or a UN ambassador, and that what they say really does matter.