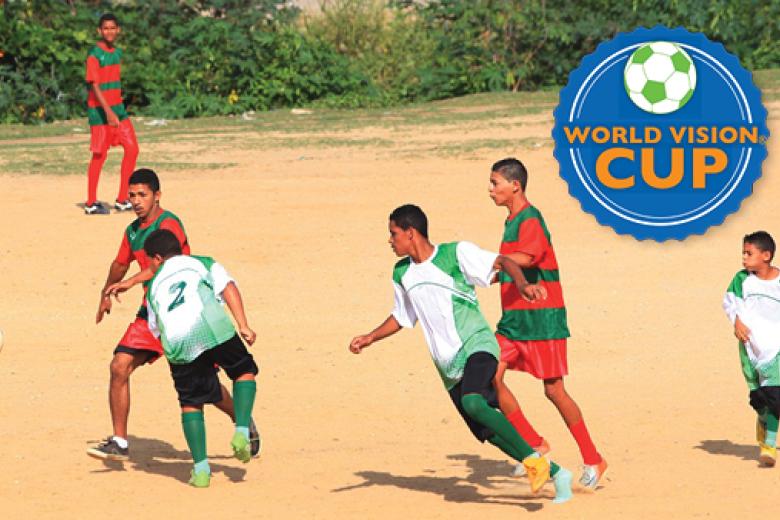 Two hundred young people hold their own football world cup in Brazil to speak out against violence
Wednesday, May 7, 2014
Friday 9 May (Recife, Brazil)  – This week, boys and girls from around the world will be rivals on the football field, but will be united as one to speak out against the inequalities and violence they say are ruining their lives.
The football tournament will see youth from 13 countries call on world leaders to work for a more fair society in which they can enjoy their rights. "A fair society is one where all children have equal rights and are protected" says Abudlhakim, 11, from Ethiopia. "I want to live in a society where children are listened to and where they are allowed to participate to build a better world for everybody" says Brownley, 13, from Haiti.
All week, the children gathered in Recife will talk about issues such as violence, child labour and sexual exploitation during workshops, presentations and group discussions. "Inequalities and violence are preventing too many children and young people from having an equal chance to play the game of life," says Joao Diniz, World Vision Brazil national director. "They know this, and they want to change this, so the World Vision Cup is a chance for them to start to see this change happen."
Eduardo, a 19-year-old boy from Recife, is looking forward to sharing his experience with others from around the world. "I myself grew up in violence. I myself grew up in a violent community. My dad was arrested and that was no good to me. Now I am working at finding solutions to these issues affecting my generation and the World Vision Cup is an amazing opportunity to call on leaders to take action."
Throughout the week, there are a series of events, which media are welcome to attend:
Tuesday, 13 May at 11am: Press conference to launch the World Vision Cup football tournament at

the Eladio de Barros Carvalho stadium

. Media are invited to attend the event, meet participating youth and World Vision spokespeople. A media advisory will be circulated.

Tuesday afternoon, 13 May, Public act at the Gilberto Freyre airport in Recife. Adolescents will do a "vaccination campaign" in which they will give a honey drop to vaccinate visitors arriving in Brazil against mistreatment of children, a common way to raise awareness on certain issues in Brazil.

Thursday, 15 May: Final match of the tournament at the Eladio de Barros Carvalho stadium.

Friday, 16 May, 9am: Closing ceremony in the morning at the Eladio de Barros Carvalho stadium. Participants will be handing over their "Letter of Recife" to representatives from the government, United Nations, UNICEF and World Vision. A press release will be made available and circulated.

Saturday, 17 May at 10am: Flash mob free style football in

Marco Zero, Recife

. A public act to support the

One Goal campaign

which seeks to ignite a movement to address the issue of child malnutrition in Asia, using football as the catalyst.
ENDS
To arrange interviews with youth and spokespeople, and for more information contact 
Jeremie Olivier, +1-514-295-3253 or Jeremie_Olivier@wvi.org 
Participating countries list:
Ethiopia, Mongolia, Bolivia, Honduras, Ecuador, Dominican Republic, South Korea, Australia, Canada, Germany, Haiti and Brazil.
Spokespeople list:
On the World Vision Cup: Mr Joao Diniz, World Vision Brazil national director
On World Vision Brazil's programs: Ms Maria Carolina, World Vision Brazil Operations director
On MJPOP, Brazil's youth advocacy network: Mr Reinaldo Almeida, MJPOP coordinator for World Vision Brazil
Notes to the editor:
he World Vision Cup video is available here:

http://www.youtube.com/watch?v=rgx0fOWmrrs

Photos, videos and more material will be available during the week. Contact Jeremie Olivier for more information.

Follow this Twitter feed for content during the World Vision Cup: @worldvisionyouth

World Vision is a Christian relief, development and advocacy organisation dedicated to working with children, families and communities worldwide to reach their full potential by tackling the causes of poverty and injustice.