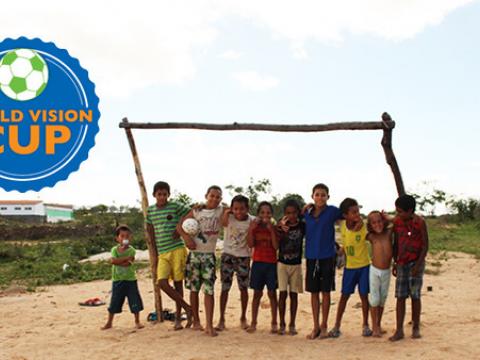 World Vision Cup unites youth against violence
Wednesday, May 7, 2014
For the first time, World Vision will be hosting its own World Cup that will bring nearly 200 youth from 12 countries together to play football, ahead of the world-renowned FIFA World Cup. Youth will travel from as far as South Korea and Australia to Recife, Brazil to play in the tournament that will begin 10 May.
Though these boys and girls will be rivals on the field, they will be united as one as they speak out against the inequalities and violence that they say are ruining their lives. They will call on world leaders to work for a more fair society in which they can enjoy their rights.
"I want to live in a society where children are listened to and where they are allowed to participate to build a better world for everybody" says Brownley, 13, from Haiti who will participate in the event. In addition to playing football matches, the youth will have cultural exchanges and talk about socio-political issues such as violence, child labour and sexual exploitation during workshops, presentations and group discussions.
World Vision aims to promote peaceful discussion so that the youth can learn about the realities of their peers and understand their views on violence issues in different contexts.
Follow the World Vision Cup on Facebook or Twitter.
Nineteen-year-old Eduardo from Brazil is looking forward to sharing his experience with others from around the world. "I myself grew up in violence. My dad was a thief and dragged me into crime and violence. Now I am working at finding solutions to these issues affecting my generation and the World Vision Cup is an amazing opportunity to call on leaders to take action."
"Inequalities and violence are preventing too many children and young people from having an equal chance to play the game of life," said Joao Diniz, National Director – WV Brazil. "They know this, and they want to change this, so the World Vision Cup is a chance for them to start to see this change happen."
The tournament will culminate with a presentation of the "Letter of Recife," which will outline the different types of violence that affect the youth and their recommendations for how a fair society can be realised. The youth will present the letter to representatives from governments and the United Nations, and then to each of the participating countries during the following months.