World Water Day, observed annually on 22 March, is a day celebrate water, to help make a difference for those who suffer from water-related issues, and a day to prepare for the water issues of the future.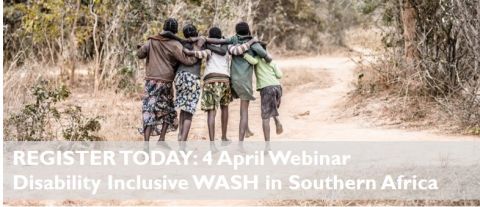 The theme for World Water Day 2019 is Water for All. Water is a human right, and we are hosting two webinars to discuss what World Vision is doing and learning in two key areas where the realisation of the right to WASH is severely lacking -- healthcare facilities and people with disabilities.
The second webinar was held on Thursday, 4 April. We heard about disablity inclusive WASH in Southern Africa, with specific examples from Malawi and Zimbabwe. Click the button below to get the webinar recording.
You can also check out this video on World Vision Zimbabwe's disability inclusive WASH programming.
The first webinar, entitled: 'Addressing the Challenges to WASH in Healthcare Facilities in Afghanistan', took place on Tuesday, 12 March. We heard from World Vision Afghanistan's WASH Sector Lead, Rosanna Keam, as well as Lindsay Denny, Technical Advisor for Global Waters 2020, on the following:
Why they did this work: The status of WASH in HCF in Afghanistan
How they did this work: An overview of the WASH Con tool and the partnership between Emory and WV Afghanistan
What they experienced and learned: A summary of key findings
What are WV Afghanistan and partners doing to respond to what they've learned?
If you're interested in the recording, please email Kristie Urich.
Incidentally, check out this news about the recent visit of Helen Clark, former head of the United Nations Development Programme, to visit some of World Vision's programmes in Afghanistan. Also, watch this video about World Vision Afghanistan's work to address malnutrition.
Check out this recording and resources from our 2018 World Water Day webinar, focusing on Nature and Water.
Learn more about World Vision's approach to providing clean, safe, and appropriate water, sanitation and hygiene around the world.
World Vision's work in farmer-managed natural regeneration
Conservation South Africa's 'One Health' Initiative:
More about Farmer-Managed Natural Regeneration
Abreha Atseha: a community restores a landscape: A massive land restoration project halted floods and provided drought protection in a community.
Forest -- Supermarkets for the poor: Reforestation provides year-round water