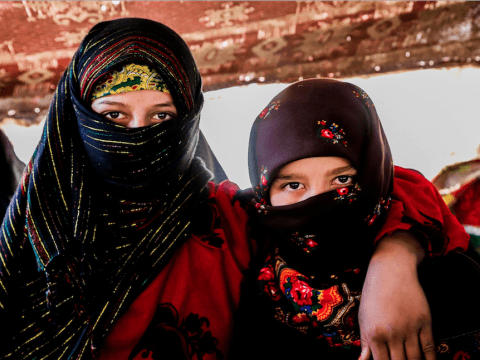 As Water Levels Drop, Early Marriage is on the Rise
Wednesday, September 12, 2018
An intense wind tears at clothing and stings the eyes so badly that it's difficult to keep them open. Both wind and dust are relentless here, filling the mouth and nostrils if left uncovered. Under the blazing sun, on rocky ground, makeshift shelters stand one metre apart. The shelters were not built to withstand the wind slamming against them, and many seem on the verge of flying apart.
"Last night we couldn't sleep," says Badro, 45, with a groan. She points to one of the spindly canes she uses to secure her 3 metres-squared tent. "I was holding onto the canes the whole night."
A historic drought has affected two out of three provinces in Afghanistan, with displaced families in the Northern and Western regions particularly at risk. The number of people fleeing drought conditions in the Western Region alone has surpassed 150,000 as of August. Most live in informal sites around the cities of Herat and Qala-e-Naw.
Badro and her family of five moved from Badghis to Herat Province six months ago when sparse rainfall led to the failure of winter harvest, widespread loss of livestock due to fodder scarcity and the drying of drinking water wells.
"At one time we had a real home and a barn full of sheep which covered our finances; but [we lost everything] to hunger and shortage of water." She stops for a moment to reflect. "We ate some of them as there was no one to buy them, but the ones that remained got weaker and weaker and finally died."
Coming to Herat didn't help the family either; in fact, the situation got worse. Her only son went to Iran two months ago to find day labour, leaving Badro and his three daughters to fend for themselves in an area isolated from most economic activity. Her voice tightens when she admits that she doesn't know whether he is alive or dead.
Badro and her granddaughters wander around the tents collecting thorns and thistles to burn for tea, or if there is anything to cook, food. She says that they used to drink milk for breakfast and eat meat at night, "but since we arrived here we haven't eaten meat or fruit." The family's reserves are getting low and Badro worries about how she'll manage to fill the children's bellies alone.
 The makeshift kitchen is in a corner of the tent, and a small hole that serves as a fire pit churns out smoke from the thorns and thistles. A few utensils lie nearby along with a yellow jerry can. Their only cooking pot is blackened by smoke, but with scarcely enough water to drink they can ill afford to wash it.
None of Badro's granddaughters have gone to school, either in Badghis or in Herat. Her youngest, Anisa, 13, is shy. When she speaks she offers short replies and looks at the floor, tugging at the corner of her scarf. In their village in Badghis the school doesn't offer classes for girls.
"If I found a good man, I would marry her off," she says, caressing her granddaughter's head. "I already promised her to one of our relatives in Badghis. If I don't receive any assistance, I will [have no choice]. That [would be better] for her and for us too." The little girl stares at the floor in silence.
Badro sips tea from an old plastic cup and looks at Anisa. "If I found a good man, I would marry her off," she says, caressing her granddaughter's head. "I already promised her to one of our relatives in Badghis. If I don't receive any assistance I will [have no choice]. That [would be better] for her and for us too." The little girl stares at the floor in silence.
Early marriage is quickly becoming a routine coping mechanism for mitigating drought-related difficulties. Families marry off their girls for revenue in the form of bride price and also to reduce the number of mouths to feed. Based on a rapid assessment in Badghis, over fifty per cent (52.1) of surveyed households cited child marriage as a coping strategy for food insecurity and reduced family income.
Badro takes another sip of tea. "I never thought I would see this day, being homeless, sleeping on the rocks with empty bellies. I feel like the setting sun, I might not be here tomorrow. I don't know what would happen to these girls. It is a dark time in my life."
The drought has affected 1.3 million people in 20 provinces in Afghanistan, with over 100,000 children in immediate need of child protection measures. Based on a UN Office for Humanitarian Affairs (OCHA) situation report, serious protection concerns have been reported from areas with a large number of internally displaced peoples (IDP), included but not limited to spikes in early marriage and child labour.
According to Jim Alexander, Country Director for World Vision Afghanistan, "Life has never been easy for these people in some of the most remote and insecure areas of Afghanistan, but they had enough to survive. Because of this drought, that is no longer the case. Normal concerns have now turned to utter desperation, even to the point where thousands of families have felt their only option is to sell their young daughters into marriage in order to feed other family members.
"Yes, emergency response resources for those who are displaced will help, but equally and perhaps more importantly is to assist them before they are displaced, enabling them to stay on their land and in their homes - their daughters with them. They need food immediately, but they also need to replace crop seeds they have eaten so they can plant if the fall rains come. They need resources to replace and sustain dead or sold-off livestock. They need water immediately, but they also need the security of water systems which will mean they do not have to constantly worry when the jerry can slowly empties. They need life-saving medical care, but they also need to know that basic health and nutrition services will be available if they stay in or return to their homes."
The critical moment arrived early for Badro and her family, forcing them to leave their homes in search of tolerable conditions, something far from guaranteed in a country experiencing unforeseen levels of crisis. There are many more like Badro who walk the razor-thin line of displacement. Aid and assistance is required immediately to keep these families in their homes, and to provide alternatives to the kinds of traumatic decisions often made during emergencies.
World Vision Afghanistan has been a first responder in places of origin as far back as October 2017 through UNOCHA CHF funds, and since January with World Food Programme food. Since April World Vision has provided clean water to 101,065 people and distributed 4,257 additional metric tonnes of food to districts in Badghis and Northern Herat provinces to prevent displacement of peoples. World Vision is also providing basic health care including nutrition services for IDPs in Herat and drought affected villages in Badghis.