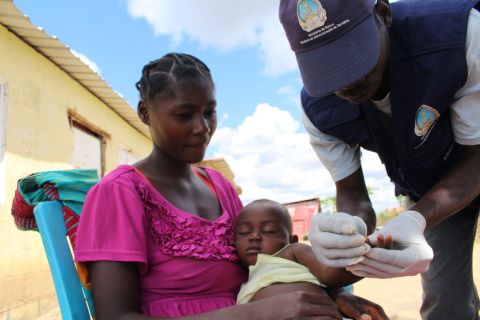 Although Angola is the second largest oil producing country in Africa, many children continue to suffer from problems associated with malnutrition, lack of water, health, or protection.
We want all children in Angola to enjoy good health. We working towards this by:
Increasing the number of children who are protected from disease
Increasing the number of children who are well nourished
Ensuring children and their caregivers have access to essential health services
Reducing the prevalence and impact of HIV and AIDS on boys and girls
Angola continues to experience some of the highest maternal and child mortality rates from preventable diseases such as: Malaria, diarrhea, Pneumonia and malnutrition in Africa.
Only 20% of children under the age 5 and pregnant women are sleeping under insecticide-treated bed nets. This means 80% of children are at an elevated risk of contracting Malaria. High levels of Malaria coupled with long distances (an average of 20 km) to the nearest health post, means the majority of Malaria cases are not diagnosed or treated properly
only 31% of babies are exclusively breastfed
38% of children under 5 are stunted
19% of children are underweight and 5% are wasting
To reduce the distance caregivers need to travel and increase the availability of treatment, we are training Community Health Agents (CHAs) and community development agents (ADECO), who provide a number of services at the community level such as: increasing the opportunity for children to receive diagnose and first treatment of Malaria in the community and decreasing the time and distance caregivers need to take children to health centers.
In 2017, our teams trained 327 Community Health Agents (CHAs). As a result: 157,832 children were screened for malnutrition, 28,810 mothers and caregivers learned about the proper feeding practices for infants and young children and 21,435 children under the age of 5 were able to be treated for Malaria, without having to leave their communities.
3,000 long-lasting insecticide treated bed-nets were distributed, providing protection from Malaria for some 21,000 people at health facilities, pediatric and maternal wards.
315,353 children received deworming treatment.
6,472 children between 6 and 59 months who were moderately or severely malnourished were rehabilitated through community-managed malnutrition programmers.
*Numbers from 2016 and 2017