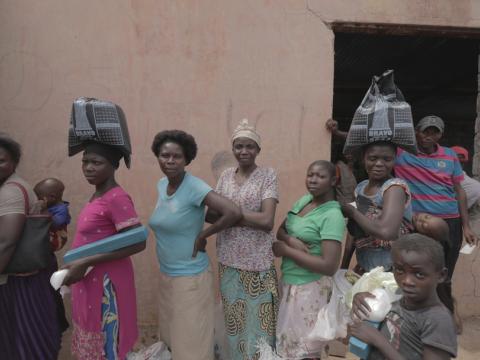 Emergencies
Since 2015, World Vision International in Angola is responding to a drought emergency caused by the El Ninõ phenomenon. The impact of this drought is excurse bated by an economic crisis linked to reduced Government income from oil revenues. World Vision's response strategy targets child health, nutrition and food security / resilience. The Southern provinces of Angola, including Namibe, Cunene, Huila, and Cuando Cubango are experiencing a severe drought, the worst recorded for the past 27 years. This comes at a time when the four previously dry years have already stretched community coping mechanisms, and therefore the resilience to withstand shocks is low. World Vision estimates that approximately 2 million people are food insecure with child global acute malnutrition rates of approximately 15%. Outpatient nutrition centres and local hospitals are overwhelmed and essential medicines and supplies of therapeutic food have reported to be out of stock. WVI in Angola has been working with government and nongovernmental partners to combat child malnutrition, which affects more than 15% of children under the age of five in the region. Since the beginning of 2018, monitoring of the nutritional status of 8,000 children was carried out, and 8 tons of therapeutic feeding were distributed.
From April 2017, thousands of people have crossed the northern border of Angola, fleeing the conflict in the Democratic Republic of Congo. World Vision International in Angola, in partnership with UNHCR and the World Food Programme has managed the distribution of food survival kits and hygiene kits for 32.000 people in a refugee camp in Lunda Norte province. 53% of refugees in Lunda Norte are children. Up until now, 2019 WVI in Angola continues to work in the Lovua settlement, in Luanda North Province, attending more than 35,000 Congolese affected by violence and ethnic outbreaks in Kasai Province in the Democratic Republic of Congo (DRC). WVI, funded by the United Nations High Commissioner for Refugees (UNHCR) and the World Food Program (WFP), has sought to address the basic needs of refugees. To ensure that people have access to basic services, World Vision is implementing camp management activities, food distribution and other items, child protection. Three definitive schools have been built to serve refugee families as well as communities adjacent to the settlement.
In March 2016, the pediatric hospital in Luanda issued a call for medical supplies, as they are experiencing stock outs of essential lifesaving medicines. There were epidemics of yellow fever, malaria, dengue fever, typhoid fever and cholera brought about by heavy rainfall in Luanda, limited waste management and poor hygiene and sanitation. There has been a spike in child deaths, as hospitals across the country report critical shortages of all medical items, caused by the ruptured regular supply chain processes as a result of the economic crisis in Angola.