Location
For broader impact, World Vision Angola has a strong collaborating and advocating partnership with the local authorities and Institutions, Donors and Corporate partners, due to the consistent delivery of high quality programmes and demonstrated strong financial management capability that provides sustainable results. Donor agencies have identified and showcased several of our programmes as best practice.

Health & Nutrition

World Vision providing the Ministry of Health with technical support by training Community Health Workers (ADECOS) and Municipal Health Technicians, in order to support the malaria eradication. World Vision is regarded as an important partner to the Ministry of Health, recognized for professional evidence based approaches and quality reporting.

By mobilizing a network of Community Health Workers, WV Angola screened 300,000 children for malnutrition, saving the lives of 22,000 severely malnourished children by providing ready-to-eat supplementary food and referring mothers to a seeds distribution programme with the aim of increasing availability and improving consumption of food at the household level. A total of 53,588 children were treated for malaria and 32,066 children benefited indirectly by having their care takers receive knowledge on malaria prevention and treatment.

In 2016 World Vision in Angola was nominated as the Principal Recipient for the 10th round of Global Fund support for the Eradication and Control of Malaria and Community Health Systems Strengthening.

World Vision is currently recognized as a civil society leader in the area of nutrition and convenes a national nutrition coalition. World Vision's emergency nutrition Community-based Management of Acute Malnutrition Model (CMAM) approach was profiled as good practice in the Emergency Nutrition Network field guide.

Health and Nutrition – Fighting HIV/AIDS, tuberculosis, malaria, diarrhea, pneumonia and other preventable diseases, such as yellow fever, as well as actions to combat moderate and acute malnutrition, allowed World Vision to directly reach out to 1.713.645 children and 76.570 children indirectly. These projects contribute to improving the health conditions of women, children, youth and vulnerable groups through community mobilization, diagnosis and treatment.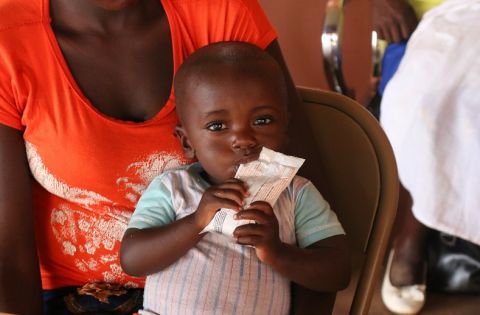 Water & Sanitation

By developing a low-cost, appropriate technology approach to water & sanitation, World Vision has successfully implemented 700 water points for rural communities in the central highlands. With each water point serving 30 families, World Vision has reduced the distance traveled to collect water, freed up time for children to go to school and parents to work, and reduced the incidence and severity of water borne diseases by 27% for a total population of approximately 120.000 people.

The borehole completion and rehabilitation benefited 37.472 children through access to safe water. The Pump installation in three municipalities served 12.600 families (50.400 children) and saved 24.731 girls´ time in fetching water for the household.
WASH (basic sanitation and water) - The well drilling projects and construction of family and / or community latrines together with community awareness of hygiene practices enabled 29.698 children directly, while 34.170 children indirectly to benefit from the projects focused on access to drinking water through the installation of wells and cleaning of springs. Furthermore, the awareness of hygienic practices and other innovative practices such as the use of mobile technology were put into place.
Resilience and Social Enterprise
World Vision is equipping over 220 small-holder farmer organizations with inputs, technical skills and business development skills which have increased the household income of 22.000 families by over 100%, directly benefiting children through increased expenditure on food, healthcare and education. World Vision is recognized as a lead agency for agricultural development work and has a strong track record in pro-poor value-chain development.

In 2015, 15.953 households received vegetable, maize and bean seeds to increase production. A total of 63.812 children benefited indirectly from the increased crop production due to the seed distributions. Capacity building on food utilization and improved feeding practices have indirectly benefited 19.936 children.

New guidelines for land tenure have been adopted by the Provincial administration, and ten communities report increased protection and use of natural resources and livelihoods, boosting the resilience of 2.366 children.

9.320 children have directly benefited from participating in the good news classes, which provide them age appropriate material for Sunday school.

Economic development and agriculture - New techniques of land use and seed processing, access to local markets and entrepreneurship techniques for women. As a result 90.251 children's life improved directly and 481.942 indirectly from projects that promote Economic Development with Women, Sustainable Agriculture and Food Security.
Recent Emergencies:
From April 2017, thousands of people have crossed the northern border of Angola, fleeing the conflict in the Democratic Republic of Congo. World Vision, in partnership with UNHCR and the World Food Programme has managed the distribution of food survival kits and hygiene kits for 32.000 people in a refugee camp in Lunda Norte province. 53% of refugees in Lunda Norte are children. In partnership with UNICEF, World Vision will also implement in the month of August safe spaces where they can have psychosocial monitoring study and participate in recreational activities. The number of refugees is expected to increase exponentially as there is no forecast for the end of the conflict.
World Vision Angola is responding to emergencies brought about by the El Ninõ phenomenon coupled with an economic shock linked to reduced Government income from oil revenues. World Vision's response strategy targets child health, nutrition and food security / resilience.
The Southern provinces of Angola, including Namibe, Cunene, Huila, and Cuando Cubango are experiencing a severe drought, the worst recorded for the past 27 years. This comes at a time when the four previously dry years have already stretched community coping mechanisms, and therefore the resilience to withstand shocks is low. World Vision estimates that approximately 1.9 million people are food insecure with child global acute malnutrition running at between 15-19%. Outpatient nutrition centres and local hospitals are overwhelmed and essential medicines and supplies of therapeutic food are reported to be out of stock.
In March 2016, the pediatric hospital in Luanda issued a call for medical supplies, as they are experiencing stock outs of essential lifesaving medicines. At present there are epidemics of yellow fever, malaria, dengue fever, typhoid fever and cholera brought about by heavy rainfall in Luanda, limited waste management and poor hygiene and sanitation. There has been a spike in child deaths, as hospitals across the country report critical shortages of all medical items, caused by the ruptured regular supply chain processes as a result of the economic crisis in Angola.
World Vision Angola aims to deepen the commitment with the most vulnerable communities, focusing our ministry for greater results and through delivering high quality and sustainable programmes.