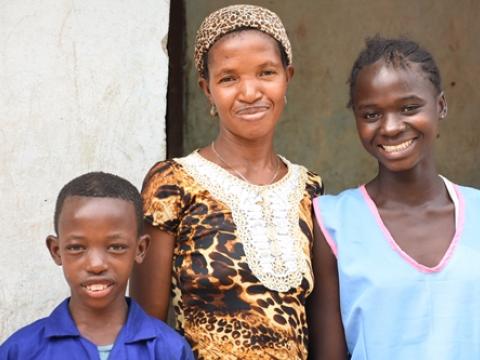 ''My children are back to school''
Tuesday, September 26, 2017
Fulamusu had an energetic husband who unreservedly shouldered the responsibility of his family until his demise. Fulamusu's husband died of Ebola in his community in Komrabai in Port Loko District, in November 2014. ''My husband was a very successful farmer. But when I lost him, I knew things were not going to be easy for me and the children. My prediction was right. The situation became very bad for us. Getting something to eat a day was no easy battle. Some days we went without food,'' she recalls.
The absence of food in the home and her children not going to school made Fulamusu lose hope of survival until EFSP stepped in. ''There was no food, and my children could no longer go to school. I lost hope completely,'' she explains.
World Vision implemented the Emergency Food Security Programme (EFSP) which is funded by the United States Agency for International Development (USAID). Fulamusu's family is among the beneficiaries of EFSP in the Port Loko District, in Northern Sierra Leone. Port Loko was one of the hardest hit zones of the Ebola Virus Disease (EVD), and was among the last Districts to be declared free of the virus in Sierra Leone "I benefitted from the cash transfer and seed rice for planting. This has helped me a great deal", she joyfully explains.
Mostly, when people are blessed with resources— especially those they have been crying for, they try to satisfy the most pressing need. Fulamusu is a classic example.
''I used the first payment to buy food stuffs for the home. I used the second payment to buy shoes, books and school bags and paid tuition fees for my children. EFSP is the reason my two children are back to school,'' she appreciates.
Hope found a way into Fulamusu's family again. Life is worth living again for Fulamusu and her two children. Children deserve to be educated. A brighter future is foreseen for Fulamusu's children. I know my children will be educated to be very influential people in this country and beyond. I vow to see them through school,'' she concludes.