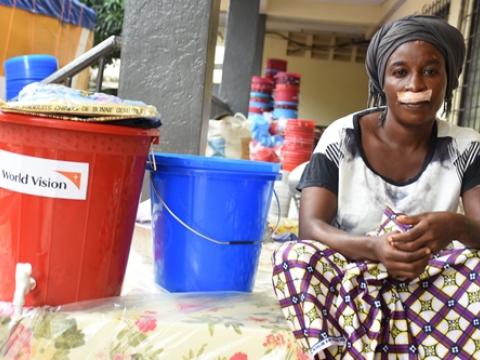 'I thought I was going to die and leave my child behind'
Tuesday, September 26, 2017
''Very heavy bulky mud landed on my chest. I was buried to the neck in mud. I lost hope of survival. I thought I was going to die and leave my child who was away on holidays. But I lifted up my hands and cried for help,'' says 37-year-old Sia, an eye-witness and survivour of the flood and landslide that hit Sierra Leone's capital, Freetown on August 14 2017.  
 Sia cried out for help and she got one. 'It was my husband who came to save me. When he finally got me out of the mud, I later realised I had been pierced by an iron ore on my side. Few minutes later, I passed out. He saved me, but he was hit by a rock that broke his arm, two fingers and leg,'' she continues.
Regent is now on record for being the hardest hit zone of the twin disaster—it's the community underneath the mount Sugar Loaf that broke and caused serious havoc. Heavy torrential rains coupled with climate change, experts say, is responsible for the collapse of Mount Sugar Loaf.
Sia confesses she has never seen such a thing in her life: ''There was a blast that morning, and I saw the ground split and water gash out quickly. That was when the destruction started. A family of 10 was buried in the mud. It was so fearful. I have never seen a thing like that!''
Sia and her husband are missionaries. They were attending a church function that day. She and her husband were the only survivours out of those attending the church function. ''I really want to thank God almighty for my life. I suffered injury, but I am alive to tell the story. My neighbours, friends and church members died during the disaster. His grace has kept me alive.''
The visible scars Sia obtained from the disaster still bring her pain. ''I feel so much pain all over my body. I even find it very difficult to walk around unaided,'' she complains.
Like many other people affected by flood, Sia is starting afresh. ''I came out with nothing. We lost our home and all the valuables we had in it,'' she says.
No country is immune to disaster, both artificial and natural. During emergency situations World Vision always identifies the critical first response in order to help protect children and their families from disease outbreaks and other risks that arise. Water, sanitation and hygiene are normally among critical first responses to help protect people.
From the onset of the flood and mudslide emergency in Sierra Leone, World Vision has been providing WASH facilities and hygiene kits to communities. Water purification powder is being provided with a view to making purified water available to children and their families. Other Non-food items like mattresses, blankets, cups, toiletries, among others, have been provided to six communities (Kamayama Extension, Pentagon, Juba, Culvert community, Gbangbayilla and Wilberforce) affected by the floods.
World Vision partners with the government of Sierra Leone, other local organisations and corporations to ensure people (especially children) get the best protection and support they can get. World Vision staff are also currently taking part in technical working groups in order to ensure a coordinated work with other agencies in Sierra Leone.
Sia is one of the beneficiaries of World Vision's non-food items (NFIs). She says: ''World Vision has really demonstrated that they are an organisation that cares for people. I have been blessed and touched by their kind donation. I am currently staying with my sister. I have nothing to lie on, nothing to call my own. This is a start for me. With the mattress, I have something to lie on, says Sia.
World Vision's donation of non-food items has benefitted 664 households in the Kamayama, Culvert, Kamayama Pentagon, Juba, Kanike and Gbangbayilla communities in Freetown.
World Vision continues its intervention in areas of health and burial, child protection and water, sanitation and hygiene as part of the flood response.
Sia is recovering from the wounds and pains. She will soon get back to normal life. She also looks forward to her husband's recovery from the hospital.