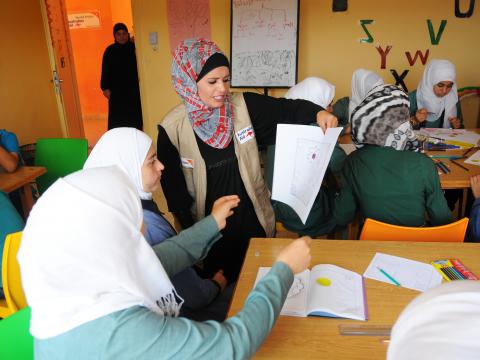 Building bridges, renewing hopes
Monday, September 22, 2014
Hazar, 17, is like thousands of other young people from Syria who fled the war. They all face unique challenges depending in part on the countries and cultures they have taken refuge in.
"When I first came here, I didn't go out much. I used to be very afraid when I went to the school. I was scared the other local students would bully me or not accept me," says Hazar.
In addition to being forced to leave behind their friends, family members and their homes, the Syrian refugees, especially children, are struggling to adapt to this sudden change.
The challenges are not only difficult for the children taking refuge; those from the host community are finding the sudden shift difficult to adapt to as well. Schools in Jordan have more and more Syrian children attending classes and Jordanian neighbourhoods are struggling to cope with the ever-increasing number of Syrian families living among them.
World Vision's Adolescent Friendly Space (AFS), run by the Princess Basma Centre in Irbid, Jordan and funded by Australian Department of Foreign Affairs and Trade (DFAT), is playing a huge role in helping young adolescents manage these changes.

As you enter the Adolescent Friendly Space, the room looks colourful and cheerful. Photographs, drawings and posters hang on the walls. Some children are playing chess, a few chatting and some drawing. It is obvious the children are enjoying their time here.
Bridging the gap
"One of the biggest problems the children who come here face is the problem of either being accepted or accepting," says Zuhoor, one of the facilitators. The Adolescent Friendly Space acts as a bridge to close this gap and tries to bring both the Jordanian and the Syrian children together.

"When the children first started coming, they used to have a lot of negativity in how they spoke and behaved. They would relate everything to violence and aggression. Even the stories they shared were filled with this," adds Zuhoor. Through games, skits and other group activities the Adolescent Friendly Space has gradually succeeded at removing this negativity from the children's minds and as a result bridged the gap between the Syrian and Jordanian participants.

"At first, they didn't make friends for a long time and would always want to be alone and do everything alone. But now, they have started mingling with each other and want to be together all the time. In fact, even though the sessions are finished by 3 p.m., most children stay at the centre until 4.30, wanting to be with their friends for some more time," says Zuhoor, with a smile.
Hazar enjoys and looks forward to the time she spends at the Adolescent Friendly Space. "The friends I have made here are like my own sisters and brothers. I find [it] more beneficial for me than my school. I made a lot of friends here, and I love the new things I get to learn. I especially liked two sessions; one where an Arabic scholar visited us and taught us how to write proper Arabic and the second, a session on how to make simple hand-made ornaments," says Hazar.
"It is true that I'm having a good time here, but there are many things that keep me attached to my country Syria still. Our entire family, we all used to live together. But here, now, it is just my mother and my younger sisters. I miss my home, my other siblings and my village," she adds.
Although Hazar loves spending time at the Adolescent Friendly Space, and her family has now become good friends with their neighbours, she is very worried that she may not ever go back home. "I'm worried that time would pass and we wouldn't go back to Syria at all. This is what scares me the most," she says.


The World Vision Adolescent Friendly Space and Child Friendly Space, which is run by the Princess Basma Centre, now has around 300 children and adolescents, and eight facilitators. "We have already exceeded our limit of 200 children, because a lot of children want to come here. Coming here makes them happy," adds Zuhoor.

This project has been funded by the Australian Department of Foreign Affairs and Trade.