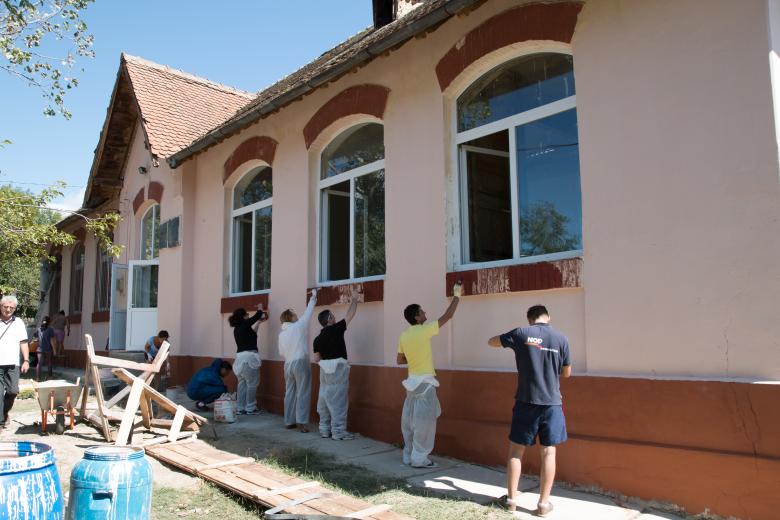 Children welcome the new school year in a completely renovated school
Thursday, March 3, 2016
For two days, in a collective community action, members of World Vision Romania team and 50 volunteers from Network One Distribution, Bucharest joined their forces together with people from a World Vision partner community – including local authorities, parents and young volunteers – in order to renovate the Primary School from the village before the beginning of the new school year. In the end, this one hundred-year old school got a new aspect, becoming a welcoming place for children, with a modern equipment and ready to offer students adequate conditions for study.
Because the school was in really bad condition, it had musty walls and a damaged wooden floor, the rearrangements had started two weeks before when the local authorities did the rehabilitation of indoor and outdoor walls and assembled the tiles. Their work was continued by the volunteers who, in the two days of intense activity,  did their best to finish everything planned. Their work implied: painting and finishing every classroom, the teachers' room and the halls, modernization of the scene, painting the outdoor walls, the window grids, the fence and the gates, landscaping (lawn mowing, planting flowers, relocating and painting the playground), toilet sanitation. For more light and colour, the indoor walls and the fence had drawings with children's favourite characters. 
 "The activity during this week-end is an encouraging example of civic involvement of some helpful people, such as those from Network One Distribution, who wanted to help children in the village to come dearfully to a new and welcoming school. It is encouraging for us to notice the companies' proactivity and their availability to invest aiming at increasing the level of education for children in villages and for their future", said Cristina Mosteanu, Marketing manager World Vision Romania.
 For Network One Distribution this activity is part  of a large plan meant to imply the company in more and more social activities in the next years. During the two days, the 50 employees proved dedication and commitment and followed carefully the working plan in order to finish everything in time and to get the expected results: 
 "Network One Distribution thinks that "when there's a will, there's a way". What had happened this weekend showed us that when united, we can do amazing things. Every working hour of the 50 people fully contributed to what we intended to left behind us. Even if, in everyday life, we don't use to paint, to make cement or to climb scaffolding, every activity of this kind ennobled us and brought a ray of hope on the face of each child.
We had a good time in Argetoaia, we met wonderful people and we are glad that we could help somehow this community. We believe that by hard work, dedication and commitment we can achieve great things," said Eugen Floarea, Human Resources Manager, Network One Distribution.
But most important of all, the activity brought joy and pleasure to the children learning at the school. When they saw the changes, they got amazed and couldn't help saying:
"Wow...our school is unrecognizable. It is so beautiful and colorful. There is such a pleasant smell in the classrooms..," said Geanina, 9 years old.
Children were attracted by their new playground and gathered all there, enjoying the swings and slides:
"We are so happy because we have a new playground in our village where we can gather to play and spend time together", said Claudiu, 8 years old.
The school also received from Network One Distribution Company a donation of 10 computers, a printer, a multiplier, a refrigerator, a microwave oven, a TV set and a DVD player, 28 schoolbags fully equipped, toys, books, curtains, tools: trimmer, lawn mower, watering cans, rakes, spades, wheelbarrows, chainsaws, drills and trash cans. Moreover, some materials necessary for renovation were donated by Policolor Company and World Vision Romania and other were purchased with the money received from an individual donor.