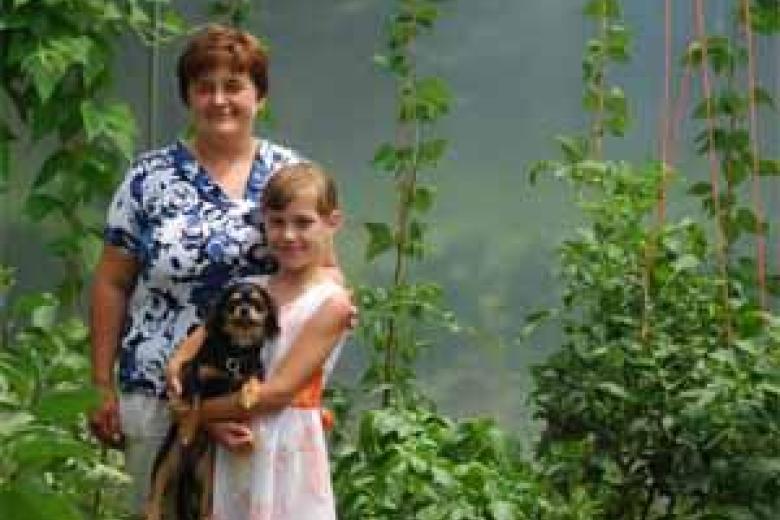 Courageous mother embraces greenhouse & new life for her family
Thursday, August 5, 2010
The Marin family from Cobadin commune in Romania's Constanta County, is very special. Elena, 41, is a wonderful mother of two children and a force of nature. She fought breast cancer for eight years and following surgery has managed to maintain the upper hand. She has battled on courageously and mostly silently and still has a huge appetite for life. Elena believes that it is imperative to be very optimistic in life and to do everything with passion. Indeed, this is the motto that gave her the strength to bring up her children alone, take care of a 43-year-old disabled sister who is immobilised in bed and also care for her 65 year-old mother who has undergone an operation.
The next day after the workers welded the greenhouse tubes and dragged out the foil, my son hoed the soil from inside
The economic crisis has only added to the family's challenges and the local administration hasn't paid Elena's personal carer salary for the last three months. At just US$200 a month; the minimum wage for Romania, the salary is small, but it is her only income and it is hard to feed five mouths and support two children at school without it.
But Elena received a new life-line in May, the same month her salary was cut, through a greenhouse provided by World Vision. This was a moment of happiness and hope for the entire family, especially for Elena's children; Adelina, 9, a fourth grade student and a World Vision sponsored child, and Iulian, 19, who is a third year student at the Constanta Maritime University.
Both Adelina and Iulian were ecstatic to have their own greenhouse and immediately assumed responsibilities as if they were experienced farmers.
"The next day after the workers welded the greenhouse tubes and dragged out the foil, my son hoed the soil from inside. Adelina and I planted together in the morning, tomatoes, green pepper, aubergine and cucumbers in the half part of the greenhouse and finished the other half in the evening", shares Elena.
"It was easy and fun to plant vegetables. First, I was digging with a knife to make a pit, then planted the seeds and put some very small balls so that insects do not eat the plant's roots. After that, I was measuring with a slide rule 20 centimetres and digging the next pit. I did two rows in an hour by myself", says Adelina, explaining how the planting process works.
I couldn't afford to buy vegetables for the winter provisions. But this year is different. We have the greenhouse
Adelina also helps her mother to weed the wild growing-plants, water the vegetables and wait for the tomatoes to ripen because they are her favourite vegetables and "have a wonderful taste when you eat them with some skewers".
The family is already enjoying the cucumbers and green peppers from the greenhouse. They are tasty and very freshThe aubergine and tomatoes are still green but are developed.
"I believe we will have a good crop because I have 80 stalks of tomatoes, 120 stalks of three pepper varieties, 23 stalks of aubergine, 10 cucumbers nests and haricot beans. Between the cucumbers located 40 centimetres apart, I planted celeries and between the tomatoes I put salad and after that, carrots and red beet", describes Elena proudly.
The greenhouse donation is also timely because Elena completed a vegetable planting training course through World Vision's agricultural project. . Like a scrupulous student, she has put into practice exactly what the trainers taught her and has also made some investment to improve the efficiency of the greenhouse's water system and to keep the vegetables protected and healthy.
"The greenhouse has 40 metres of drop water system but it wasn't enough for the entire culture so I bought another 80 metres. Unfortunately, I had some problems with the tomato stalks which were blighted and was forced to treat it every 10 days. The 16 litre pump donated by World Vision was perfect for this operation and it is an agricultural working tool always useful to combat the pests", Elena adds.
This hard working woman pollinated the vegetables' flowers one by one and prepared the compost, an ecological and organic fertilizer, which increases the soil's water-holding capacity, invigorates the soil food web and provides a buffet of plant nutrients. The compost also contains substances that enhance plants' ability to respond to challenges from insects and diseases. "I waited seven days to ferment one pail of cow manure with 10 water pails and I poured the resulting liquid onto the root of every plant. It smells awful but gives extraordinary results", shares Elena.
All the produce is used for the family's own consumption. Iulian, who works every holiday as a waiter to help boost the family's low income, receives fresh vegetables every week from his mother.
"I live in Constanta during the entire summer and my mother already sent me cucumbers and green peppers. They have a different taste than the vegetables from the market; a better taste", Iulian affirms. He confessed that he is lacking agricultural knowledge, but he learns fast and wants to be involved in the greenhouse project. When his mother asked him to help with the tomatoes, he stretched wires and tied every plant in order for them to grow upright and supported.
"I will plant something in the greenhouse all the time. After the October crop, I will plant onions and garlic because I intend to sell it around Easter when the market demand is high for these products", Elena continues, revealing her future plans concerning the greenhouse project, with shining eyes as she speaks.
the satisfaction to harvest your own vegetables, planted with your hand is huge
In contrast, Elena had no choice but to buy all the vegetables from the market. Nothing would grow in her garden because of the drought. "I couldn't afford to buy vegetables for the winter provisions. But this year is different. We have the greenhouse. I just wait to prepare tomato sauce and paste, vegetable hotchpotch, ketchup, cucumbers and capsicums in vinegar, all kind of pickles and freeze aubergines… and everything for free! The children will be delighted to have such a variety of tasty food in the winter. They need to be well nourished to have strength to continue to study and become good people, with a future", Elena says.
Despite the hard work and at times poor health Elena says, "the satisfaction to harvest your own vegetables, planted with your hand is huge!"
Approving her mother's words and smiling, Adelina looks with wonderful green eyes and adds: "I like our greenhouse very much and I am proud of it".
World Vision Romania donated 15 greenhouses this year to families in Cobadin commune, Constanta County
When she isn't working in the greenhouse, Elena is a World Vision volunteer at the creation club in the Cobadin Community Center. She teaches the children to manufacture different art objects and she does it well, being a creative and passionate person. As a World Vision sponsored child, her daughter Adelina takes part in all of the activities developed at the Center and has been accepted as a student at the Modern Dance Club.
Most importantly, both of Elena's children have learned from their mother to be optimistic and to smile all the time. They also learn that the most important things in life are to work hard, to study and to keep united whatever will be…