Somewhere in Thanlyin, Myanmar, there is a small, but tidy house beside a tiny stream where a cheerful middle aged woman sits folding clothes to sell in her village. Her name is Daw Cho and is 42 years old. Daw Cho not only sells the clothes, but also helps in the community as much as she can. Daw Cho, lives happily together with her husband and two daughters.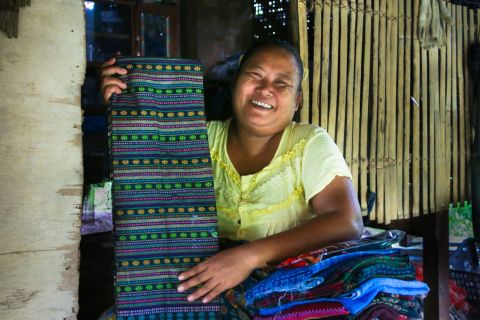 The family's current condition is much different than the past few years. They use to live in a raggedy bamboo house, struggling for a mere living.
Daw Cho went through a painful experience when her younger daughter was five months old. Her daughter suffered hydrocephalus and was hospitalized and thefamily did not have enough money for the hospital bills. Therefore, Daw Cho borrowed money with high interest. Hydrocephalus left Daw Cho's daughter disoriented and with difficult learning disabilities.
At that time, Daw Cho worked for her Aunt selling fine clothes. She used to earn less than $1 dollar per clothing piece - it was not enough for their family to survive. Her family's well-being depended on local money lenders.
"It was really hard for us. My husband was working in Thilawa jetty (deep sea port) at that time as a general worker, but his income was not enough for us to survive. So, I had no choice but to borrow money with high interest." Said Daw Cho.
Daw Cho was in debt. She wondered how she could repay those debts. In despair, Daw Cho carried on,until she met World Vision Myanmar and became a member of the community based development group that later became a Community based organization.
She learned that World Vision Myanmar supports community members, especially poor families, to start their own small business. Daw Cho received 350,000 Kyats (around $290 USD) from World Vision Myanmar, as a livelihood support for her family. She used that money to sell fines clothes in her neighborhood. She started by investing 350,000 Kyats and now Daw Cho can invest to 500,000 Kyats (around $450 USD) per month to buy fine clothes and sell it around the community.
"Before, I was working for my aunt. I only got 500 Kyats (less than $1 USD) for a piece of clothes. But now, I'm able to manage my business, thanks to World Vision Myanmar."
After running this business for almost 3 years, Daw Cho was finally able to repay her debts and as a bonus, she could rebuild her tiny bamboo house into a decent wooden house. It costed almost 1,000,000 Kyats (around $800 USD). Her business not only allows her to almost finish repairing the house, but also support her elder daughter with school and tuition fees. Her husband also brought a motorbike from the Village CBO (village development group) to work as a motorbike taxi for an extra income.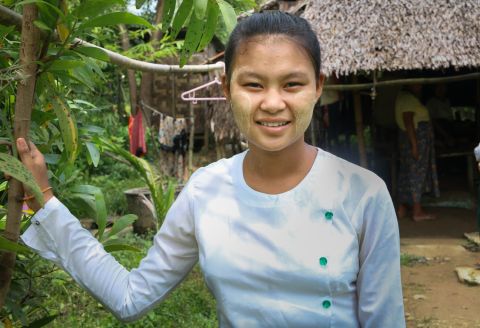 "I've paid all my debts now.I can save up 100,000 Kyats (around $90 USD) every month in our saving groups. That's after all the expenses that we need for one month." Daw Cho explained how selling fine clothes is helping her now.
Daw Cho really works hard for her family and at the same time she also actively participates in the group's activities as a way of showing her gratitude to her community. During the H1N1 outbreak, Daw Cho took care of four community children, abandoned by their father during the outbreak, while the mother took care of the youngest child,hospitalized with H1N1.
"When I saw the kids by themselves with no one to take care of them, I couldn't leave them alone. So, I went to their place the next morning, I cleaned the house, bathed the kids and washed their clothes. I stayed with them for 14 days until their mother returned from the hospital."
Daw Cho reported this case to a community based organization committee and they provided a place in the village to build a small house for the children. To help the family, Daw Cho wrote a proposal, requesting $250 USD to to build the house.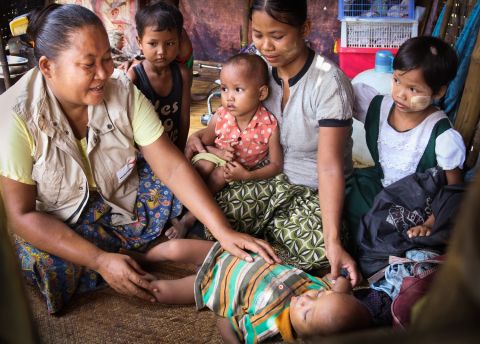 Once a woman who earned only 500 Kyats per piece of fine clothes, Daw Cho now earns more than enough to support her family. Daw Cho's dream is to grow her business by expanding her network so that she can send her daughter to university and finish repairing their house.
"I don't want too much for my future, but I really want my daughter to be an educated person. So, I will save more money to send her to university and to support her throughout college. Also, I really want to finish repairing the house."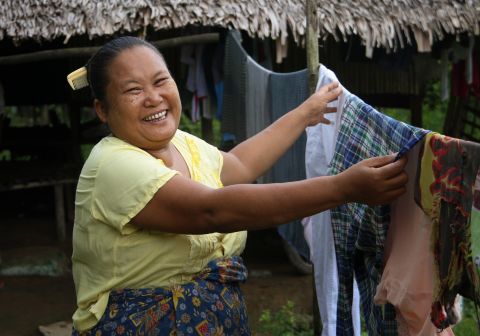 ---
Featured image: